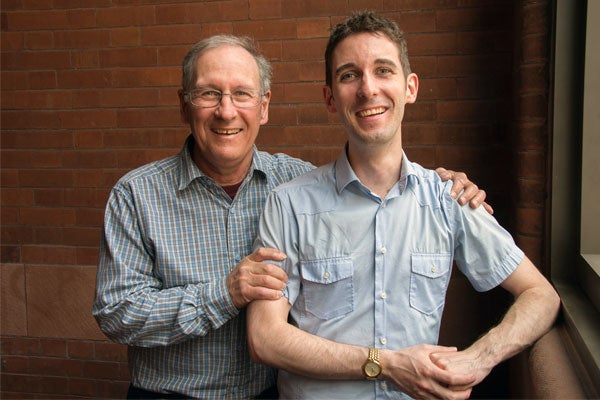 U of T student spearheads Ally Blood Donor clinics
An act of love inspires U of T student and Canadian Blood Services to host Ally clinics during World Pride
When University of Toronto PhD student Stephen McCarthy discovered he was ineligible to donate blood, he was surprised. McCarthy learned that Canadian Blood Services (CBS) currently has a five-year deferral period for sexually active gay and bisexual men.
"Finding out that I couldn't donate was really hard," said McCarthy, an HIV researcher at the Department of Laboratory Medicine and Pathobiology. "I've always wanted to help."
As a solution, McCarthy's father Jim offered to donate on his behalf. "I am proud of my son and his hard work doing HIV-cure research alongside Canadian Blood Services, and this is why I am donating to support him," Jim explained.
Inspired by that act of love and support, McCarthy worked with CBS, and the lesbian, gay, bisexual, transgender, two-spirit and Queer (LBGTTQ) community, to create Ally Blood Donor clinics to encourage individuals to donate in place of those who are ineligible.
In addition to creating these clinics, McCarthy has also facilitated dialogue between CBS and the LBGTTQ community about this sensitive subject for deferred blood donors and their loved ones, as well as recipients, their families and patient advocacy groups.
"We realize that the current five-year policy is not satisfactory to many, "said Dana Devine, chief medical and scientific officer with Canadian Blood Services. "We continue to review the impact on safety."
Impressed with McCarthy's leadership, Don LaPierre, stakeholder relations manager for CBS commented, "We hope that Stephen's story will inspire others to see how they can become involved. While there are many reasons someone may not be eligible to donate, there are also many ways everyone can help save lives, like an ally blood clinic."
The Toronto clinic will take place during World Pride on Friday, June 27 at 67 College Street. Other Ally Blood Donor clinics will be held in London on July 23 and 25 and in Vancouver on August 3.
To book an appointment, download the GiveBlood app, visit blood.ca or call 1-888-2-DONATE (1-888-236 6283).