U of T student's musical, based on an Oscar Wilde classic, to debut at Hart House Theatre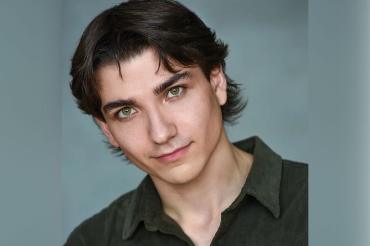 Months before graduating, University of Toronto Mississauga student Anthony Palermo will stage a production of his play based on Oscar Wilde's novel The Picture of Dorian Gray – but with an edgy 1970s glam-rock twist
From April 20 to 22, Hart House Theatre will present an in-concert version of a new work titled The Gray: A Wilde Musical in Concert, a twist on the Wilde classic.
First produced as an audio version (currently streaming on Spotify, Apple Music and YouTube) last year by the Victoria College Drama Society, The Gray will make its onstage debut at Hart House.
The musical is the brainchild of Palermo, executive producer of the English & Drama Student Society (EDSS) at U of T Mississauga. Palermo is an actor, director, writer and composer who is graduating from U of T/Sheridan College's theatre and drama studies program this spring. In addition to directing the production, Palermo also created the book, music and lyrics for The Gray. 
"Hart House is very special to me – a wonderful platform, Palermo says. "It has been a place of connection – I've been able to network with so many theater professionals and artists."
The Gray is only the latest work in a recent string of successes for Palermo. Last year, they were invited by the Musical Stage Company to compose and direct music for One Song Glory, a musical-theatre training intensive for youth, and also were a featured artist-in-residence for Soulpepper Theatre Company's Queer Youth Cabaret. Last June, Palermo wrote and performed a one-person musical that was reprised at the EDSS Performance Arts Festival in December.
In addition to The Gray, Palermo wrote and directed another musical, Mythic Women and their Cabaret to Save Humanity, at U of T Mississauga last year. They also directed Dog Sees God (Winter 2021) and Hedwig and the Angry Inch (Fall 2022) with the Victoria College Drama Society, and are currently directing Angels in America at St. Michael's College.
Palermo's television work includes the CBC series Workin' Moms and Macy Murdoch, a spinoff of Murdoch Mysteries.   
Informed by real events in queer history
Inspired by Wilde's enduring story and set in David's Disco – a nightclub that briefly existed in Toronto's Gay Village in the late 1970s – The Gray follows Dorian, a young singer-songwriter determined to become a star. After his photograph is taken, he becomes obsessed with the image and the power it holds. With an original, glam-rock-inspired score, the musical explores self-expression, generational queer trauma and what it means to find home in LGBTQ+ spaces.
"The inspiration came from events in the queer history of Toronto, with which I've always been fascinated, as well as [journalist] Justin Ling's book Missing from the Village," Palermo says. "I became extremely engrossed with that past as well as the queer themes in Wilde's novel, and they sort of blended together in my mind." 
"It's significant to have [The Gray] on stage and to have queer bodies performing. This is really special."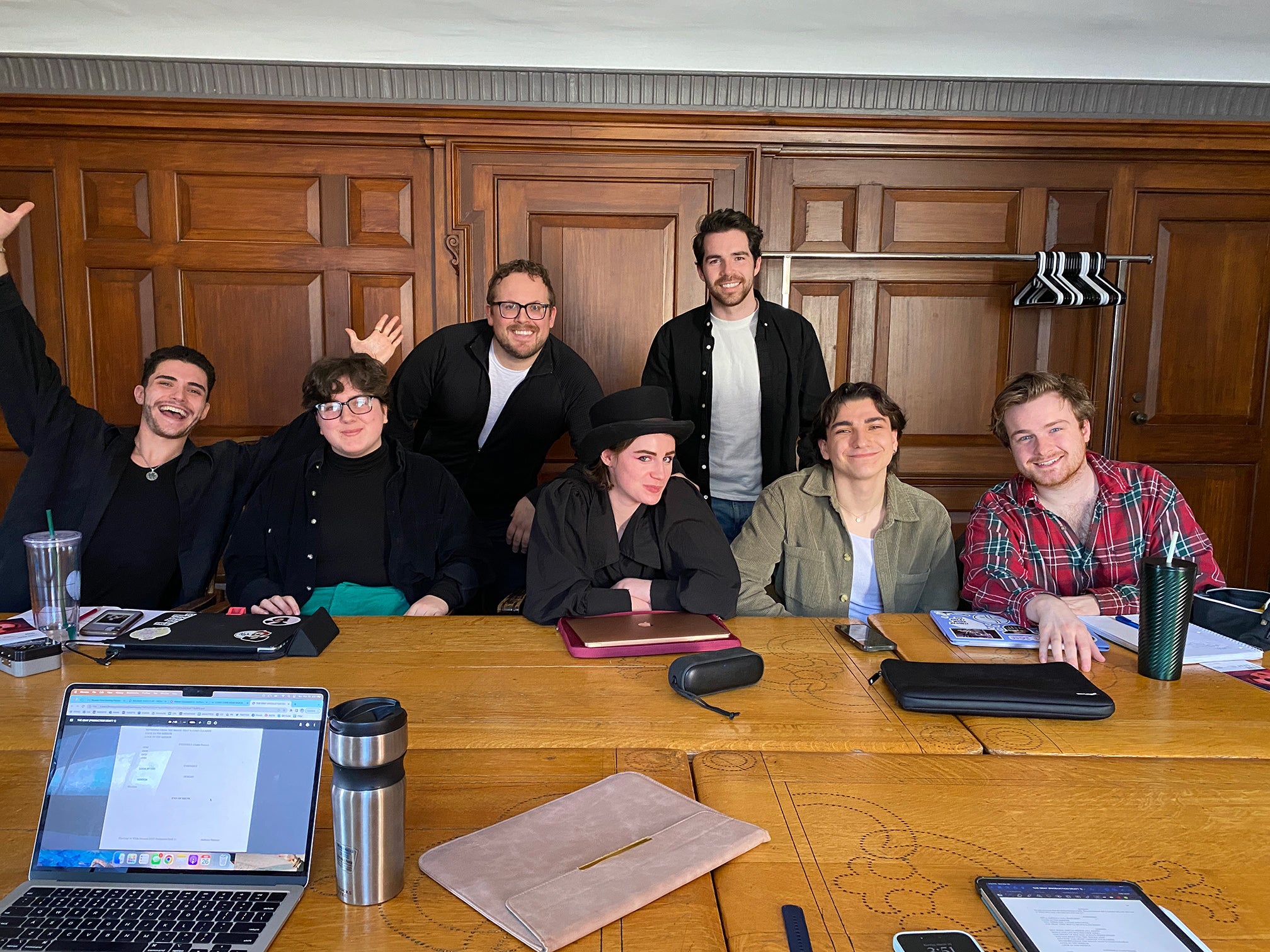 From left: Nick Palazzolo, Nell Khayutin, Giustin MacLean, Stevie Hook, Jacob Moro, Anthony Palermo and Liam Peter Donovan (supplied image)
From audio to onstage
The Gray was first produced as an audio drama, picking up wins at the U of T Drama Coalition Awards last year. From there, Palermo was contacted by Doug Floyd, director of theatre and performance art at Hart House, who connected him with playwright and director Aaron Jan, who helped with the stage adaptation.
Palermo recalls how his connection to Hart House goes all the way back to when he was in high school.
"In Grade 11, I wrote my first musical for the National Theatre School Festival. We went to regionals and performed on the Hart House Theatre stage," says Palermo, who also worked at the theatre as a U of T work-study student.
Palermo credits Floyd and the rest of the Hart House Team – including education and production coordinator Gillian Lewis and marketing assistant Lindsey Middleton – for their support over the years.
"They were such grounding forces for me – they helped me build confidence," Palermo notes.
As Palermo looks ahead to graduation, they have some advice for other students who dream of the bright stage lights.
"Get involved everywhere – work as a producer for a theatre company at U of T, gain experience as a designer … There are many different facets," Palermo says.
 "Try everything at least once, because we have such a rare opportunity at U of T and at Hart House to be able to participate in so many things."
Hart House