U of T student's internship highlights importance of cross-cultural teaching and learning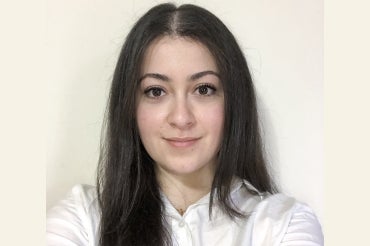 As part of a University of Toronto internship program, undergraduate student Odel Jaji recently taught a group of children at a local Montessori Jewish Day School – discovering connections to her own Assyrian background in the process.
A fourth-year human biology student minoring in chemistry and Jewish studies as a member of University College, Jaji found the opportunity through the department of Germanic languages and literatures in the Faculty of Arts & Science and its iPRAKTIKUM initiative, which includes a new program called "Yiddish in the City."
"Odel set such a great example because the Jewish culture she connected the kids at MJDS with was not the one she had grown up with herself," says Helena Juenger, the department's student placement co-ordinator.
"We love seeing how these intercultural connections benefit our students far beyond the classroom."
The University of College student worked with MJDS students online twice a week for 30 minutes from January to June.
"Because I'm minoring in Jewish Studies, this was an opportunity for me to learn more about the culture," says Jaji, who conducted her own research and learned alongside the students she was teaching. "That was one of the most important and fun parts of this internship."
"It might seem like a weird combination, but I was always interested in sciences and learning about new cultures and religions outside of my own," adds Jaji, who is originally from Iraq and came to Canada with her family when she was 14.
As a first-time teacher, Jaji soon realized holding the attention of 10-year-olds isn't easy. She had to get creative, using trivia games, videos, crafts, colourful costumes and other tools and props to get her lessons across in a fun and engaging way.
"I was a bit nervous at the beginning," she says. "But the teachers there are really friendly – the way they welcomed me was amazing."
Jaji taught her young pupils about Jewish culture such as holidays, cultural traditions and small language lessons, such as teaching them the months in Hebrew. She was struck by the similarities between Hebrew and her native language, which originated among the Arameans in the ancient region of Syria and has been spoken across the Middle East for 3,000 years.
"The names for the Jewish months are actually Babylonian in origin," says Jaji. "Aramaic was spoken in Ancient Babylon along with other languages. For example, in Hebrew the month of July is called 'Tamuz', which comes from Aramaic word meaning 'heat'.
"My favourite lesson was on Tu B'Shevat," she adds. This Jewish holiday falls in January or February depending on the year. It's a tribute to ecology that is celebrated by planting trees, seeds, creating a garden or other community activities.
Though Jaji says she loved giving the lessons, the internship wasn't without its challenges. "Some of the kids didn't want to join in, they didn't want to participate, so I felt like I was doing something wrong," she says. "But the teachers were always there to help me."
Others, she adds, were a little too eager and bombarded her with questions. "They want to learn, and they're really excited at the same time, so you have to be patient," she says.
Yet, the experience was overwhelmingly positive.
"Some of the kids were really having fun," she says. "At the end, one of the girls told me, 'I'm going to be really sad when this ends.'"
The more Jaji taught, the more she was struck by language parallels.
"I found so many similarities between Aramaic and Hebrew, and it got me really excited to learn more about the language and culture," says Jaji. "Aramaic is one of the oldest languages in the Middle East and not a lot of people speak it anymore. They have so many similar words, I actually understand a few things if I listen to someone speaking Hebrew. For example, saying 'thank you very much' in Hebrew is 'toda raba' and in Aramaic it's 'todi raba.'"
In any language, Jaji encourages students to get over any shyness and consider taking part in internships.
"Go for it, I highly recommend it," she says. "The iPRAKTIKUM internship was one of the most positive and rewarding experiences for me. I learned a lot, especially with my communication skills because English is not my first language. I learned to be more open. It also gave me the opportunity to be more confident."
An example of her newfound confidence: Jaji recently created a YouTube video sharing her experience at MJDS – something she wouldn't have dreamed of doing earlier.
Arts & Science