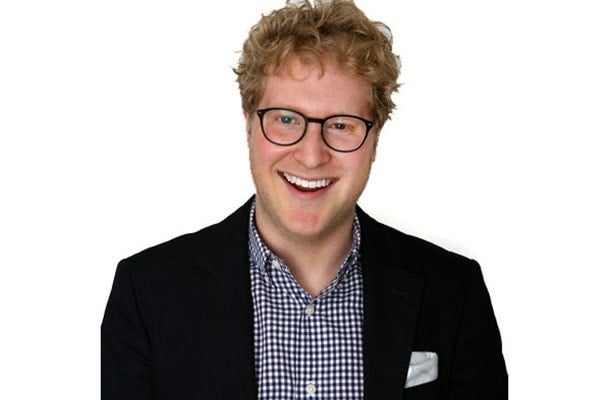 U of T student-entrepreneur cuts through scholarly information overload with TrendMD
Are you a researcher experiencing information overload as you try to keep up with research in your field? 
There's a reason for that. Scholarly publishing isn't immune to the information avalanche enabled by the digital revolution. In biomedicine alone, there are 5,000 new scholarly articles published every day, which can make it hard for readers to connect to the content they're interested in – and for authors and publishers to ensure their work is read and has an impact.
A U of T student entrepreneur has come up with a solution: a dissemination widget for scholarly content.
"The best analogy I can give," says Paul Kudlow, founder and CEO of TrendMD, "is that when you're on CNN.com or the New York Times website, you are given other content you might be interested in based on what you've been reading. That content is personalized to you. We do the same thing for scholarly content."
But unlike its cousins in the popular press, TrendMD's widget goes further, breaking down the barriers between publishers as it cross-promotes content. The widget, which is free for content providers like journals to install, generates recommendations for readers based on their reading habits. Clicking on the link might take the reader to another article within the same journal – or to another journal owned by a different publisher altogether. Each click outside the host publisher generates revenue, half of which goes to the owner of the link, and half to TrendMD.
Here's how it works:
1.    The British Medical Journal publishes an article about heart disease and would like to promote it. It sets a budget, and the article is disseminated through TrendMD's network (360 journals and growing). 
2.    Meanwhile, you're reading a different article on heart disease in JAMA. Since JAMA has the Trend MD widget installed, it tells you that you might also be interested in the first article in the British Medical Journal. 
3.    You click the link. Your click "costs" one dollar, which is deducted from the British Medical Journal's tab. JAMA and Trend MD split the proceeds – and the British Medical Journal enjoys the increased exposure and site traffic.
Content providers of all sorts, including individual researchers, can promote their research through Trend MD. As buyers, they select a budget and pay only for the actual click-throughs they receive.
The idea for TrendMD has its roots in Kudlow's stint as a medical student at the University of Western Ontario. Frustrated by the daunting task of sorting through all the research being published, he decided to solve the problem himself. 
"If you look back 20 years," he says, "journals and publishers used to get their content out there by printing their journals and sending them out. The problem is that people don't consume content like that anymore. The question was how do we distribute content online?" 
The company went through the University of Toronto Early Stage Technology (UTEST) Program, which is a joint U of T-MaRS Innovation initiative to nurture nascent software companies with seed funding, office space, mentoring and business strategy support.
"TrendMD was a unique investment for us, as it was a bet on the entrepreneur more so than the technology," says UTEST co-director Kurtis Scissons. "Paul demonstrated to us from day one his passion for entrepreneurship, his ability to lead and his business prowess. Not many could balance the responsibilities of a doctor and tech CEO but Paul has managed in a remarkable way."
Kudlow calls UTEST a "catalyst" and credits the program with helping him get the company off the ground in May 2014.
Today, he and co-founder Gunther Eysenbach, who is professor in U of T's department of health policy, management and evaluation and a senior scientist at Toronto General Hospital, oversee 10 employees, and they're raising another round of funding to support the company's growth.
In all his spare time, Kudlow is also a medical resident in psychiatry and is pursuing a master's degree at U of T's Institute of Medical Science. But he's passionate about bringing a new distribution model to the world of scholarly publishing.
"We're finding the right reader for every piece of content."
Jenny Hall is a writer with the office of the vice-president, research and innovation, at the University of Toronto.