U of T startup leverages big data to fight COVID-19 in Mogadishu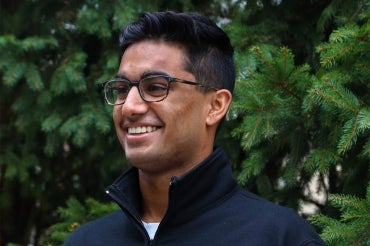 Six months ago, Shrey Jain was a first-year engineering student at the University of Toronto who just wanted to do his part to help reduce the spread of COVID-19. He could never have imagined that doing so would take him halfway around the world to Mogadishu. 
"It's been really amazing to see the realness of it, the tangible outcomes we can have by applying what we know about gathering and analyzing data," Jain says. 
Back in March, as the world awoke to the threat posed by the pandemic, Jain led a team of volunteers in an initiative that would become known as Flatten, as in "flattening the curve." 
Their first project was a real-time heatmap of potential and confirmed COVID-19 cases in Toronto, created from self-reported, anonymized data via screening questions developed in consultation with public health officials. 
Within days, the initiative had garnered national headlines, and the team was fielding calls from public health officials who wanted to work with them. 
"We had collaborated with the City of Montreal and other public health bodies in Canada," says Jain. "That was great, but what we really wanted to do was use our tool in a way that would lead to concrete changes in policy." 
The opportunity came when the team was contacted by Ian Furst, a Canadian oral and maxillofacial surgeon who is also CEO of the Swisscross Foundation, which provides access to high quality health care for victims of war. Via a group called Global Women Leaders, Furst had been working with Hodan Ali, a senior adviser to the mayor of Mogadishu and a key member of the Durable Solutions Unit, part of the local Benadir Regional Administration (BRA). 
"Our models indicated that social measures could be key to reducing the spread, but they needed to be guided by information on disease prevalence," says Furst, who is a U of T alumnus. "Since Mogadishu had little access to testing, we thought that tracking the disease via symptom surveillance might be possible. The Flatten project was an exact match to what Hodan and I thought might help."
A volunteer uses digital tools created by Flatten.ca to collect information on COVID-19 symptoms and spread in Mogadishu (photo courtesy by Durable Solutions Unit)
Adapting the tools that Flatten had developed for Mogadishu meant building and drafting a new set of screening questions, but it also required a new approach to deal with challenges related to access and use of the technology. 
"In Mogadishu, not everybody has a smartphone, and internet access can be unreliable," says Jain. "To get robust, valuable data, we realized that we needed people to mediate the collection process." 
Funding from the European Union and the United Nations Development Program enabled the BRA to provide stipends for 400 local volunteers to survey citizens across the city for two months. 
Using customized tools created by Flatten, these volunteers gathered data on COVID-19 symptoms and other public health parameters from more than 115,000 people, including many living in internally displaced persons camps. Throughout the data collection process, members of the Flatten team were responsible for data monitoring, cleaning and quality assurance.  
Insights extracted from this data informed practical strategies that have already been implemented in the city by the BRA, including rapid emergency shelters in areas where household overpopulation was identified as a risk factor and 205 wash stations set up in districts where hand hygiene was a key need. 
Other findings included a recognition that health literacy and income were key factors affecting both testing and infection. The BRA is working to develop programs to address these needs. 
Jain says that the Flatten technical team, as well as the multidisciplinary advisory team, were key to the success of the project. Members included: 
Marzyeh Ghassemi, assistant professor in U of T's department of computer science in the Faculty of Arts & Science and department of Medicine in the Temerty Faculty of Medicine, Canada Research Chair in Machine Learning for Health and Canada CIFAR AI Chair 
Leo Anthony Celi, Principal Research Scientist at the MIT Institute for Medical Engineering and Science and an Associate Professor at Harvard Medical School 
Marie-Laure Charpignon, PhD candidate at MIT Institute for Data, Systems, and Society (IDSS) 
Mathew Samuel, data scientist at Facebook  
Nick Frosst, founder of Cohere.AI, former researcher at Google Brain and U of T alumnus
Going forward, Jain hopes the project can serve as a model for anyone interested in leveraging the power of big data to improve public health in resource–constrained settings. 
"With this international collaboration, we have set a precedent for data collection in Sub-Saharan Africa and demonstrated that even a small start-up like Flatten can make a positive difference globally," says Jain.  
"We're already talking to academics who work in global health about further anonymizing and characterizing this data set, and using it to promote open science research in public health. This approach can continue providing beneficial insights to humanitarian aid organizations, like the BRA."  
Furst also sees potential for the tools that Flatten has developed. 
"Imagine a nimble, scalable, mobile system that captures and organizes humanitarian health needs so that local health-care workers can act on them, but also match them to organizations in a position to help," he says. "I think that would make a big difference, and flatten is the first step toward that dream." 
Engineering