U of T startup to aid pharmacists with Canada's vaccine rollout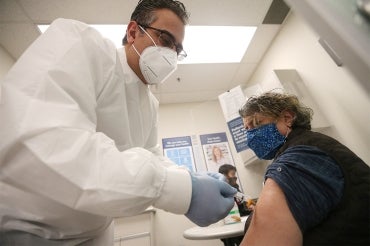 The number of people who have been vaccinated in Canada inches higher with each passing day, but millions more will require shots before the country can escape the pandemic.
With neighbourhood pharmacies expected to play an important role in the next phase of the immunization drive, the Ontario Pharmacists Association (OPA) recently partnered with MedEssist – a startup founded by University of Toronto graduates Michael Do and Joella Almeida – to provide pharmacists with digital tools to help safely and efficiently deliver large quantities of vaccines.
MedEssist offers a digital platform that helps pharmacists manage the complex logistics of vaccine delivery, including assigning doses to individual patients and distributing critical health information.
"We have four different COVID-19 vaccines out there [so] you're managing all that, you're managing inventory and … you're managing who will be vaccinated at what time," says Do, who graduated from the Leslie Dan Faculty of Pharmacy in 2010 and manages a pharmacy in Toronto's Parkdale neighbourhood.
"It's not just about having the doses or making sure the right people are being vaccinated."
In Ontario, most vaccine recipients have so far been in high-risk groups, including people over the age of 80, health-care workers, Indigenous adults and people based in long-term care homes and other congregate settings. But Phase 2 of Ontario's roll out plan, which is set to begin April 1, involves more people in the community who are harder to reach, including seniors who may have difficulty travelling or using the internet to book appointments.
"We think pharmacies have a huge role to play because these patients in the community – they are pharmacy patients," Do says. "That's where they go to get their flu shot every year."
During the previous flu season, pharmacies used MedEssist to match more than 10,000 patients to doses before they even walked through their doors, says Almeida, who graduated from U of T's Woodsworth College in the Faculty of Arts & Science with a degree in political science, equity studies and diaspora and transnational studies.
"The doses are arriving with your [the patient's] name on it. You know it's not going to the wrong person. You know that person is taken care of," she says.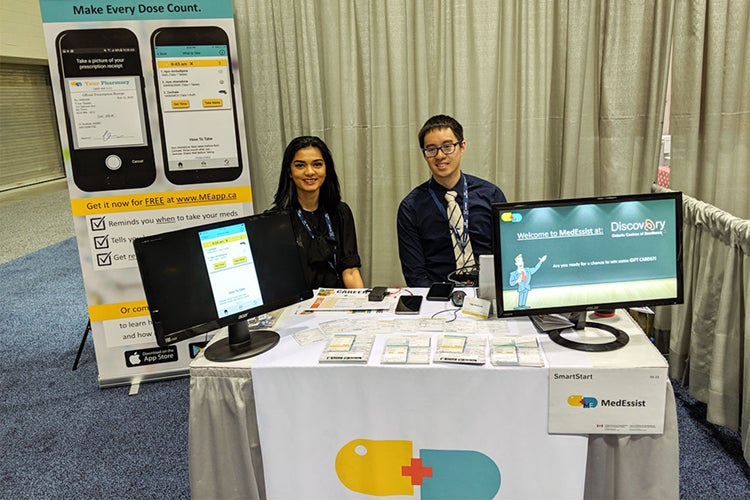 U of T graduates Joella Almeida and Michael Do are co-founders of MedEssist, a U of T startup that is helping pharmacists manage the complex logistics of vaccine delivery, including assigning doses to individual patients and distributing critical health information (photo courtesy of MedEssist)
With demand outpacing supply of COVID-19 vaccines around the world, it's particularly important to make every dose count, according to Do. He says MedEssist makes it easy for pharmacists to see how many patients are booked to be vaccinated and which vaccines they will be assigned. That, in turn, makes it possible to optimize a pharmacy's schedule to ensure that every single dose in every vial goes to a patient in the priority group without any vaccine being wasted.
"When you open a Pfizer-BioNTech dose, you usually have five doses to give away otherwise the whole vial will go bad in hours," Do says.
MedEssist also allows pharmacists to contact patients individually or send out mass updates – a critical feature at a time when information around vaccine delivery and COVID-19 health guidelines are subject to change on short notice.
Lilliette Davidson, vice-president, business management and development with the Ontario Pharmacists Association, says MedEssist increases opportunities for pharmacy professionals to care for patients.
"It is important for OPA to align with a technology partner who supports the immediate needs of pharmacies when managing patients especially for administering the COVID-19 vaccine," she says.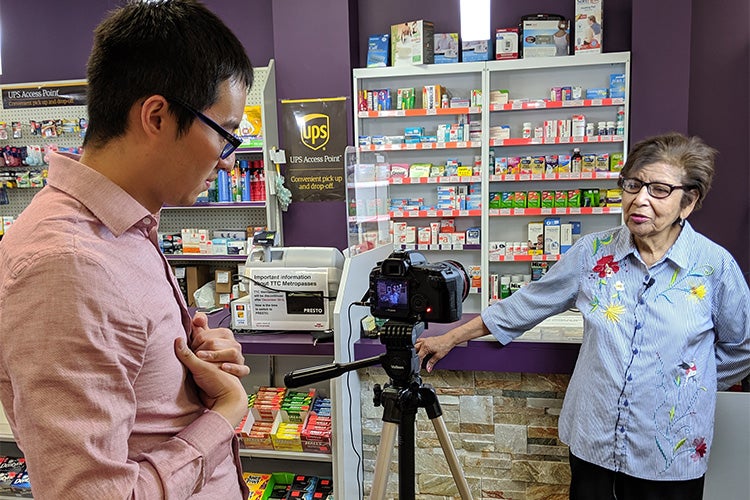 During the previous flu season, Michael Do (left) says pharmacies used MedEssist to match more than 10,000 patients to doses before they walked through their doors (photo courtesy of MedEssist)
While COVID-19 represents a massive challenge for pharmacies – first called on to offer COVID-19 testing and now administering vaccines – it's just one example of how their role in health care is expanding, according to Do.
"The professional pharmacy is evolving so much during the pandemic," he says. "This idea that pharmacy is just about giving out medications is just really outdated at this point."
MedEssist was a member of the 2019 cohort of start-ups at U of T's Health Innovation Hub (H2i), one of 11 entrepreneurship hubs spread across the university's three campuses.
Do and Almeida say their mentors at H2i – Director Paul Santerre, Associate Director Andris Lauris, Roger Mahabir, chairman and CEO of Tracker Networks and president of Technology Innovations, and Arthur Lee, who acted in senior legal capacities for 28 years at Magna International – provided invaluable support and guidance to help get MedEssist off the ground.
"U of T has not just been helpful – it has pulled in other U of T alumni from very helpful places that we wouldn't [otherwise] have access to," Almeida says.
In a recent talk at the university's career centre where he was a panelist, Do put it this way. "Not everyone at a career fair is thinking, 'I'm going to start my own company,' but you never know where life will take you. And because you're U of T alumni, you will always have this amazing resource."
Santerre, a professor in the Faculty of Dentistry and the Institute for Biomedical Engineering in the Faculty of Applied Science & Engineering, says MedEssist's technology was "desperately needed well before COVID-19 hit."
"The company's e-platform cuts through the analog tasks and actions of the pharmacist," he says.
"Quite simply, their booking, database knowledge and logistical information software for pharmacies gets it right at a time when we can't afford to get it wrong."
UTC