U of T signs $1.4-million deal with Mitacs to fund global research opportunities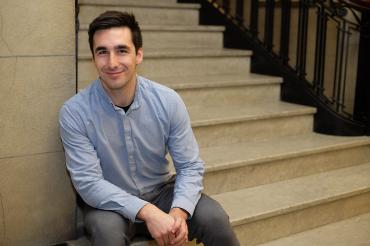 Alexander MacIntosh wanted to make occupational therapy less of a chore for people with cerebral palsy. 
The third-year PhD student in bioengineering and biomedical engineering has helped design a video game – one that scrolls side-to-side like the classic Super Mario Bros. – for kids with CP who are trying to improve function in a neglected hand. 
The player makes their character perform an action by opening the palm of their hand. They wear a smart arm band, which MacIntosh describes as a "Fitbit on steroids," that tracks their movement and gives them feedback on how well they did.
MacIntosh was able to undertake his research in Toronto and in Paris during a year-long placement thanks in part to funding from Mitacs, a national non-profit that supports innovation in areas as diverse as child literacy and aerospace systems.
In France, MacIntosh says he learned to "navigate a different culture.  
"When you're there, you learn who to talk to and how to talk to them, and learning those things and how it's different is so important. It makes you much more aware of how to operate," he says.
The research partnership in Paris also allowed him to stay close to his wife, Laura, who was mastering the art of pastry-making at a school in the sixth arrondissement. They lived together in the Latin Quarter, 30 metres from the picturesque bistros and vendors on the Rue Mouffetard.
More University of Toronto students will soon be able to benefit from formative research opportunities abroad after U of T penned a three-year deal with Mitacs on Monday to provide about $1.4 million in funding for inbound and outbound students in any discipline.
Up to 200 U of T students at the undergraduate, graduate or post-doctoral level can apply for funding to take part in a research exchange abroad, which will be supervised by faculty at U of T and a partner university. At least 80 international students will receive funding from Mitacs and U of T to conduct research in Toronto.
Outbound students are eligible for $6,000 in funding for a research placement of at least 12 weeks, while inbound students will receive the same amount, with Mitacs providing $3,000 and U of T or a partner institution making up the difference.
The agreement will help more U of T students acquire experience in pre-eminent labs and other research settings around the world, says Christopher Yip, associate vice-president of international partnerships. And incoming students will bring an array of cultural perspectives to campus, enriching the university experience for domestic students, he added. 
"It really is about building a global community and experience for everyone," he says. "What I'm particularly excited about is how the Mitacs support will nucleate new ideas and concepts by helping students move between different labs around the world."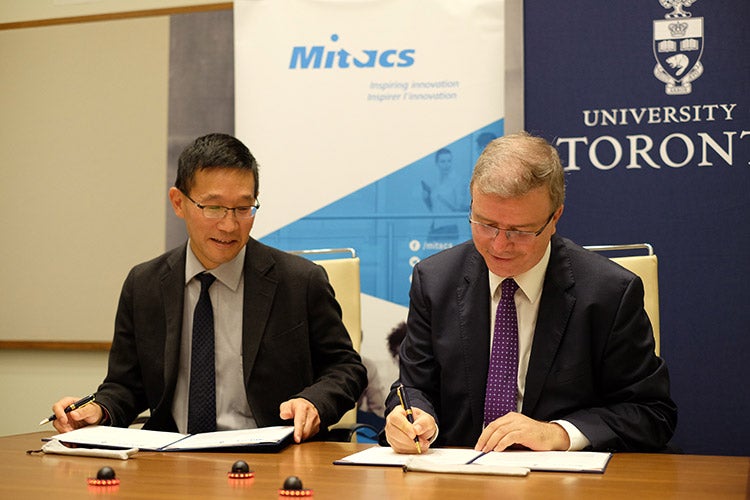 Christopher Yip, U of T's associate vice-president of international partnerships, signs a funding agreement with Ridha Ben Mrad, Mitacs' chief research officer and associate academic director (photo by Geoffrey Vendeville)
For U of T students who participate in an international research exchange, the benefits go far beyond getting course credit, Yip says. "It's about learning about different cultures, perspectives and really getting a world view," he explains. 
The partnership will help prepare Canada's youth for tomorrow's economy, adds Ridha Ben Mrad, chief research officer and associate academic director at Mitacs. He is also a professor in the department of mechanical and industrial engineering at U of T. "To succeed in the global economy, innovators need opportunities to develop their skills in international environments," he says.
Surveys show employers value the skills fostered by international learning opportunities. A 2014 study by Léger Marketing for Universities Canada found that 82 per cent of hiring managers at Canadian small and medium businesses "believe employees who possess intercultural knowledge and an understanding of the global marketplace enhance their company's competitiveness." And a European Commission report suggested that going abroad improves one's career prospects. It found that students who took part in the EU's Erasmus exchange program were half as likely to be unemployed five years after graduation than their peers who didn't go abroad.
U of T students who are interested in applying for a research opportunity through Mitacs can use the university's new learning abroad portal to get in touch with staff at the Centre for International Experience. Students are responsible for lining up a supervisor, or principal investigator, at their home and host institutions. They are asked to write a research proposal as part of the application, and should provide at least eight weeks' notice before they plan to begin their placement.
The new funding agreement builds on other supports for learning abroad that the university has announced this year. U of T doubled the amount of funding available to students who have a demonstrated financial need. The university is aiming to provide $2 million in funding in 2018-2019 and to increase it further to $3 million annually by 2021-2022.
"Student international mobility is a big priority for the university," says Mahvish Wesley, assistant director, global initiatives at U of T. "We don't study in isolation, we don't operate in isolation. Having globally diverse experiences for students undertaking research is very important."
Mitacs was founded in 1999 and it originally supported applied and industrial research in mathematical sciences and related disciplines. It now supports research in all fields.
UTC