U of T sees surge in interest from Indian applicants
The university has seen a 60 per cent increase in applications from India compared to the same time last year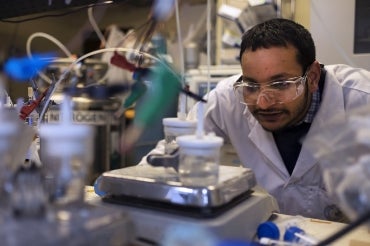 Ankit Jain first came to the University of Toronto for a summer research internship. Years later, he returned as a post-doctoral researcher in large part because it felt like a home-away-from-home.
Jain is from Agra, India, and grew up about five kilometres from the Taj Mahal. He got his first glimpse of U of T during an internship offered by the Indian Institute of Technology, Kanpur. As part of that internship, he worked with Cristina Amon, dean of the Faculty of Applied Science & Engineering, to develop a numerical program for temperature profile predictions in integrated circuits.
"I was very impressed with the calibre of research and the research culture," Jain recalled.
After obtaining a PhD in mechanical engineering in the U.S., he came back to U of T as an IBM post-doctoral fellow, focusing on renewable energies.
"When I came back here, it was like being back home," he said. "I knew Canada was a very nice and safe place, and Toronto is a happening city."
A recent surge in applications to U of T from India suggests it's becoming a more popular choice with Indian students. U of T has seen a 60 per cent increase in applications by Indian students compared to the same time last year.
Professor Ted Sargent of the department of electrical and computer engineering – who is also the university's vice-president international –  was in India this week with Tiff Macklem, dean of U of T's Rotman School of Management, strengthening relationships with local schools, government and Canadian consular officials.
"The Rotman School of Management at the University of Toronto has – through its richly-earned outstanding reputation for training the next generation of leaders, and through its thought leadership exemplified by its top-three-on-the-planet research stature – generated global interest in Rotman and in U of T, " Sargent said. "Nowhere is this more true than in India.
"Travelling with Rotman's Dean Tiff Macklem in India is like travelling with Justin Bieber in Los Angeles. Doors opened: companies, foundations, institutions, students, and families all gathered to learn more about the partnership opportunities in working with U of T.
"It was an exceptionally productive trip as a result."
The five-day trip included a visit to a public school in New Delhi, meeting advisers to Prime Minister Narendra Modi and touring the Indian Institute of Technology, Bombay.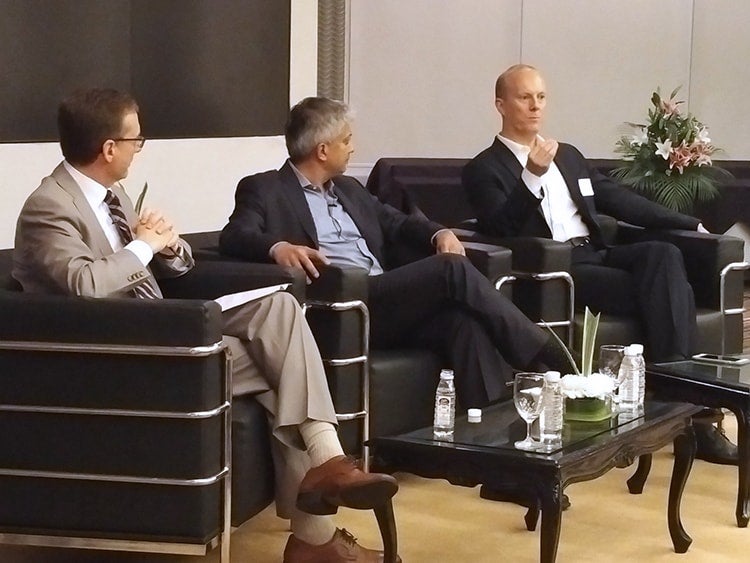 Professor Ted Sargent (right), the university's vice-president international, speaking on a panel in New Delhi with Hitendra Patel (centre) and Tiff Macklem, dean of U of T's Rotman School of Management (photo via @rotmanschool on Twitter)
The students they met were impressive, said Sargent. They fielded questions from high school students about whether to major in mechanical engineering or aerospace engineering – and about the leading employers in aerospace in the Toronto area.
"I was blown away with the ambition, energy, and – quite simply – the scintillating brilliance of India's top talent."
Indian citizens make up the second-largest group of international students at U of T, with about 900 students. Most are undergraduates.
This comes as no surprise to Jain, who says Indian students are becoming more aware of the benefits of studying in Canada – and at U of T in particular. As some countries tighten immigration restrictions, Canada remains a welcoming place, he said.
"Toronto is one of the most diverse cities in the world," he said, noting there's a large Indian community with plenty of restaurants "where you can eat all the street food you want."
The local Indian food tastes almost the same as food back home, he said, though a tad less spicy.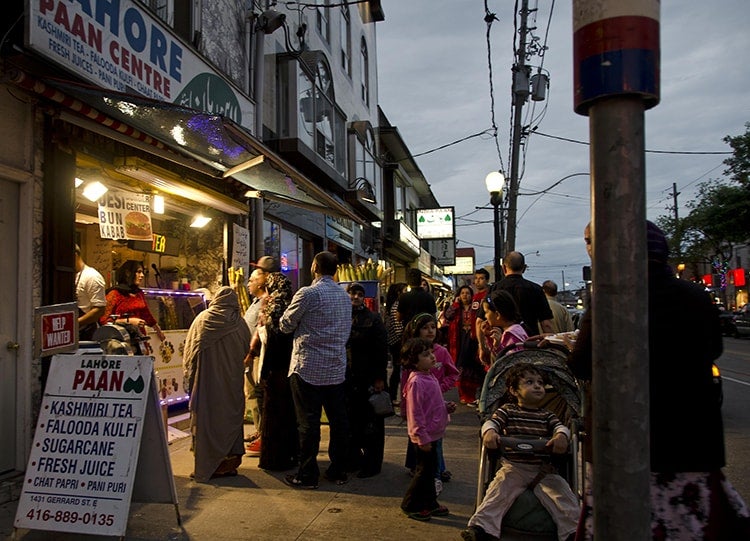 A bustling sidewalk on Gerrard Street, in Toronto's Little India (photo by Eric Parker via Flickr)
As a post-doctoral researcher at U of T, Jain is part of Professor Sargent's research group, where he has contributed to work on making solar cells cheaper and efficient.
He is planning another post-doc at Stanford. But before he leaves this summer, he'd like to take the train through the Rocky Mountains to Vancouver. Jain said when he's finished his education, he would like to work for a startup to tackle some of the problems besetting developing countries, such as the lack of access to clean drinking water.
If he were to give advice to a new Indian student at U of T, he said it would be to join the Indian Graduate Students' Association, which organizes get-togethers and helps new grad students adjust to life on campus.
U of T graduate Devaksh Trehan, who came to Toronto from New Delhi in 2012, said a first-year learning community organized by his college, Woodsworth, made the transition easy.
He said he applied to U of T for a bachelor's of commerce program because of the university's impressive international reputation.
"In Delhi, people knew about the University of Toronto. It is recognized worldwide," he said.
The university's location within Canada's largest city was another important reason, he said.
"It's the financial capital, the hub. You're within walking distance of Bay Street," the centre of Canada's financial services industry and home to the Toronto Stock Exchange.
Even before graduating last June, he was hired as a program management analyst with the consulting firm Accenture.
"U of T not only prepared me for my career in consulting but also prepared me for the 'real' world," Trehan said. "It's like an ocean full of opportunities – so long as you are swimming, you are good to go!"
UTC