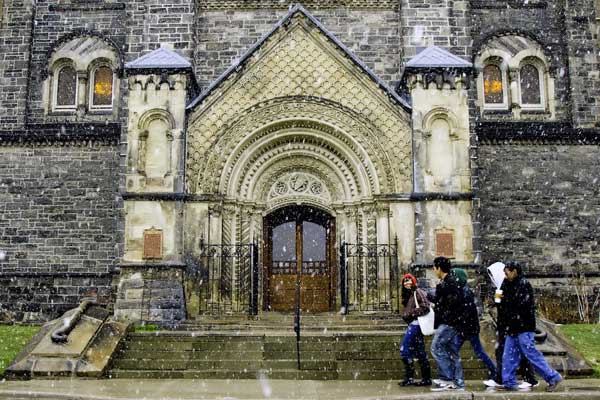 U of T seeking input on new student societies policy
The University of Toronto is inviting its students to comment on a proposed new policy on open, accessible and democratic autonomous student organizations. 
The proposed policy will apply to Campus Groups, as per the Policy on the Recognition of Campus Groups, and Student Societies, as defined in the Policy for Compulsory Non-Academic Incidental Fees.
Recognized campus groups are groups whose organization is informal and in which membership is voluntary. Membership in student societies, on the other hand, is mandatory, based on registration in a division or program, or for those living in a particular university residence, explained Vice-Provost, Students, Sandy Welsh. U of T collects fees from students on behalf of the student societies and these societies are subject to U of T's Policy for Compulsory Non-Academic Incidental Fees.
Welsh said that the Student Societies Summit in 2014 identified a need to clarify that policy's requirement that student societies be "open, accessible and democratic." The summit also called for clear procedures to handle complaints that have not been satisfactorily resolved by a student society. 
"Disputes between students and their societies have occurred with regularity over a number of years, beyond those issues for which the Summit was created to address," she added.
She said the draft Policy on Open, Accessible and Democratic Autonomous Student Organizations confirms the principle of the autonomy of these student organizations, describes principles to guide their open, accessible and democratic functioning, and establishes a complaint and resolution process to respond to certain complaints that cannot be resolved at the society level.
The draft policy notes that there is no single definition of what constitutes an open organization, an accessible one, or a democratic one. "The terms are inter-related, take on meaning depending on the context, and may vary by the size, scope and mandate of an organization," noted Welsh.
The draft policy also gives specific criteria for each of the terms. For example, open student organizations are expected to have widely available information on operations, membership and mandate, transparency about rules and a willingness to freely share information with members. Accessible student organizations must be willing to integrate new members, be open to scrutiny, transparent about activities, and be committed to diversity and equity. Democratic student organizations should be open to participation of members in all activities, have effective and clearly identified channels of communication between members and executive, transparent management, and be committed to considering and respecting a range of members' views, whether majority or minority.
The proposed University Student Societies Complaint and Resolution Council would consist of a chair, appointed by the Vice-President and Provost, who would be required to be appropriately qualified and experienced in dispute resolution. It would also include a total of four students and a non-voting member to provide secretarial support and advice on relevant University policies and procedures. The council would be able to recommend the withholding of fees to the Vice-President and Provost or make other recommendations.
Welsh stressed that the new policy will respect the autonomy of student organizations and provides a student-focused process to resolve complaints. "I look forward to engaging with the university community in a dialogue about the proposed policy." 
Students may access the draft policy and related procedures and provide feedback via the Student Consultation website available at: consultations.students.utoronto.ca.