U of T Scarborough breaks ground on new 750-bed residence
Construction is underway on a new 750-bed student residence building that will double the current residence capacity at the University of Toronto Scarborough.  
The new residence, which will be located on Ellesmere Road just east of Military Trail, is scheduled to open in the fall of 2023 and will meet a growing demand for on-campus housing options.
"This state-of-the-art, innovative residence facility is designed to meet a major need at U of T Scarborough," says U of T President Meric Gertler. "It will provide an outstanding environment for living and learning, a place where friendships are forged and memories are made. And it will be a hub of community and belonging in an increasingly vibrant part of this wonderful campus."
The residential floors will include a mix of single- and double-occupancy bedrooms, fully accessible suites, study spaces and common areas including kitchen and lounge spaces. The building will also have a rooftop garden and terrace, a food servery and dining hall, event space and mixed-use spaces for workshop-style learning. It will also house the Office of Student Experience & Wellbeing as well as Student Housing & Residence Life.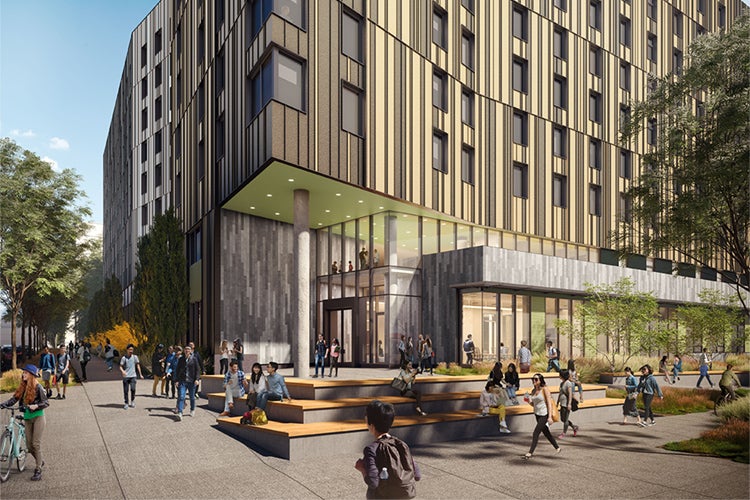 (image courtesy of Handel Architects)
Professor Wisdom Tettey, U of T vice-president and principal of U of T Scarborough, says the new residence shows a commitment to student success, which is at the centre of Inspiring Inclusive Excellence, the campus's recently launched five-year plan.  
"Students are at the core of everything we do at U of T Scarborough," Tettey says. "Expanding our residence spaces will create opportunities and options for our students to ensure their wellbeing, to foster a vibrant and engaged community, to build school spirit and, most importantly, to promote a strong sense of belonging and lifelong affinity."
Reflecting U of T Scarborough's ongoing commitment to sustainability, the building is one of North America's largest passive house projects, a low-energy design concept that includes high-efficiency criteria for building and window insulation, as well as heating and ventilation.
The building's energy-efficient features include triple-glazed windows, walls with improved thermal performance and continuous insulation, among others. The result is 40 to 60 per cent in heating and cooling-related energy savings compared to conventional buildings.  
"This is the largest passive house project of its kind in North America, meaning our students are living in a facility that provides the cutting-edge, sustainable technologies that our university is striving to model," says Andrew Arifuzzaman, U of T Scarborough's chief administrative officer.
Desmond Pouyat, dean of student experience and wellbeing, says the building's integrated dining facility means students will have access to meals seven days per week on campus for the first time, while the mixed-use spaces have been designed to consider the evolving study habits of students. 
"As U of T Scarborough continues to grow, so does our need to expand our facilities to give space for students to learn, discover, collaborate, and innovate," he says. "This residence building signals our commitment to providing world-class education by investing in vital institutional infrastructures."

(image courtesy of Handel Architects)
The building's U-shaped design, developed by Handel Architects in collaboration with Toronto-based Core Architects, complements the campus's natural surroundings. It's shaped so that the north side opens up to the tree grove located just north of the building. The large dining hall on the ground floor will offer views of the same tree grove. 
The residence, which is being built by general contractor Pomerleau, will also use Boston Dynamics's robot dog, Spot, during the construction phase to document work progress and support health, safety and quality standards.
UTSC