U of T's Susan Chatwood celebrated for work on public health in Arctic
Having spent her early years in Labrador, the North was always part of Susan Chatwood's circle of friends and family. So it felt like a natural place to land when she became a nurse in the 1980s and wanted to address the lack of access to health care in remote communities.
She ended up working as far north as anyone could: the Arctic.
"They're wonderful communities and the environment is beautiful," says Chatwood, an associate professor at the University of Toronto's Dalla Lana School of Public Health. "You make good friendships. I've been able to work with so many amazing Elders and learn so much from that."
Recently, Chatwood, who is in Dalla Lana's social and behavioural health sciences division, received the Governor General's 2019 Polar Medal for a lifetime of work on public health in the Arctic – and, in particular, studying and helping to improve access to culturally appropriate care.
"I think one of the biggest challenges in terms of access is the cultural appropriateness of the health-care system and how it operates in the northern context – being able to understand how northerners perceive wellness in their communities," she says. "People have a very holistic perception of wellness: It's not only whether you wake up and feel healthy but when you wake up, do you have access to land and food security? How has the caribou decline impacted community wellness?"
Especially in the North, where people are intimately connected to the land, climate change can't be separated from public or personal health, she says – perhaps a foreshadowing of things to come in the rest of the world.
Similarly, understanding Indigenous perspectives means realizing "it's not only about the health system treating diabetes, but is the health system able to connect with wildlife and asking what's happening with the caribou?" she asks.
Chatwood has seen real progress on that front in recent years, with federal agencies and local health providers responding to the need for Indigenous Peoples to define sickness and health/wellness for themselves.
"It's a very multi-year process but the conversations are taking place," she says. "CIHR funding agencies are aware of this context and they're also listening and wanting to understand and make sure they're responding appropriately. You're seeing communities designing their own programs, taking people out and providing mental health treatments on the land, taking a more holistic approach."
A model program governed by Elders, the Arctic Indigenous Wellness Foundation has had great success providing first-line services for Indigenous people based on traditional knowledge, she says.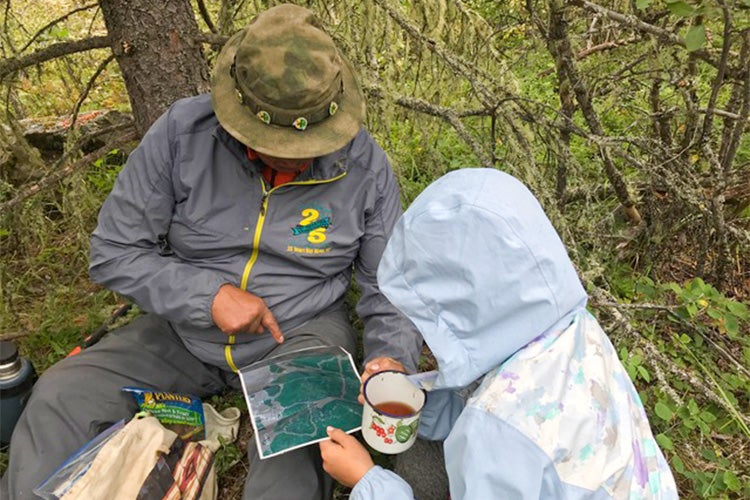 Susan Chatwood's photo of an Elder teaching a student, taken during her travels
Public health academics in the rest of Canada can help by creating co-learning environments for the next generation of Indigenous and non-Indigenous health providers, she says. And educators must recognize that students from the Far North don't have access to the same educational opportunities as southern students, and strengths may come from an environmental or traditional knowledge background, rather than public health.
"Recognizing that will be very important if we're going to promote ways for the current youth to be involved in public health," she says.
On an international scale, Chatwood also helps share research and information around climate change and public health among the eight Arctic states.
"Climate change is a huge public health issue but it's going to take huge work across sectors, cultures and borders," says Chatwood, who serves as scientific director of the Yellowknife-based Institute for Circumpolar Health Research. "There are shared values in this region relating to Indigenous populations. So it's helpful to compare how people are doing in Greenland versus Nunavut, and to look at policy successes in the Nordic countries and ask how these can be applied in the Canadian context with Indigenous values."
Chatwood, who earned her PhD at the Institute of Medical Science at U of T, is also an associate professor at Dalla Lana's Institute of Healthy Policy, Management and Evaluation, and an associate professor at the University of Alberta's School of Public Health.
Dalla Lana