U of T students Ekaterina An (left) and Alexandra Mogadam (right) organized the women in STEM event alongside Melissa Galati (photo by Romi Levine)
It Was Never A Dress event takes place Aug. 1 at Hart House
University of Toronto students Ekaterina An, Alexandra Mogadam and Melissa Galati  spent countless lunch breaks talking about the challenges they face as women in medicine.
An and Mogadam are in the master's program and Galati is a PhD student in the Institute of Medical Science at the Faculty of Medicine. They talked about issues like how conscious women have to be of their appearance, whether they can express their femininity and whether women have to work harder to be taken seriously.
But the questions proved too big for the three U of T graduate students.
So they put together a panel of U of T's trailblazers in science, technology, engineering, math and medicine for a disccussion at Hart House on Aug. 1, It Was Never A Dress. The event was inspired by a larger movement that modified the female washroom symbol to look like a superhero in order to foster conversations about perceptions of women.
"We were excited to talk to these women about various issues that are generally not talked about in science," says Mogadam.
The keynote speaker is Renée Hložek, a professor in the Faculty of Arts & Science's department of astronomy and astrophysics and the Dunlap Institute for Astronomy & Astrophysics.
Panelists include:
Gillian Einstein, neuroscientist and associate professor in the department of psychology at the Dalla Lana School of Public Health and the Wilfred and Joyce Posluns Chair in Women's Brain Health and Aging
Sharmistha Mishra, an infectious disease physician and assistant professor in the Faculty of Medicine
Molly Shoichet, University Professor in the department of chemical engineering & applied chemistry in the Faculty of Applied Science & Engineering and the Tier 1 Canada Research Chair in Tissue Engineering
Kona Williams, Canada's first Indigenous forensic pathologist, who is working with the Ontario Forensic Pathology Service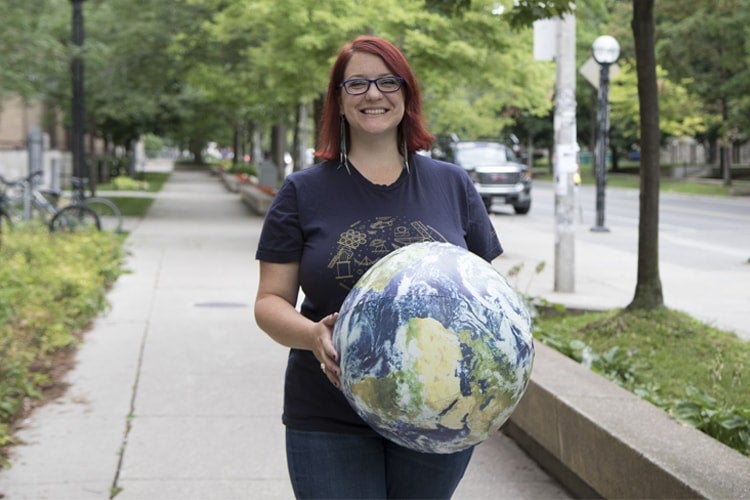 Renée Hložek says she hopes to learn a lot at Tuesday's event (photo by Romi Levine)
"We have a lot of sexism I'm not sure men and women are even aware of – on our campus and in our communities," says Shoichet. "Step one is to recognize there's an issue and to talk about it, and step two is to do something about it."
The event serves as a platform to talk about difficult issues, but it's also a chance for people to find inspiration from women who have thrived in all scientific disciplines, says Mishra.
"You see people like yourself doing the things you want to do – not just people who look like you but people who have experienced the things you have, have grown up the way you did or speak with the accent you speak with," she says.
Presenting a diversity of experiences sends a clear message that "one size doesn't fit all, and multiple sizes can succeed," says Einstein. 
Hložek hopes that through these kinds of discussions, people can shift the balance of conversations about gender and equity in STEM.
"Some of the things people say, you think you would never say that to a man," she says. "It's even worse for students and people of colour.
"While I think it's important to keep having conversations about women, we can't stop there. A lot of people do stop there, and they don't keep pushing on what we can do."
Cristina Amon, dean of the Faculty of Applied Science & Engineering, says both women and men have critical roles to play in supporting and advancing diversity in STEM.
"We're starting to see a critical mass of women in leadership positions, and that's tremendously important – but it can't just be about women speaking to women," says Amon, who was recently appointed U of T's provostial adviser on women in STEM. "We know that all forms of diversity are essential to enriching educational experiences, and helping foster greater creativity at school and in the workplace. Events such as this encourage open collaboration across disciplines and groups, to drive toward a meaningful and lasting culture shift."
An says there are many groups on campus who are promoting a similar message. She hopes the event can bring them together.
"Our goal is really to connect existing groups to each other and to connect research trainees, faculty and students to each other and to those resources," she says.
Having this kind of supportive system is crucial, says Shoichet.
"It's important to have a strong network of people you can talk to, get advice from, so that you don't feel like you're navigating alone," she says.
Registration is full for the event, but you can catch the discussion on the Faculty of Medicine's Raw Talk Podcast.