U of T's Reach Project launches latest research findings at second annual symposium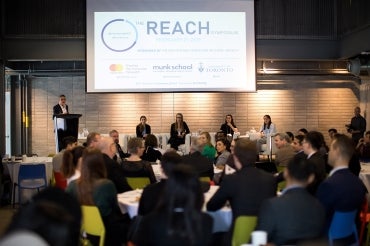 Professor Joseph Wong travelled to Brazil in 2015 with a group of students to research Bolsa Familia, the country's welfare program. They were interested in the topic of reach – how places like Brazil succeed in delivering interventions to the poorest of the poor, the most isolated and the most vulnerable.
Since that first trip, the Reach Project, an initiative of the Munk School of Global Affairs & Public Policy led by Wong and supported by the Mastercard Center for Inclusive Growth, has expanded to produce nine more case studies, the most recent of which were presented at the second annual Reach Symposium on Feb. 21.
"I was asked if I ever thought the Reach Project would be where we are today and the honest answer is no. But I'm grateful we're here," said Wong, who is the Ralph and Roz Halbert professor of innovation at Munk and a professor in the department of political science.
"Since we started, we've recruited 64 student researchers from across the University of Toronto; undergraduate and graduate students from medicine and engineering, to the social sciences and humanities, all of whom are conducting world-class research. The amount of passion and sweat equity they put into the Reach Project is just extraordinary."
Held at Evergreen Brickworks, the symposium hosted an engaged audience of 120 professionals representing various sectors. The patrons, who included guests like Vivek Goel, U of T's vice-president, research and innovation, and Jean-Nicolas Beuze, UNCHR representative in Canada, were the first to learn about the Reach Project's most recent findings.
Students presented examples of how Sri Lanka eliminated malaria, how Ethiopia addresses food insecurity with food and cash transfers, how Palestine implemented its cash transfer program to extremely vulnerable households, and how Tunisia's neighbourhood upgrading programs connect basic services to the hardest to reach. Each case study was the culmination of 16 months of rigorous analysis.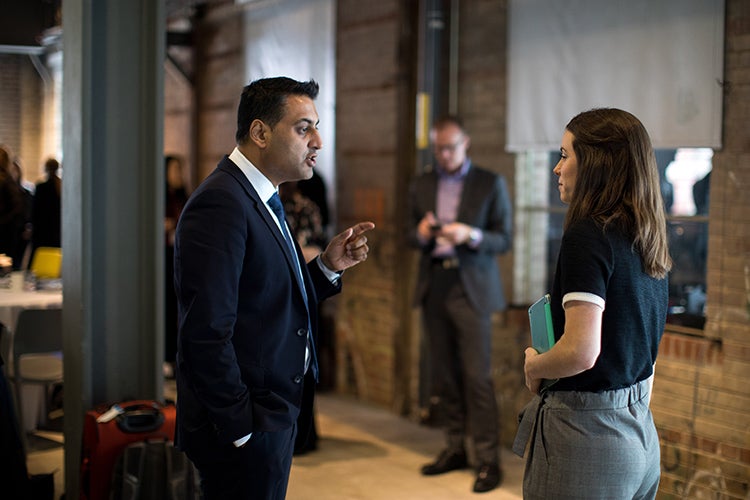 Parag Mehta, executive director and senior vice-president of the Mastercard Center for Inclusive Growth, speaks with Cadhla Gray, Master of Global Affairs graduate who worked on Team Tunisia (photo by Lisa Lightbourn)
"Sometimes when you're conducting research, it's easy to feel like you're not making a lot of headway. But meeting professionals at the event who were interested in and asking questions about our work made me realize that conducting field research gave me a different perspective," said Cadhla Gray, a recent Master of Global Affairs graduate who, on behalf of her research team, presented insights into Tunisa's neighbourhood upgrading programs.
"It's exciting to see people in the audience who can make practical changes based on things that we uncovered in Tunisia."
Parag Mehta, executive director and senior vice-president of the Mastercard Center for Inclusive Growth, echoed Gray's excitement. He said that learning about successful examples of reach served as motivation for symposium attendees.
"It can be really demoralizing if all we ever do is talk about the problems. So, when students share examples of Sri Lanka getting malaria to zero, or Palestine getting cash payments to people living in the most vulnerable communities, this is heartening for the rest of us," said Mehta. "People are feeling really energized and enthusiastic because of the students' presentations."
In addition to reviewing case studies and introducing this year's upcoming research topics, the symposium featured three panel discussions with themes informed by Reach Project findings. The panels covered issues like the costs of reach and the importance of frontline service delivery, and featured an esteemed list of speakers including Tara Nathan, executive vice-president of humanitarian & development at Mastercard; and Margaret Biggs, former president of the Canadian International Development Agency and chairperson of the Board of Governors for the International Development Research Centre.
Wong said that aligning all sectors in meaningful dialogue is one of the Reach Project's core aims.
"One of the great opportunities that stems from the Reach Project is the chance to gather people from different sectors who are thinking about the same thing, but viewing it through different lenses," he said. "Seeing the panellists engage with each other and arrive at a unified set of principles is encouraging."
Munk