U of T's Randy Boyagoda discusses his new novel, inspired by Dante and set in small-town Indiana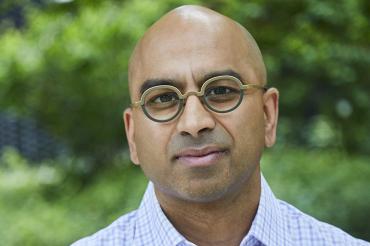 Though 700 years have passed since the death of the great Medieval poet Dante Alighieri, author of The Divine Comedy, Randy Boyagoda believes the poem still has the power to connect with anyone who has lost their way.
Dante's Indiana is Boyagoda's second book in a planned trilogy following Original Prin, a satirical novel published in 2018. "It's a loose trilogy," says Boyagoda, a professor in the department of English in the Faculty of Arts & Science and vice dean, undergraduate.
"Readers can come to this book not knowing about its predecessor and be totally fine, and just engage with this story."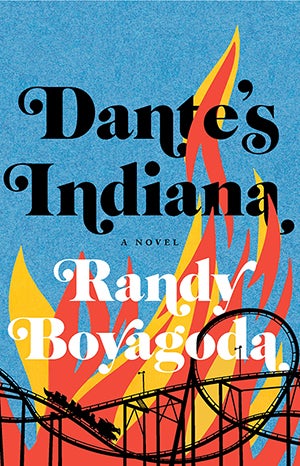 The trilogy loosely mirrors the three parts of The Divine Comedy: Inferno (hell), Purgatorio (purgatory) and Paradiso (heaven), charting Dante's path to God.  
Prin, the main character in Dante's Indiana is an English professor who consults on a Dante-themed amusement park. 
Original Prin was in a sense Inferno. Dante's Indiana is Purgatorio, "and then we'll see what happens when I write the third novel in terms of Paradiso," Boyagoda says.
In Dante's Indiana, Prin is a middle-aged Sri Lankan-Canadian professor of English from Toronto who finds himself in a type of personal purgatory. He's stuck, distanced physically and emotionally  from his wife and kids, and in need of work, money and purpose.
He accepts an offer to consult on a Christian amusement park in Terre Haute, a rust belt Indiana city. The park is the retirement project of a wealthy packaging company owner and the only profitable business in town.
Prin quickly becomes involved in the complicated lives of his co-workers and in the wider struggles of their opioid-ravaged community while trying to reconcile with his family and his own religious beliefs.
Boyagoda says he still finds time to write despite having a busy academic career. 
"Since graduate school, people have been telling me I can't do both, that I can't have this creative life alongside my academic life," he says. "But I'm very fortunate, in that I've always been able to do it."
Unlike some writers, Boyagoda says he doesn't require much sleep or structure to write. It's not uncommon for him to wake at 4 or 5 in the morning and write before the school day begins. He also doesn't need to stick to a specific routine to be creative.
"Whatever I'm doing in my life and work as a university administrator and professor," he says, "I'm also, somewhere inside, always still imagining, still writing, still telling a story."
The inspiration for Boyagoda's trilogy came to him unexpectedly – while cleaning his car. 
"I was vacuuming potato chips out of our car on a September morning in 2016 and I was listening to a BBC Radio adaptation of The Divine Comedy," he says. "I've studied and read and taught it, but I wouldn't say it had a significant relevance to my life and work before that moment."
Listening to that broadcast, Boyagoda was struck by the narrator's heavy breathing while reading the Inferno, portraying Dante as he made his way down through hell, traveling down an inverted mountain, passing over boulders and lakes of fire.
"I took for granted the physicality of the poem," says Boyagoda. "That's when I realized, 'You know what we all need? A hiker's guide to Dante."
He proposed this idea as a Scholars-in-Residence project at the Jackman Humanities Institute. The following year, he worked with five Arts & Science students who joined Boyagoda in poring over old manuscripts and early visualizations. The result was a map of Inferno unlike any other, with detailed locations and descriptions of Dante's journey.
"But then at some point, the hustling novelist in me took over from the respectable scholar," says Boyagoda. "And I thought, 'imagine this is a theme park.'"
As a professor of American literature, Boyagoda spends a lot of time thinking about modern and contemporary American literature, culture and public life. "And Dante's vision of human experience, in ordinary and ultimate ways together, seemed like a perfect way in to write about America right now," he says.
That examination of American life focuses on the town's opioid crisis paired with economic struggles.
In Dante's Indiana, the son of the packaging company's owner realizes there's only one way to keep the family business afloat: By packaging opioids for local distribution, although many of the families who work there have opioid-addicted children or have lost children to overdoses.
"It's a perfect business plan, a high-demand product that keeps everybody employed," Boyagoda says. "It also seems like a perfect 'Dantean situation'. The premise and ensuing problems let me explore all of the genuine and very serious human struggles of the novel's characters.
"The big question of the novel then becomes, which one is going to save this town? The Dante theme park or the opioid-packaging local company? And how does Prin help the people around him, either way, and at the same time find his way home to his family?"
When readers find the answers to these questions, Boyagoda hopes they are able to identify with the story, like they do with The Divine Comedy.
"One of the great things about Dante is that no matter who you are, you can find yourself in the poem," Boyagoda says. "It famously begins, 'In the middle of the journey of our life, I came to myself, in a dark wood where the direct way was lost.'"
"You've likely had that moment of feeling lost in the middle of your life, and you look for help – we all do," Boyagoda says.
"My novel is very much informed by Dante, but it isn't an homage to Dante. Instead, it's part of a larger writing project of mine which, in this case, is very much about what it means to find yourself in a story where you weren't expecting to find yourself. With Dante's Indiana, I hope readers find themselves in this story in ways they didn't expect."
Arts & Science