U of T's Prabhat Jha inducted into the U.S. National Academy of Medicine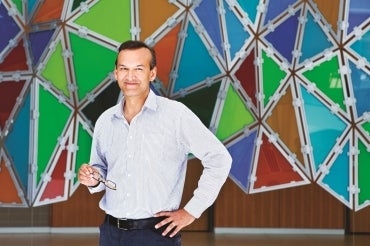 Prabhat Jha, a professor at U of T's Dalla Lana School of Public Health known for his research on tobacco control, was inducted Monday into the National Academy of Medicine in Washington DC.
Jha is one of 10 international members selected by the academy in 2016. He joins four other University of Toronto faculty members who are already members, including U of T President Emeritus Dr. David Naylor.
The National Academy of Medicine (NAM) is an independent organization of eminent professionals from diverse fields including health and medicine and the natural, social and behavioral sciences. Through its domestic and global initiatives, the academy addresses critical issues in health, medicine and related policy. 
"The NAM does so much to advance science and its uses," said Jha, professor of global health at U of T and director of the Centre for Global Health Research at St. Michael's Hospital. "I am delighted to be accepted by my peers into this prestigious organization."
Established in 1970 under the name Institute of Medicine, the academy acts as an alliance of experts who provide advice on scientific aspects of domestic and international issues that have a global impact. The academy elects no more than 70 regular members and 10 international members annually. Membership reflects the height of professional achievement and commitment to service.
"This is truly global recognition of Professor Jha's impact on global health and a huge honour for the School," said Professor Howard Hu, dean of Dalla Lana School of Public Health.
Jha is a lead investigator of the Million Death Study in India, which quantifies the causes of premature mortality in over two million homes. His significant research on tobacco control has enabled a global treaty that has been signed by over 180 countries and is helping to reduce the number of tobacco-related deaths worldwide.