U of T's One Spadina is front and centre at Toronto's Doors Open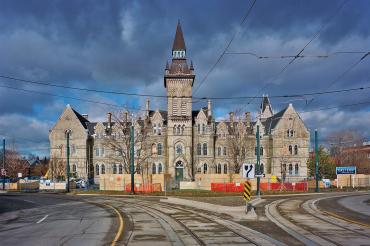 This year's Doors Open is celebrating 15 decades of Canadian architecture – a fitting theme for the public debut of one of Toronto's most impressive buildings – One Spadina Crescent.
The new home of U of T's John H. Daniels Faculty of Architecture, Landscape, and Design will be showcasing both its preserved heritage and its slick contemporary update at this year's event.
"We are looking forward to welcoming the public – including alumni, industry professionals, prospective students and members of the greater Toronto community – to our almost, but not-yet finished new home," says Daniels Dean Richard Sommer.
In the 1940s, One Spadina housed the Connaught Laboratories. After the invention of insulin at U of T, medical research and insulin manufacturing took place here. A former lab will now be a classroom and studio space
Visitors can take self-guided tours and admire the work of graduate students, which will be on display throughout the building.
"Doors Open Toronto at One Spadina is the first of many occasions in which we hope to engage the broader public in our quest to address the largest challenges facing architecture, cities and other environments today," Sommer said. "The Daniels Building at One Spadina was designed to do just that."
The Daniels Corporation Atrium at One Spadina doubles as stairs and an amphitheater leading up to the building's third floor graduate studio
For a historic perspective on what One Spadina – and other parts of U of T's downtown Toronto campus – once looked like, head to the Thomas Fisher Rare Book Library.
Architectural drawings of One Spadina, University College and Robarts Library will be on display, alongside historic photographs and campus maps.
U of T librarians have also uncovered a rare copy of a Toronto photography book, which includes buildings that no longer exist, a collection of photos of the architectural models from a competition to design Toronto's City Hall and a mini-maquette of the Fisher Library.

Fisher Library is often compared to Hogwarts or a scene from Beauty and the Beast, says Fisher librarian P.J. Carefoote (photo by Dominic Ali)
But Fisher cataloguer and reference librarian P.J. Carefoote knows that it's the awe-inspiring architecture that really draws people to the library.
"What I find fascinating is the reaction of people to the building because a lot of people – their first time here – see the brutalistic architecture on the outside, and they find it, quite frankly, off-putting," he says. "But then when they walk in the doors and into the exhibition area, it's always the same reaction – you have this gasp and the eye immediately goes up, and it's exactly what the architect intended to do."

Now home to the Munk School of Global Affairs, 315 Bloor St. was once called the Dominion Meteorological Building 
The observatory at the Munk School of Global Affairs will also be taking part in this year's Doors Open. The former meteorological observation centre is now home to offices and Munk's master of global affairs program. It has kept its 20th-century heritage alive, thanks to a restoration-focused renovation in 2012.
"We have some wonderful real estate here. We have some amazing buildings, and it's nice to be able to open the doors and allow people to wander through," says Samantha Smith, Munk's manager of conference facilities and events.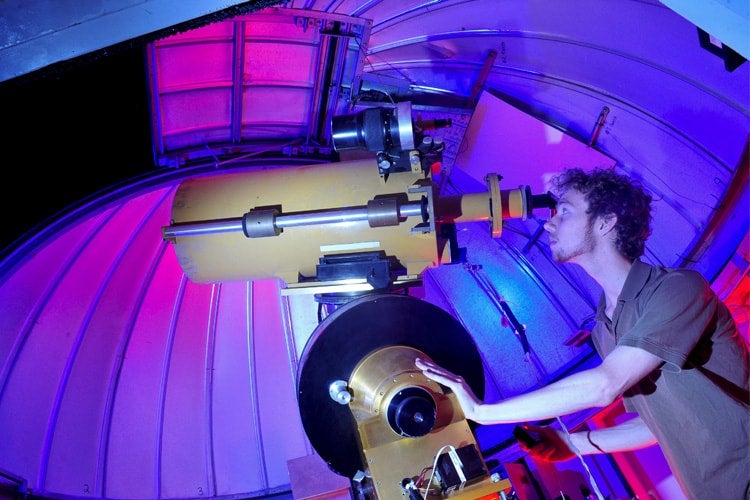 U of T Scarborough's observatory dome is located in the science wing (photo by Ken Jones)
If you're heading outside the city, Doors Open is a great opportunity to check out U of T Scarborough's state-of-the-art athletic facility – the Toronto Pan Am Sports Centre – and the Andrews Building, where visitors can see a panoramic view of the city at the UTSC Observatory. 
Students from U of T Scarborough's arts, culture and media program will also be leading tours at Fool's Paradise, the former residence of Canadian artist and U of T alumna Doris McCarthy.
"What's fascinating about the Andrews Building is that it's made primarily of four materials – concrete, wood, terracotta stone and glass," says campus architect Jennifer Adams.
"These materials are strongly connected to the Earth and give a unifying feel to the building, which is what [architect] John Andrews strove to achieve in his design."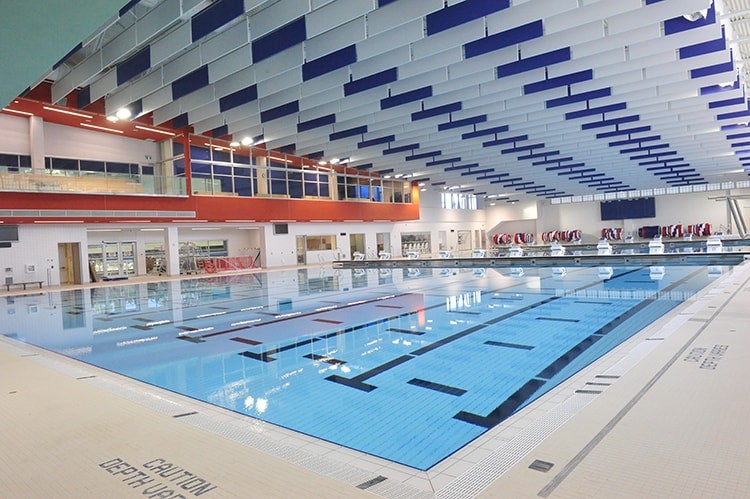 U of T Scarborough's Toronto Pan Am Sports Centre is also part of Doors Open this weekend (photo by Ken Jones) 
UTC