U of T's Medicine by Design invests $1.2 million to advance regenerative medicine research and translation
What can a swarm of drones tell us about how our bodies make blood? Can folding strands of DNA into origami-like structures help researchers engineer more targeted treatments for lupus and multiple sclerosis? What new insights can mathematical and computational modelling offer into how tissues and organs form?
These are just a few of the questions that nine research teams across the University of Toronto and its affiliated hospitals are investigating thanks to $1.2 million in 2019 New Ideas and Seed Fund awards from Medicine by Design. The awards support basic and translational research aimed at advancing new concepts that are expected to be of critical importance to regenerative medicine in the coming decades, using tools such as synthetic biology and mathematical modelling.
"With these awards, we are pushing the frontiers of regenerative medicine by encouraging creativity, risk-taking and excellence at the convergence of science, engineering and medicine," said University Professor Michael Sefton, who is executive director of Medicine by Design and a faculty member at the Institute of Biomaterials & Biomedical Engineering (IBBME) and the department of chemical engineering and applied chemistry.
"These projects exemplify the best of Medicine by Design by bringing people together across disciplines and institutions to tackle novel questions and test new approaches."
Medicine by Design selected the nine funded projects from among 22 short-listed proposals, which were evaluated and ranked through an external peer review process. Sixty research teams at U of T and its affiliated hospitals submitted expressions of intent last fall in response to an open call.
Medicine by Design is a regenerative medicine research initiative at U of T with a mandate to accelerate transformational discoveries and translate them into new therapies for common diseases. It is made possible thanks in part to a $114-million grant from the Canada First Research Excellence Fund – the single-largest research award in U of T's history.
New Ideas Awards
Leo Chou leads one of four projects selected for 2019 New Ideas Awards, which provide $100,000 per year for two years. Chou, an assistant professor at IBBME and a new Medicine by Design investigator, is collaborating with Bebhinn Treanor, an associate professor in the department of biological sciences at the U of T Scarborough, to study how DNA nanotechnology could be used to ramp up or dampen immune responses, offering new ways to treat disease.
The project elegantly fuses their diverse expertise. Chou uses a process known as DNA origami to pinch and "staple" a long strand of DNA at precise points to create a variety of nanoscale shapes that can arrange biomolecules into precise two- and three-dimensional patterns. Treanor, an immunologist, studies how antigens – fragments of viruses or bacteria with unique markers – trigger immune cells in our bodies called B cells to produce specific antibodies to bind to and inactivate the associated virus or bacteria. Both are intrigued by the fact that, in nature, antigens arranged in periodic spacing provoke a much more potent immune response than individual antigens.
Together, they plan to use Chou's DNA nanostructures as building blocks to study how the layout, structure, and nature of an array of antigens can affect the dynamics and strength of B cell activation.
The immediate goal is to figure out the basic design principles. "Like all good, fundamental studies, it might open up a lot of doors," said Chou, who earned his PhD at IBBME in 2014 and returned to U of T in January as a faculty member after a post-doctoral fellowship at the Wyss Institute at Harvard University and the Dana-Farber Cancer Institute in Boston.
"It might lead us to interesting biology that we just don't understand, or haven't discovered, yet."
Ultimately, Chou and Treanor hope to create synthetically designed particles that can act as precision vaccines to heighten or dampen immune responses. This approach could lead to more targeted therapies for autoimmune diseases, such as lupus, arthritis and multiple sclerosis, in which the normal immune process goes haywire and mounts an attack on a person's own cells. Chou also thinks their technology platform could be applied to better control the activation of other cell types, which could help enable cell-based therapies by making the cell-manufacturing process more efficient.
Other 2019 New Ideas projects include:
Dr. Robert Hamilton, a cardiologist and senior associate scientist at The Hospital for Sick Children (SickKids) and a professor in the department of paediatrics at U of T, is leading a project that aims to create precision immunotherapies for arrhythmogenic right ventricular cardiomyopathy. This heritable, autoimmune condition causes the myocardium, or heart muscle wall, to break down over time and can lead to sudden death. Sachdev Sidhu, a professor at U of T's Donnelly Centre for Cellular and Biomolecular Research, is the co-investigator, and SickKids clinicians Dr. Donna Wall and Dr. Joerg Krueger are also part of the project team.
Dr. Sevan Hopyan, an orthopaedic surgeon and senior scientist at SickKids and an associate professor in the departments of molecular genetics and surgery at U of T, is making a computational tool to gain new insights into the physical processes that influence how embryonic tissues are organized and shaped. Known as morphogenesis, this process at the earliest stages of life remains poorly understood but could hold important clues for researchers developing regenerative medicine therapies. The co-investigator on this project is Yu Sun, a professor in the department of mechanical and industrial engineering at U of T, while Huaxiong Huang, the deputy director of the Fields Institute for Research in Mathematical Sciences, is collaborating.
Krishna Mahadevan, a professor in the department of chemical engineering and applied chemistry, is leading a team that aims to create new therapies for inflammatory bowel disease such as Crohn's disease by engineering gut bacteria that can sense inflammation, and then secrete molecules that dampen it and promote regeneration of the intestinal lining. Combining synthetic biology and stem cell biology, the project also draws on the expertise of co-investigators Keith Pardee, an assistant professor in the Leslie Dan Faculty of Pharmacy and a Medicine by Design investigator, and Tae-Hee Kim, a scientist at SickKids and an assistant professor in U of T's department of molecular genetics.
Seed Fund Awards
To increase the number of cutting-edge ideas it invests in, Medicine by Design created a new award this year called the Seed Fund Award, which provides $75,000 for one year to each of five projects.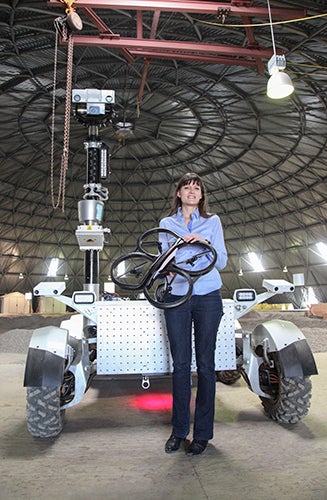 Angela Schoellig  (left) leads one of these projects, which is forging innovative ties between biomedical engineering and robotics. An assistant professor at U of T's Institute for Aerospace Studies, she works at the interface of robotics, controls and machine learning, with research interests in self-driving vehicles and autonomous aerial vehicles, or drones.
Schoellig is using her award funding to study complex collective behaviour in living and non-living systems. Known as emergence, the phenomenon refers to the dynamic evolution of a system to develop complexity that cannot be easily predicted from the properties of its individual parts. In nature, a common example of emergence is murmuration, which occurs when hundreds of birds congregate and fly in organized, swooping patterns. 
Schoellig and co-investigator Peter Zandstra, a University Professor at IBBME, are combining their respective expertise in robotic drones and blood-forming systems to gain new insights into emergence that could lead to advances in both fields. They hope that identifying common elements in these diverse systems will help them understand how a collection of individual entities in a disordered state develops complex, co-ordinated activities, ultimately advancing the capacity to predict and even control desirable emergent behaviour. Such findings could have many applications, including improving the reconstitution of healthy blood systems in patients who have undergone stem cell transplants. The research could also enhance the ability of robots to perform collaborative tasks in dynamic environments, such as airspace defence, search and rescue, and package delivery. Zandstra is also director of the School of Biomedical Engineering and the Michael Smith Laboratories at the University of British Columbia.
The other four successful Seed Fund Award projects range from brain organoids to new strategies to treat hearing loss.
Dr. Peter Carlen, a neurologist and senior scientist at the Krembil Research Institute at University Health Network (UHN) and a professor in U of T's departments of medicine and physiology, as well as IBBME, is leading a project aimed at creating personalized treatments for the one-third of epilepsy patients whose disease does not respond to drugs. He plans to do this by generating cerebral organoids – brain-like mini-organs grown in a dish – from induced pluripotent stem cells derived from patients with drug-resistant epilepsy. His team will then use these organoids to study why the patients have not responded to medication, and to determine optimal pharmacotherapy options. Co-investigators on the project are Cathy Barr, a senior scientist at Krembil and SickKids and a professor in U of T's department of psychiatry, and Roman Genov, a professor in U of T's department of electrical and computer engineering.
Sarah Crome, a scientist at UHN, an assistant professor at U of T's department of immunology and a Medicine by Design investigator, heads a project investigating whether immune cells known as innate lymphoid cells that reside in tissues can be harnessed to promote regeneration, prevent rejection and ultimately improve the success of cell-based immune therapies.
Alain Dabdoub, a senior scientist at Sunnybrook Research Institute and an associate professor in the departments of otolaryngology and laboratory medicine and pathobiology at U of T, leads a project aimed at regenerating the auditory neurons that transmit sound from the inner ear to the brain as a strategy to reverse hearing loss. Building on work he has already performed in mice in vitro, Dabdoub will investigate how to convert glial cells in a mouse model of neuropathy as well as human glial cells in vitro into auditory neurons.
Miguel Ramalho-Santos, a senior investigator at the Lunenfeld-Tanenbaum Research Institute at Sinai Health System, a professor at U of T's department of molecular genetics and a Medicine by Design investigator, is using his Seed Fund Award to study whether the way genes are packed inside the nucleus of human pluripotent stem cells affects their ability to generate cerebral organoids, a tool that holds potential to model neurological diseases and test medications outside the body.
With these new awards, Medicine by Design funds more than 130 investigators across U of T and its affiliated hospitals.
Medicine by Design