U of T's McLuhan Centre takes critical look at technology through the lens of feminism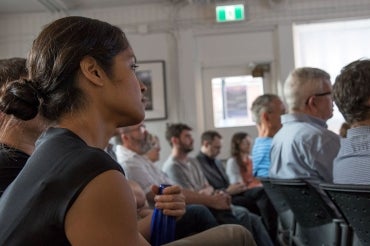 On Monday evening, more than 50 people squeezed into a small room in University of Toronto's McLuhan Centre for Culture and Technology, the converted coach house that sits in a parking lot off of Queens Park.
It's an unassuming space – minimally decorated and dimly lit – but it carries a long and important history of critical thinking about technology, culture and the world we live in, centred around U of T professor and famed theorist Marshall McLuhan.
His popular Monday night seminars of the 1960s and '70s brought together faculty and students to have intellectual conversations in a more casual setting than a lecture hall.
This week's seminar took the same approach as its predecessor but with a much-needed update: bringing the voices that have been excluded from McLuhan's writings into the forefront.
The centre, part of the Faculty of Information, is theming this year's events MsUnderstanding Media: The Extensions of Woman – a riff on McLuhan's 1964 book Understanding Media: The Extensions of Man. It's the brainchild of the centre's director Sarah Sharma, who is also an associate professor at the Institute of Communication, Culture, Information and Technology at U of T Mississauga.
"It's an invitation for people to think about the relationship between gender and technology but also about how McLuhan's work might be really helpful for understanding things like gender, race, and sexuality," she says. "These are things that are usually disarticulated from McLuhan."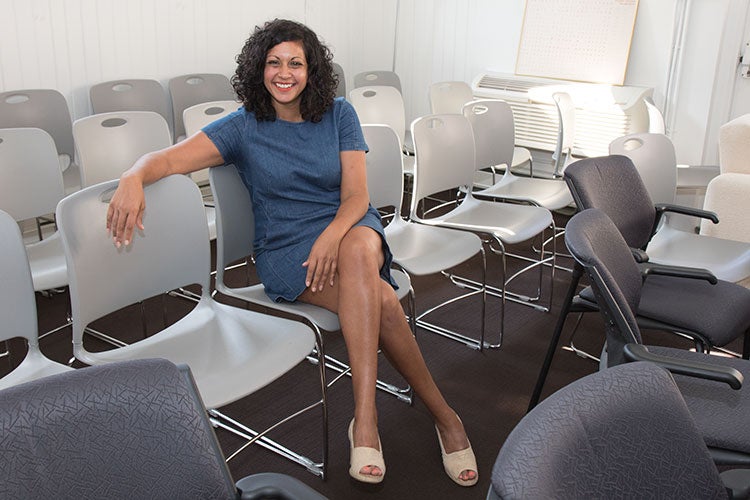 McLuhan Centre director Sarah Sharma says feminist scholars engaging in critical thinking about technology are continuing to update McLuhan's work (photo by Romi Levine)
Sharma is dedicated to bringing prominent voices on gender, sexuality and technology into the centre, starting with Monday's seminar, where four prominent feminist scholars were asked to pick an object and talk about its hidden meanings, similar to the way McLuhan analyzed various "media," from electricity to the television, in Understanding Media.
"McLuhan opened up a way of seeing things and nobody can go back after they've read him," says Sharma. "I want to raise that level of discussion and these critical scholars are doing all this cool stuff – I want this to be place they can come and share that work."
Moderated by Sharma, the event featured talks by Anne Balsamo of the University of Texas at Dallas on CRISPR and the consequences of gene editing, Sarah Banet-Weiser of the University of Southern California-Annenberg on the Fearless Girl and Charging Bull statues in New York and their gendered interpretations, Sara Martel of the Institute for Better Health on neonatal incubators' reproductive and historical connotations, and Judith Nicholson of Wilfrid Laurier University on the power and imagery of the gun.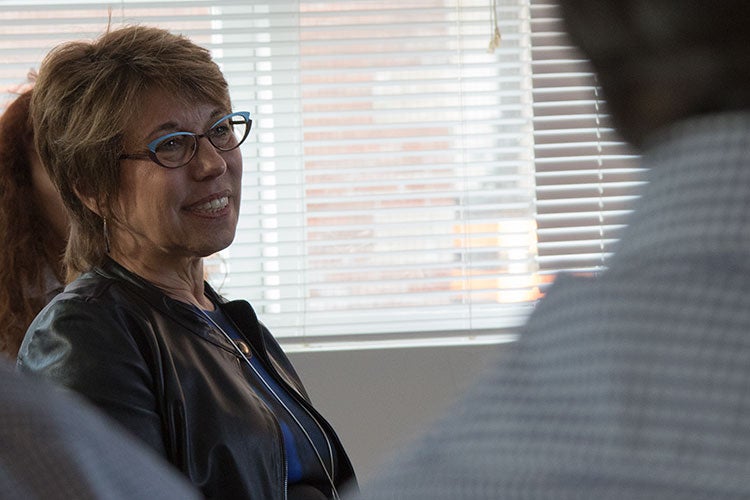 Panelist Anne Balsamo looks at the role of culture in technological innovation (photo by Romi Levine)
"This was my dream to have these four people here," Sharma told the crowd at the seminar.
Those in attendance agreed.
"It's about time," quipped Grace Lao, a PhD student at York and Ryerson Universities and a summer PhD resident at the McLuhan Centre, about the inclusion of diverse voices and perspectives on the panel.
"Some of the people who came today are people whose work I've been following for a number of years," says Patrick Keilty, an assistant professor in the Faculty of Information.
And while feminism has infiltrated popular culture in a variety of ways – from "feminist"-branded T-shirts to empowering Instagram posts – the seminar serves as a place where people can think more critically about the way the movement is portrayed and responded to, says Denise Cruz, an associate professor in the department of English in the Faculty of Arts & Science.
"It is a moment when feminism has become a popular catchword in ways that aren't always as complex as they could be," she says. "It's always great to have a place where people can come together."
UTC