U of T's Lynne Viola helps document Soviet-era history amid crackdown on archives: Toronto Star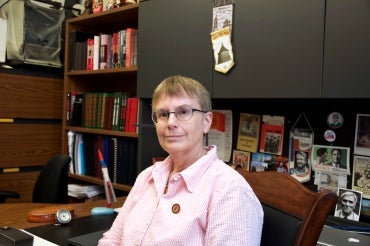 The University of Toronto's Lynne Viola is already acknowledged as one of the world's most influential scholars of Soviet and Russian history, but her archival research and publications are taking on even greater importance amid President Vladimir Putin's crackdown on archives and historians documenting Stalinist-era atrocities.
In an interview with the Toronto Star, Viola, a University Professor in the department of history in the Faculty of Arts & Science, says the field of Russian history has been dealt several blows in recent years – the worst being the shuttering of Memorial International, an archive dedicated to documenting human rights violations in Gulags.
"Memorial has a massive archive," Viola, who is cross-appointed to the Munk School of Global Affairs & Public Policy, told the Star. "People would literally come with suitcases full of documents about their stay or their parents' or their grandparents' stay in the Gulag. It's the greatest archive in the world on the Gulag."
Viola recently won the prestigious SSHRC Gold Medal, completing a clean sweep of Canada's three most prestigious humanities and social sciences awards. Reflecting on her early-career collaborations with senior Russian historians in the 1990s, Viola said she now understands why they were so anxious to preserve documents for posterity: "Now I look back and think about my elderly colleagues and their warnings and I realized how prescient they were."
However, she also noted with relief that Ukrainian archives – which were fundamental to her most recent published work, Stalinist Perpetrators on Trial: Scenes from the Great Terror in Soviet Ukraine – remain open for the time being.
UTC