U of T's John Polanyi recognized for anti-nuclear weapons activism, upholding human rights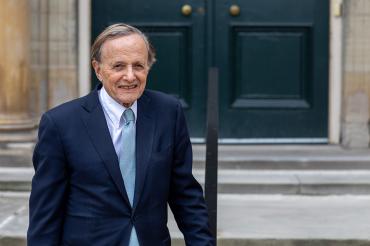 University Professor Emeritus and Nobel laureate John Polanyi has been awarded the 2022 Andrei Sakharov Prize by the American Physical Society – a notable honour for Polanyi given his nuclear early anti-proliferation efforts were connected with those of Sakharov himself.
The award is named after Andrei Sakharov – a nuclear physicist, Nobel laureate and activist for disarmament, peace and human rights – and recognizes outstanding leadership and achievements of scientists in upholding human rights.
In Polanyi's case, he is being recognized for seven decades of tireless activism for a nuclear-weapons-free world, for upholding human rights and freedom of speech globally, for public education on the essential role of science in society, and for a visionary approach to bringing about a hopeful, peaceful future.
He remains humble about his work.
"My qualifications for this marvelous prize are slim," said Polanyi. "I have done a scientist's normal work as a citizen."
Polanyi, who won the 1986 Nobel Prize in chemistry, has spent the greater part of a century voicing his strong belief that scientists have a responsibility to involve themselves in the defence of human rights.
In 1960, Polanyi became the founding chairman of the Canadian Pugwash group, whose mission is to offer scientific insight and reason to the catastrophic threat posed to humanity by nuclear and other weapons of mass destruction. It's a position he held until 1978, the year he chaired an international symposium on the dangers of nuclear war. And Polanyi currently serves on the National Advisory Board of the Center for Arms Control and Non-Proliferation.
In 1998 he said, "If the arts – and here I include science – depend so crucially on a proper respect for human rights, those who dare to call themselves artists have an over-riding obligation to defend those rights. Have they done so? They have, but never sufficiently."
Polanyi reflected on Sakharov and how their efforts intertwined. 
"Half a century ago Sakharov, having been the leader of H-bomb research in the U.S.S.R., risked his life in opposing the further development of the most horrible weapons in history. They were the first instruments designed exclusively for genocide, for the mass killing of civilians," Polanyi said. "I wrote to colleagues across Canada. We then petitioned the Soviet leaders to listen to Sakharov's warnings, rather than persecute him."
"When later Sakharov and I later met, he told me that such protests ultimately saved him. He was clear-thinking and very brave. He lives on as an inspiration to all who speak out for humanity, and for the role of freedom of thought if we are to have a future."
Polanyi is the first researcher from a Canadian institution to be recognized with the honour.
"I would like to congratulate our esteemed colleague and Nobel laureate, John Polanyi, on receiving this award," said Melanie Woodin, dean of the Faculty of Arts & Science. "Not only has he dedicated his career to scientific research in chemistry, he has also been a tireless defender of human rights and a strong advocate for a nuclear-weapons free world. He is an incredibly worthy recipient of this prize."
"This award is a wonderful recognition of the contributions of Professor Polanyi in protecting human rights and fighting nuclear weapons proliferation," said Rob Batey, professor and chair of the department of chemistry.
"Suffering repression, Sakharov was probably the most well-known Soviet dissident, and his case was a cause célèbre until his release in the mid-1980s. The APS prize given in his name serves as a reminder of the role that scientists can play in advancing and advocating on issues of broader societal importance."
Arts & Science