U of T's geoexchange project to reduce carbon footprint of heritage buildings: The Globe and Mail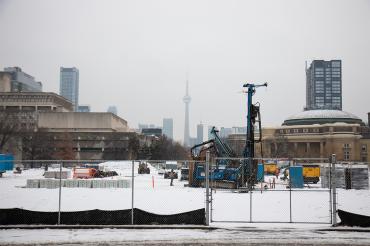 The University of Toronto's geoexchange project demonstrates it's possible to reduce the environmental footprint of heritage buildings in the city's downtown core, according to Scott Mabury, U of T's vice-president, operations and real estate partnerships.
"The goal is making heritage buildings more efficient than they were ever imagined to be," Mabury told The Globe and Mail, adding that that he "hopes builders across the country eventually see the project as proof that the carbon footprint of old structures can be manipulated."
The geoexchange system – installed alongside U of T's Landmark Project, which aims to make the St. George campus greener, more walkable and more accessible – involves drilling boreholes deep into the ground to store of surplus heat generated by nearby mechanical systems in the summer for use in the winter.
Ron Saporta, chief operating officer, property services and sustainability, told the Globe that "adapting the old St. George campus buildings to new heat pumps can take a lot of work, as it involves updating electrical panels and mechanical systems."
It's estimated that the system will reduce the university's greenhouse gas emissions by 15,000 metric tons per year. "This geo-exchange system will help us have a much lighter touch on the world, and if we can do it here, we can do it anywhere," Mabury said.
UTC