U of T's Gabriela Stafford takes family legacy of racing to Rio
"An exceptional student and an outstanding athlete"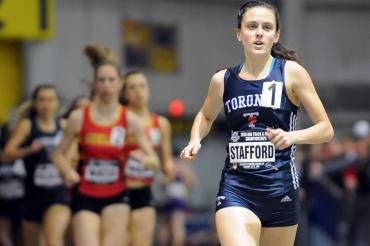 At 20 years old, Varsity Blues track star Gabriela Stafford was not expected to race at the 2016 Summer Olympic Games.
The undergrad, who is set to begin her fourth year of psychology studies, had her sights set on qualifying for the 2020 Olympics in Tokyo.
But her talent and hard work paid off much sooner when she won the Canadian 1,500-metre title at the Olympic trials in July and secured a spot on Team Canada in Rio. 
A look into her family's history of racing shows this was not such a surprising result. Stafford's father, U of T professor Jamie Stafford, represented Canada at four World Championships. Her mother, Maria Luisa Gardner (1965-2008), was from a running family with a brother, John Anthony Gardner, who was an OUAA champion for U of T and sister, Sara Gardner, who also represented Canada at a World Under-20 Championship for U of T.
And Gabriela's sister Lucia, who starts engineering at U of T in the fall, just became the 2016 junior national champion in the 1,500-metre event.
"With Gabriela and Lucia, there's been no regression to the mean," says Jamie Stafford, who is chair of the department of statistical sciences at U of T. 
Speaking from Rio where the family has gathered to cheer for Gabriela, Stafford says having her qualify and compete in the Olympics feels very normal. 
"Gabriela is truly exceptional and solid," he says. "In truth, when she won the Olympic trials I knew she'd be very pleased and that's what mattered to me. On the other hand – it's really, really special!"
Does the family have a strategy for keeping their cool before the race?
"No. None," says Stafford. "We go nuts!" 
The head coach for the U of T track and field program, Carl Georgevski, made no attempt at containing his excitement.
"It's an incredible feeling to have an athlete that the program has developed, right from the very beginning, competing in the Olympics," he says. 
Gabriela started out as a junior development athlete in the U of T track & field junior development academy and made her way to becoming a provincial, national and international athlete and, finally, an Olympian. 
"It's been a long process, so I really feel proud of her accomplishments and what she's been able to do by sticking with the program, but also with her coach Terry Radchenko who's been with her right from the very beginning, making sure that she gets the best possible training."
Assistant Coach Radchenko has coached Gabriela for the past six years and in that time watched her grow as a person and an athlete.
"She is a truly special young woman. Intelligent, motivated, a perfectionist, so tough, with a very big heart. She has improved so much over these past six year. Gabriela's future is very bright both on and off the track." 
Georgevski agrees: "She is 20 years old. Her peak is going to be in 2020 and 2024."
He describes Gabriela as the quintessential U of T student athlete. 
"She is an exceptional student and an outstanding athlete. It's so wonderful to have someone like her chasing her Olympic dream at a place like U of T that makes it possible. I feel ... like a parent. So proud of what we have accomplished together."
Vice-President and Principal of U of T Scarborough Bruce Kidd is a former Olympian and founding dean of the Faculty of Kinesiology & Physical Education. Kidd (pictured below with Gabriela and Lucia Stafford at a recent event to celebrate U of T athletes Varsity Stadium) said he will be watching Gabriela's race from Vancouver, where he is visiting family after hiking the Chilkoot Trail.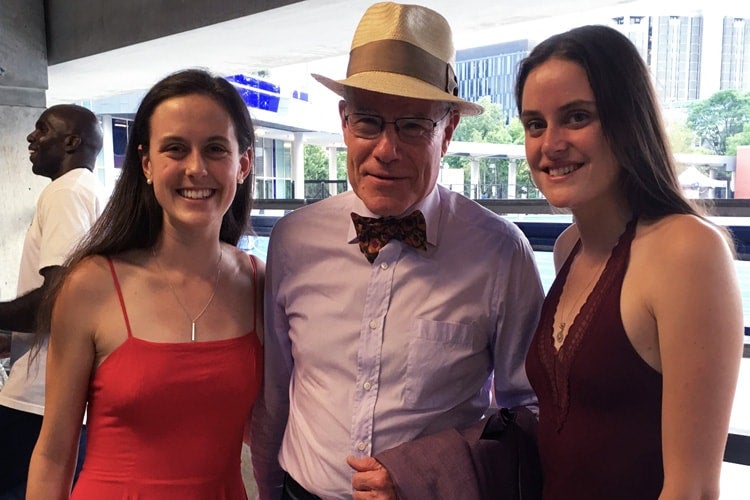 Stafford races at 7:30 pm on August 12, 
Asked if he had any advice for Gabriela ahead of her race, one Olympian to another, Kidd said he would advise her to stick to her plan and enjoy racing in the company of the world's best. 
"She's one of them, so she should show them what she can do."
Coach Radchenko had some more advice. 
"Gabriela is in a very tough heat with some of the fastest and most experienced runners in the world. Her goal going in was to run to the best of her ability, improve her overall ranking and take a shot at making the semis. The key for G will be to get herself in the mix with the top six in her heat and be there to use her kick with 300m to go."
Sound advice from her biggest cheerleaders.