U of T's Thomas Fisher Rare Book Library now has one of Canada's oldest printed books in English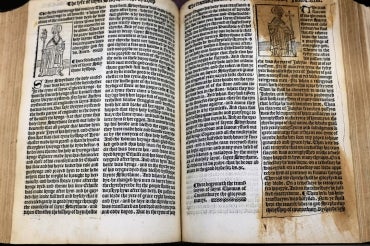 U of T's Thomas Fisher Rare Book Library has acquired a 1507 copy of The Golden Legend, making it the oldest book printed in English at the library and one of the oldest books in English in Canada.
Widely read during the Middle Ages – some consider it even more popular than the Bible – The Golden Legend recounts stories, both factual and fictional, of the lives of the saints. 
The book has original woodcuts in it by England's first printer, William Caxton, considered the Johannes Gutenberg of England, and it shows signs of censorship from the Reformation period. The word "pope" has been marked out throughout the book and a giant "X" at one time blocked out an entire section on Thomas Becket, the murdered Archbishop of Canterbury.
"That's one of the wonderful things about censorship, says P.J. Carefoote, Fisher's early books librarian who specializes in Medieval manuscripts and books. "It's futile. It just makes someone want to see what's there."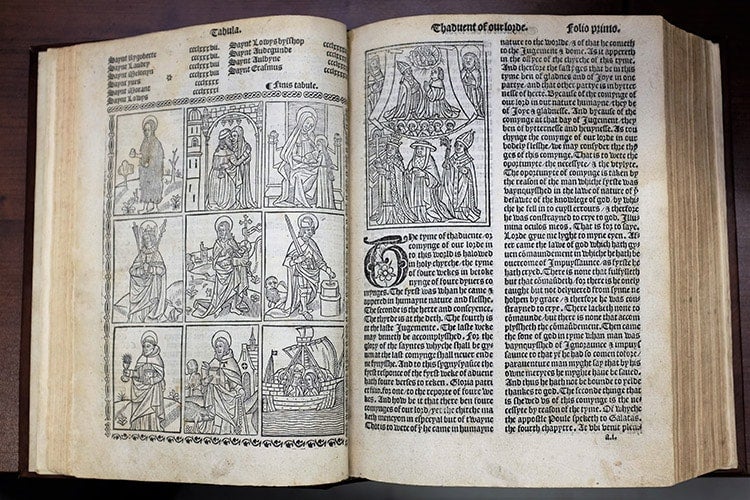 And sure enough, at some point someone did remove the black ink covering the section on Becket and the black marks over the word "pope" with bleach. The censored material is now visible to readers.
The book is important because it is such an early example of English printing," Carefoote says. "It also was one of the most important books in the Middle Ages and then after the Reformation, it almost immediately dropped off the radar."
At least half of the illustrations in the books were done by Caxton who left the woodcuts in his will for his apprentice, Wynkyn de Warde, who actually printed this copy of the book. The beginning of the book also has translations from parts of the Bible, which at the time was illegal in England.
"So the Golden Legend on the continent didn't have these, but Caxton has it," says Carefoote. "This means we have the earliest printed translation of parts of the Bible into English."
The book has stories from the Bible such as one on the life of Moses along with complete translations of the Book of Tobit and the Book of Judith. There were translations of the Bible into English at the time circulated by John Wycliffe and his followers but these were in manuscript form, not print, says Carefoote.
The library expects the book will be used by students in the Department of English as well as the Centre for Medieval Studies. The book, which was acquired last month, is now catalogued and ready for the public.