U of T's Faculty of Law hopes to revive summer program that inspired Indigenous teens to pursue law
'I learned so much about my culture, Aboriginal law, and myself,' one participant says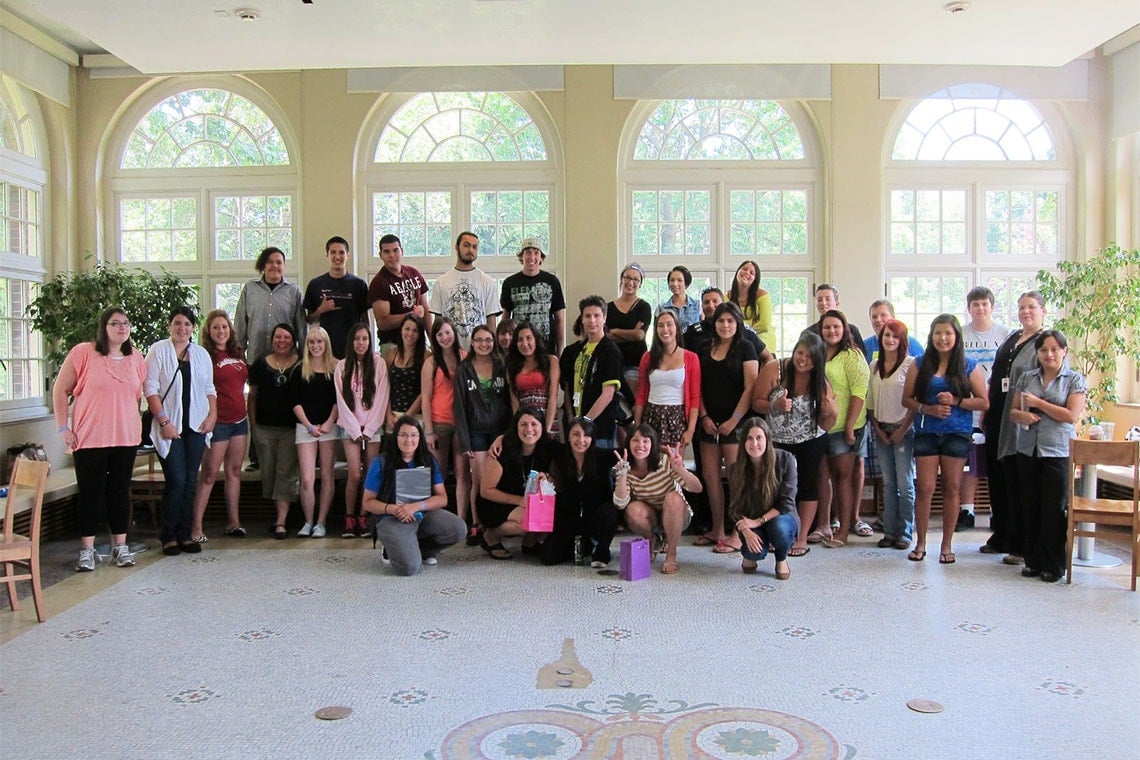 One participant says he loved learning about Aboriginal law. Another hopes to gain the legal training needed to defend Indigenous land rights. A third is interested in becoming a criminal lawyer.
These are just some of the Indigenous teens who attended the Faculty of Law's Indigenous Youth Summer Program at the University of Toronto, a week-long session that offered Métis, First Nations and Inuit teens the opportunity to stay on campus, learn about Canadian and Indigenous law, meet top Indigenous lawyers, and get a taste of life in Canada's biggest city.
"I was really just going to see what the program was about, and it changed my whole pursuit in my career," says Clayton Chairot, 20, who is Qualipu Mi'kmaq and attended the program in 2012. He is now preparing to write the LSAT and plans to study Aboriginal law.
The Indigenous Initiatives Office at the Faculty of Law ran the summer program in 2012, 2014 and 2015.  Program organizers are hoping to revive the program next summer, citing significant demand.
"The Canadian justice system is still struggling to understand Indigenous people and until Indigenous people are working in the system, the system is not going to understand us," says Amanda Carling, manager of the Indigenous Initiatives Office at the Faculty of Law. "The way Indigenous people are going to fix the system is by getting post-secondary education, going to law school."  
Carling, who was a student coordinator for the Indigenous Youth Summer Program in 2012 – and graduated from the Faculty of Law's juris doctor program the same year – is currently working to raise funds for a 2018 session.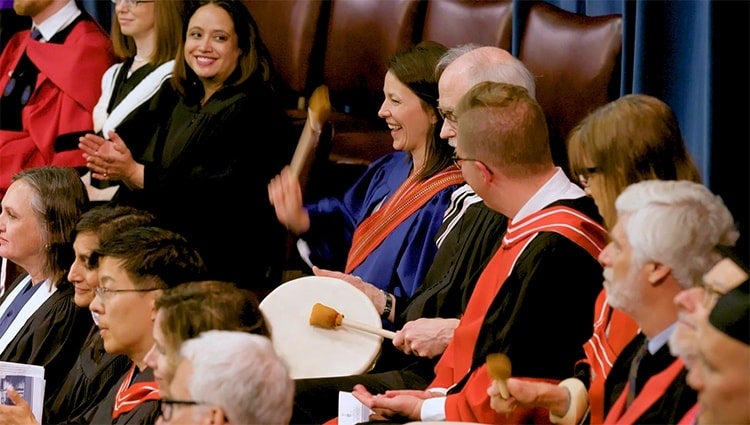 Amanda Carling, pictured centre, beats a drum to honour Indigenous grads at U of T's spring convocation (photo by Johnny Guatto)
Roxanne Derouard, 21, credits the Indigenous Youth Summer Program as "a great opportunity to open up perspectives to get into a legal field."
"Indigenous people are underrepresented in the legal field," she says.
Since taking part in the summer program five years ago, Derouard studied criminology at Wilfrid Laurier University, wrote the LSAT and plans to apply for law school next year. She hopes to become a criminal lawyer.
Lucas Boudreau, from St. Laurent, Man., was 17 when he attended the program in 2012. He says his time at U of T, meeting other Indigenous teens and learning about Indigenous law, sparked a new desire for knowledge.
"It was really uplifting to be so surrounded by my heritage and to learn so much about it," Boudreau says. "I learned so much about my culture, Aboriginal law, and myself. It is a time from my life I fondly look back to."
For Chairot, his time in the program came into focus when his family recently became involved in fighting for status rights with the federal government.
"My end goal would be Aboriginal law. I find it interesting now that I know more about land claims.
"U of T opened my eyes quite a bit."
UTC