U of T's Faculty of Dentistry aims to make admissions process 'the most positive experience possible'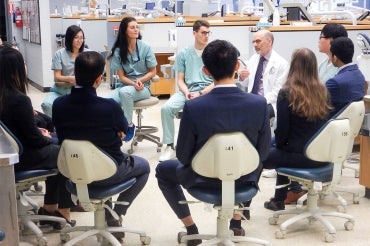 In an effort to improve the experience of prospective students, the University of Toronto's Faculty of Dentistry is taking steps to make its competitive annual admissions process a fun and friendly affair.
For the past three admissions cycles, the faculty has made changes to the format of its admissions interview weekend to make it as welcoming and inclusive as possible for candidates and their families.
Of course, some nerves are to be expected – only about 180 applicants are invited to interview each winter and, of those, just 96 students will be selected for admission into U of T's first-year Doctor of Dental Surgery (DDS) class.
"For me, the most stressful part of dental school was getting in," says fourth-year DDS student Greg Pigeon, a student ambassador who volunteered for this year's admissions weekend. 
But while the admissions process is necessarily rigorous, it can also be warm, says Jim Lai, the faculty's vice-dean, education.
For Lai, who also instituted changes to the interview format for the faculty's admissions, setting the right tone for the day is crucial.
"We want to ensure that all the candidates who walk out of their interview had the most positive experience possible," Lai says. "We really want to reinforce how great our school is." 
There were more than 80 students and a number of faculty and staff who volunteered for the most recent admissions interview weekend, held Feb. 8 and 9. The volunteers greeted candidates and their families, answered questions and took the candidates to meet Samantha Freeman-Attwood, registrar and manager in the faculty's Office of Student Services, just prior to their interviews.
"We are working to make our faculty more responsive to the needs of students," says Daniel Haas, dean of the Faculty of Dentistry. "Being present for the students, being there for them from day one, is an important part of that overall approach."
But the welcome mat – which also involves refreshments and a student activities fair prior to the interview – doesn't roll up once the interview is over. Afterward, DDS students take small groups on a tour of the faculty, allowing candidates to picture what their daily lives might be like.
The last stop on the tour is Clinic 1, one of the faculty's largest patient clinics. There, candidates are greeted by the dean, who is joined by a handful of students.
"I tell the candidates that they are free to ask anything about the DDS program or about the profession that they are about to enter," says Haas, adding, "I truly enjoy my experience during admissions weekend."
Pigeon says most candidates want to know what dental school is like and how to navigate the degree's demands. Having upper-year students there to share their experiences is helpful, says Pigeon. But it's the dean's presence that adds weight to the day.
"You have direct access to the dean. You could ask him anything. I think, from the candidates' perspective, it was a pretty neat opportunity," Pigeon says.
By making the dean available, the school also wants to send prospective candidates another message: Every candidate is valued. 
"This is their first impression," says Lai. "We've definitely created a much more open atmosphere and caring environment. We're happy with what we've done, but we're always looking at ways to improve."
Recalling his experience on interview day, Pigeon agrees that efforts to make the process more enjoyable are working. "People are still tired and worn out. It's still a long day," he says. "But I think the changes make the experience more enjoyable. The candidates felt really welcomed."
Dentistry