U of T's executive director of Health and Wellness helps spearhead national standard on student mental health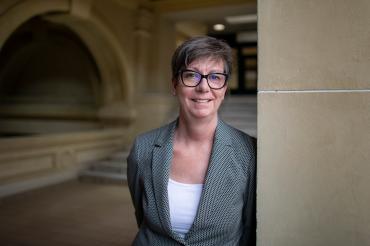 The statistics are concerning.
Two out of three post-secondary students in Canada say stress negatively affects their studies. Half have used campus mental health services, with 10 per cent being seen in crisis or urgent situations, according to the Mental Health Commission of Canada.
As the demand for mental health services grows on campuses across the country, the commission is championing the development of a new standard for post-secondary school students' psychological health and safety, a voluntary set of guidelines to promote the mental health and well-being of students. The work is being done in collaboration with the Canadian Standards Association (CSA Group) as the standards development organization.
Janine Robb, the executive director of Health and Wellness at the University of Toronto, is helping lead the development of the standard as the chair of the CSA Group's technical committee, consulting with other experts in the field from coast to coast.
"We certainly know that over the last number of years we've seen an increase in students presenting with mental health concerns," Robb told U of T News. Community supports outside the university are lacking, she added, putting the onus on post-secondary institutions.
Robb says university can be a stressful place, especially for new students. "There's all the transitional pieces that hit students when they get to university," she says. "They're away from family, they're away from their supports. It's a different routine." And many undergraduates fall within the age group of 16 to 24 years old, when 75 per cent of mental health diagnoses occur.
The mental health guidelines are meant to emphasize a collaborative approach to promoting students' mental health, decrease stigma surrounding mental illness and encourage students to seek help. They may also help increase mental health literacy in both students and staff. 
For universities, the standard provides benchmarks to support students' mental health while identifying best practices for campus wellness.
The guidelines were drafted by a committee of students, administrators, faculty, staff and campus union leaders, and informed by an extensive set of community engagement activities undertaken by the Mental Health Commission of Canada. The CSA Z2003 psychological health and safety for post-secondary students draft standard is now out for public review. Online feedback on the draft is being sought until Nov. 6. 
"Many Canadian schools, including U of T, have already developed a mental health framework," Robb said. "This is actually taking it to the next step."
The standard is meant to align with the national standard for psychological health and safety in the workplace that has been recognized in Canada since 2013. The CSA Z2003 Post-Secondary Students Standard emphasizes a collaborative approach toward supporting the mental health of students by reinforcing the shared responsibility of students, staff and faculty.
"We want to create a model, a socio-ecological approach, whereby everybody within the community has a responsibility to be mindful of other individuals' mental health," Robb said. 
"Students, staff and faculty all have a need to pay attention to behavioural changes in their vicinity. Where possible, they should have a brief interaction and steer someone toward the proper resources if necessary," she added. 
The Mental Health Commission of Canada initiative is funded by the RBC Foundation, Bell Let's Talk, the Rossy Foundation and Health Canada.
Robb hopes the standard will be ready in the spring, and that U of T will be an early adopter so that it can be applied with the workplace standards "under a global umbrella of a healthy campus." 
---
Feeling distressed? Find someone to talk to right now – and if there is an immediate risk, call 911 or Crisis Services Canada at 1-833-456-4566.
The following are some of the mental health services available to students on all three campuses: 
Downtown Toronto: Health and Wellness Centre (416-978-8030), located at Koffler Student Services
U of T Scarborough: Health & Wellness Centre 416-287-7065 
U of T Mississauga: Health & Counselling Centre 905-828-5255
Round-the-clock support
Free 24/7 support is available outside the university. Students, staff and faculty can speak to a trained crisis worker at any hour of the day.
Good 2 Talk 1-866-925-5454
Gerstein Crisis Centre 416-929-5200 
Distress Centres of Greater Toronto 416-408-HELP (4357)
The Centre for Addiction and Mental Health at 250 College Street
Anishnawbe Health Toronto Mental Health Crisis Line 416-360-0486
My SSP for U of T  Students 1-844-451-9700. Immediate support is available in 35 languages and ongoing support in 146 languages.
Appointed faculty and staff have access to the Employee & Family Assistance Program (EFAP), offered through Homewood Health, online and by phone at 1-800-663-1142.
UTC