U of T's English-Chinese translation program continues to grow, bridging two cultures in the process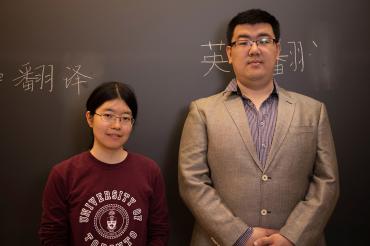 Louie Xia first started translating Chinese text into English as a hobby in Grade 8.
He would translate all sorts of things – news articles covering computer games, historical articles about the Second World War, and even the text files embedded in mobile games. By high school, it had developed into a passion.
"When I enrolled [at University of Toronto Scarborough], I noticed there was an English-Chinese translation program, which was exciting," says Xia, a fourth-year linguistics major with minors in computer science and English-Chinese Translation (ECT).
"What's fun about translation is you get to learn new things about another culture, and even more about your own."
Xia is one of nearly 320 students enrolled in the ECT program at U of T Scarborough, which is the only English-Chinese translation program offered at the undergraduate level in North America.
The program is designed to teach the fundamental theoretical and practical skills necessary for translation, but as program supervisor Helen Wu points out, training students to be culturally aware is just as critical.
"As a translator you need to be proficient in both languages, but being mindful of cultural differences is often just as important because context is everything," says Wu, an associate professor in the Centre for French & Linguistics.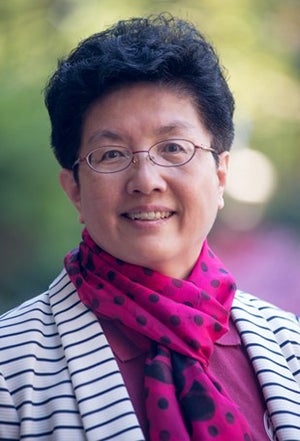 Wu (pictured left) highlights the course Food, Cultures, and Translation as an example. It asks students to explore ways that culture and trade intersect in Canada and China.
One of the course's major projects involves an oral presentation and written assignment focused on agricultural products that are imported/exported between the two countries. Students research topics like where the product is from, its trade value, and which companies are importing and exporting the item.
"We also get students to explore ways trade could be improved or if the product can be marketed better. These practical skills come in handy when students start looking for jobs," says Wu.
Being a bridge between cultures is something that recent graduate Yingxue Li relishes. When she first arrived in Canada, she faced some challenges in adapting to life and academics, but things started to slowly change after she enrolled in her first ECT course.
"As a newcomer you may be shy about talking to others because you have an accent, but when you dive into translation you really gain confidence in your writing and speaking skills," says Li, who majored in city studies.
"My classmates soon started asking me to explain English terms to them, which was great because I was able to start helping others," adds Li, who helped manage and design procedures for translating The Varsity into Chinese. 
Jingshao Yao, a third-year linguistics major with minors in English and ECT, appreciates how the program trains students to speak, write and think bilingually.
"The program really facilitates how to appreciate different perspectives," says Yao, who is the event executive for the ECTSA, which is the program's student club.
Yao, who first started volunteering as a translator at her local American school in China, says there are countless examples when being able to provide context is crucial. She refers to shizitou (狮子头), a traditional pork meatball dish from eastern China, which literally translates to 'lion's head' in English.
"There are so many examples when a literal translation doesn't make sense – or may seem really unappetizing," she says.
Xia adds songshu yu (松鼠鱼), a deep-fried fish dish with sweet and sour sauce, to that list. The literal translation of the dish is 'squirrel fish' in English. "This also makes no sense because there's no such thing as a squirrel fish … and we don't cook squirrels," he says.
He points to the North American term 'millennials' as another example of something culturally specific. In China, generations are mostly categorized by decade, he explains, and there is meaning infused in the definition of a millennial that also doesn't exist in China.
It's a big reason he believes artificial intelligence still has a long way to go in being able to competently translate two very different languages with regionally specific nuances.
"I think AI will be able to do some basic translations in the near future, but human communication is so much more than a simple conversation," says Wu, who gets students to keep up on contemporary topics and terms in the news to help their translation skills.
"Some languages like French and English will get there a lot sooner, but Chinese to English still has a long way to go because they are so different. Different words can mean different things given the context, and arriving at a good translation can be incredibly complex."    
UTSC