Undergraduates from U of T and other universities attend the research symposium marking the end of the Donnelly Centre summer undergraduate research program (photos by Jovana Drinjakovic)
Almost 60 undergraduates from the University of Toronto and other universities participated this summer in a research program at the Donnelly Centre for Cellular & Biomolecular Research aimed at immersing students in a real research environment – cultivating their curiosity about science and giving them the research experience required to enter competitive graduate schools.
Students in the program learned how to plan and conduct research projects in diverse medical research fields, draw insights from their data and present their research in seminars.
"I never knew what you did in a PhD [program]," says Justine Lau, who is entering her second year of medical sciences studies at Western University.
Lau spent her summer working in Assistant Professor Mikko Taipale's lab at the Donnelly Centre, where she studied the molecular basis of congenital diseases
"It was really interesting to see the life of grad students, learning basic lab skills that I 'm going to take on in future years.
"I always thought of researchers as working on their own and I was surprised by the amount of collaboration that happens in the lab," she says. "I am a very social person so I really liked that."
For Allysia Chin, who researched biomarkers in brain cancer in University Professor Molly Shoichet's lab, learning how to communicate science to the public was as important as learning new lab skills.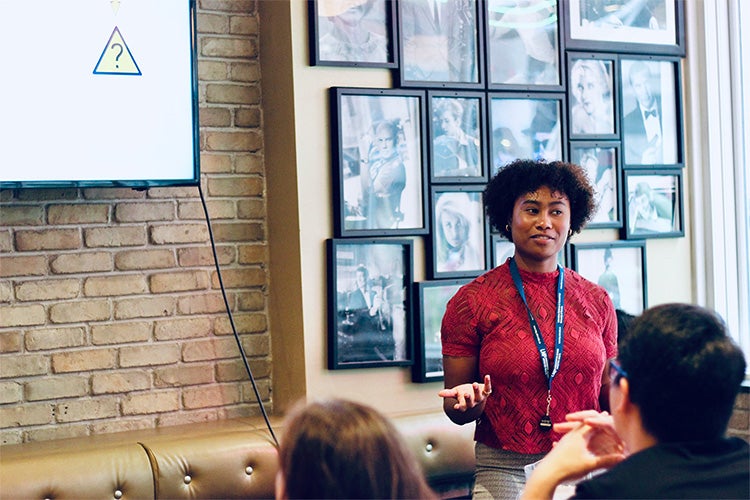 Allysia Chin presents her research at the Donnelly Centre undergraduate student research symposium
"Communicating science to a lay audience is often overlooked, but it is so important because at the end of the day the research we do is for them," says Chin, heading into the final year of her chemical biology degree at McMaster University. 
Communicating science effectively will stand her in good stead when she fulfils her dream of becoming a clinician scientist, which she hopes to train for in U of T's MD-PhD program.
"I love the dynamics of the school and inclusion and diversity it represents," she says.
The program concluded with a research symposium during which 20 students presented their projects as two-minute poster pitches to their peers and lab members. The speakers were selected on the strength of their written research summaries.
"The students clearly put a lot of work into both their projects and their two-minute presentations," says Peter Roy, a professor in the Donnelly Centre who was on the judging panel that awarded prizes for the best presentation and research summary. "The projects were so exciting, highlighting the cutting-edge research that the Donnelly is engaged in."
Other members of the panel were Shoichet, postdoctoral researcher TaeHyung (Simon) Kim, senior research associate Helena Friesen and graduate students Clarence Yeung and Ziyang (Jason) Wang.
"This undergraduate symposium was designed to model what a future career in science would look like – how to compile data in a concise way, scientifically explain findings in a formal research summary, and to present work in a limited amount of time at conferences in a way that would allow your peers, who are not familiar with your research, to understand what it is about" says Sara Sharifpoor, research program manager for the Donnelly Centre and co-ordinator of the undergraduate research program.
"As a bonus, we also wanted to formally recognize the gifted students with high potential, in order to encourage them to pursue a future career in science and innovation," she says.
The two $250 prizes for the best e-poster pitch and research summary went to U of T students Jack Castelli and Jack Li, both New College students in the department of molecular genetics.
Castelli was in Professor Fritz Roth's lab, where he studied how gene mutations affect the function of the encoded protein, while Li was in the Roy lab, where he searched for new chemical compounds that can kill parasites.
"The symposium was put together really well and was fun to attend," said Castelli, adding that he enjoyed his time in the Donnelly with "loads of cool science going on, from all sorts of different fields of research."
Will he be back in the lab?
"I'd be devastated if this were my last summer in the lab," he says. "I am looking forward to attending graduate school and pursuing a PhD."