U of T's Diwali celebrations will be different this year, but the spirit of the holiday remains the same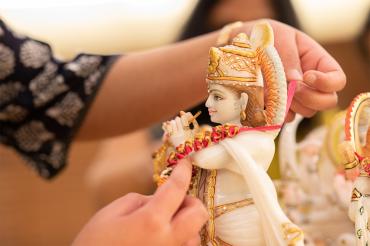 As a child growing up in Mumbai, what Rohil Kishinchandani remembers most about Diwali is lighting firecrackers with his friends. "We would meet up and set them off in a huge chain. It probably wasn't the safest thing, but it was a lot of fun," says Kishinchandani, a fourth-year management co-op student at the University of Toronto Scarborough. 
As president of the U of T Scarborough Indian Students' Association in 2018-19, Kishinchandani kept the festive atmosphere going by hosting Diwali celebrations on campus that consisted of music, dancing and traditional food.
Celebrations were bound to be different this year amid the ongoing pandemic, but U of T students and staff nevertheless found new ways to generate excitement across the three campuses. 
Members of the Hindu Students Council (HSC) at U of T have installed seven murtis in the Multi-Faith Centre on the St. George campus. A murti is a statue that is a symbolic representation of a Hindu deity and can be found in Hindu Temples where they are involved in a puja, which is a form of ritual worship. 
The murtis are the fruition of a two-year long project that is described by the Multi-Faith Centre as a first at a Canadian university and a tangible expression of U of T's commitment to religious freedom and engagement of the mind, body and spirit in the pursuit of academic excellence.
Members of the community are invited to a virtual event revealing the murtis followed by a short puja on Nov. 14 at 11:30 a.m. to noon.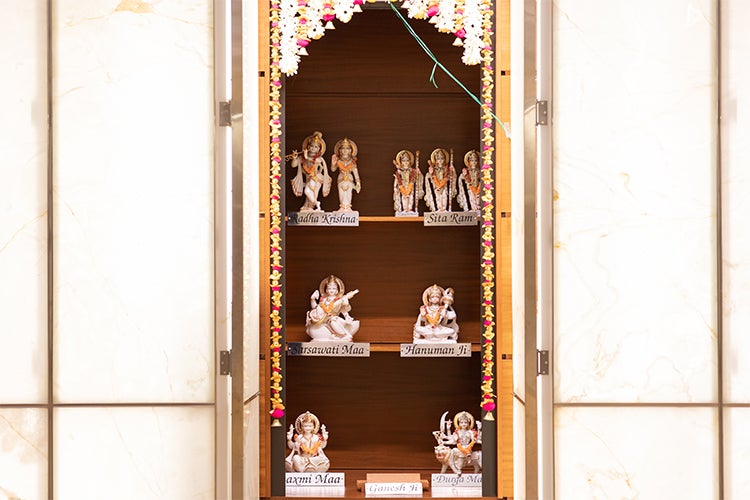 (photo by Johnny Guatto)
Himanshi Sehgal, president of the HSC, says she was contacted by the Multi-Faith Centre in February about setting up an appropriate space to worship.  Sehgal organized committee of eight students and together they raised funds from 67 donors across Canada.
"For Hindus, prayer is an important part of Diwali," says Sehgal, a fourth-year actuarial science and economics student on the St. George campus.
"I think being able to install the murtis and provide Hindu students a place to gather and worship on campus is a meaningful way to celebrate."
Often referred to as the Indian festival of lights, Diwali is an annual festival celebrated in South Asia. Observed by Hindus, Sikhs and Jains, it lasts five days, with the third day (this Saturday) considered the most important. During the holiday, families typically gather to pray, light candles, eat sweets and place lit lamps called diyas in the windows and doorsteps of their homes. Diyas symbolize goodness and lighting them represents moving out of darkness into light.
Alexandra Gillespie, vice-president and principal of U of T Mississauga, wished the community a happy Diwali and Bandi Chhor Divas, the Sikh holiday that coincides with Diwali.
"In this year like no other, it is so important to rejoice on days of faith and ceremony," said Gillespie, who reminded the community to wear a mask, maintain physical distancing, keep hands washed and limit in-person celebrations to your household.
"Diwali provides an opportunity to reflect on the courage, perseverance and collectivism that can nourish light over darkness."
Gillespie added that Lislehurst, the official residence of U of T Mississauga's principals and their families, "will be brightly lit in festivity."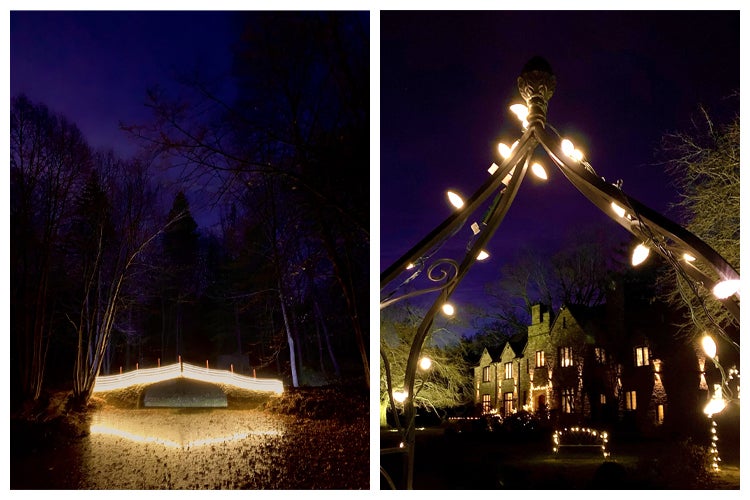 The U of T Mississauga campus is lit up for Diwali (photos by Angelia Meffe)
Back at U of T Scarborough, staff and students at Student Housing & Residence Life have been busy preparing a virtual Diwali celebration, complete with music, that will take place Friday evening. Supplies to paint diyas, battery-powered candles and traditional Indian sweets will be delivered to students living in residence who registered for the event.  
For Sischa Maharaj, assistant director of external relations and communications in the department of management at U of T Scarborough, Diwali is all about celebrating with family.
As a child growing up in Trinidad, Maharaj vividly remembers spending hours lighting row after row of diyas and being responsible for keeping them burning bright. Another tradition was gathering at her aunt's house to enjoy food and Indian sweets like jalebi, and home-made prasada, a vegetarian food that is used as a religious offering.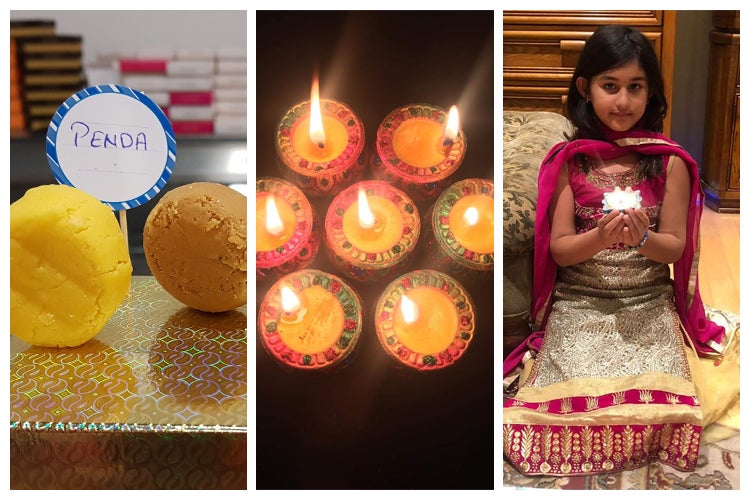 (photos by Sischa Maharaj)
For Maharaj, a typical Diwali celebration in Canada involves fasting for nine days, decorating her house, lighting dozens of diyas, singing bhajans (devotional songs) in the temple, prayers and then cooking up a storm to celebrate with her extended family.
Not surprisingly, she says this year will be a little different.
Instead of a large in-person gathering, Maharaj plans to deliver homemade prasada and other food, and then virtually connect with her extended family. Fewer diyas will be lit, but she still plans to fast with her husband, cook up a vegetarian feast with her mother-in-law and decorate her house with her two daughters.
But the spirit of the holiday remains the same.
"During Diwali I try to think about the good in the world," she says. "Whatever darkness we are experiencing in life, I always try to remember there's an internal light guiding you.
"We all have a choice to be kind to others, and to bring a light into other people's lives. That's what Diwali means to me."  
UTC