U of T's Data Sciences Institute partners with UNICEF to drive innovation in learning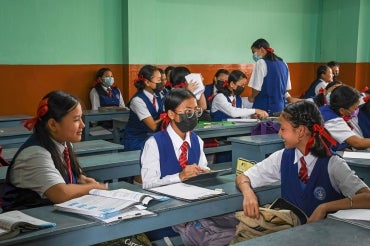 The Data Sciences Institute (DSI) at the University of Toronto is partnering with the United Nations Children's Fund (UNICEF)'s Frontier Data and Tech team to find new ways to use data to address complex challenges involving children.
Through joint research and training, DSI – a U of T institutional strategic initiative – will work with UNICEF to strengthen the international organization's ability to use data science to drive innovation in learning. 
That includes a partnership focused on using data and artificial intelligence, or AI, to predict student dropout rates and develop better early warning systems that inform decision makers in the development and humanitarian realm.
"This partnership is a significant milestone for our Frontier Data Network, a global community of practice that leverages data science to positively impact the lives of children worldwide," says Yves Jaques, chief of the Frontier Data and Technology unit at UNICEF. 
"Together, we are poised to unlock new insights, drive evidence-based decision-making, and pave the way to a brighter future for children everywhere."
The effort aligns with DSI's strategic goal of leveraging the potential of data to promote the greater public good.  
As an initial collaboration, Zahra Shakeri, an assistant professor at the Institute of Health Policy, Management and Evaluation (IHPME) at the Dalla Lana School of Public Health, will partner with Manuel Garcia-Herranz, data principal researcher, and Karen Avanesyan, statistics and monitoring education specialist at UNICEF's Division of Data, Analytics, Planning and Monitoring (DAPM) on a project that aims to revolutionize early warning systems in education through the application of cutting-edge AI technology.
As part of the 2023 Summer Undergraduate Data Science (SUDS) Opportunities Program, the project allows Ziqi Shu, a third-year student studying computer science, cognitive science and mathematics, to gain practical experience by working on fictional case studies focusing on social problems affecting children. By identifying at-risk students and schools with high dropout rates, UNICEF aims to support countries with a strong Education Management Information System (EMIS) and household survey data.  
"Our aim is to develop a pilot tool that provides a comprehensive representation of the machine learning-based school dropout prediction landscape, bridging the knowledge gap in this area," says Shakeri, who is also director of the Health Informatics, Visualization, and Equity (HIVE) Lab at IHPME. "This tool will utilize innovative data analysis and visualization techniques, benefiting researchers, practitioners and other stakeholders in exploring the factors influencing school dropout among children.
"The long-term goal of this project is to harness the power of data science and create an adaptable, publicly accessible system that could support countries in addressing the critical issue of school dropouts. By leveraging AI technology and early warning systems, our aim is to identify and support at-risk students and schools, ultimately safeguarding every child's right to education."
The UNICEF-DSI partnership paves the way for further research and training collaborations.
There will be opportunities to connect with the DSI community during its DSI Research Day on Sept. 27, where Garcia-Herranz will deliver the keynote address and Jaques will participate in a panel discussion on developing an effective data science workforce. The discussion will focus on equipping graduates with essential data science skills required in today's diverse fields and industries. DSI Research Day aims to showcase the work of the DSI community, fostering connections and engagement among academia, industry and government stakeholders. 
"By combining our community's expertise in data science with UNICEF's commitment to driving results for children globally, we have the opportunity to make a profound impact," says Lisa Strug, director of the Data Sciences Institute. 
"Through our joint efforts, we aim to strengthen UNICEF's knowledge and capacities in utilizing data science methodologies, fostering innovation in learning and ultimately creating a brighter future for children worldwide."
DSI