U of T's Centre for Ethics explores ethical questions surrounding the COVID-19 pandemic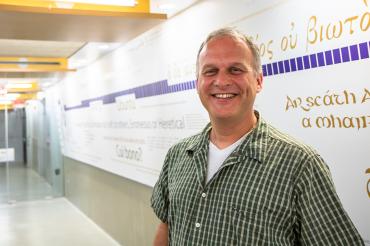 Is it acceptable to financially profit from the COVID-19 crisis? Should researchers publish preliminary COVID-19 drug research in real time? Should governments be using criminal sanctions to enforce public health guidelines? The continuing spread of COVID-19 around the world has raised a wide variety of ethical questions in many areas of our lives. 
At the University of Toronto, the Centre for Ethics in the Faculty of Arts & Science is exploring these and other pressing issues in their new series of remotely broadcast talks, the Ethics of COVID.
"One of our regular attendees recently asked us to host online events about the ethical issues raised by COVID-19, and we thought it was a terrific idea," says Markus Dubber, who is director of the centre and a professor in the Faculty of Law. "So, we're building a virtual resource of interdisciplinary takes on the ethical dimension of the current crisis.
"This series highlights U of T's unique interdisciplinary strength as a global research university with unusual excellence across the board. Lots of universities are covering the science of COVID-19; there's much less on the normative dimensions of the crisis."
As a centre that draws researchers of all levels from across the university – from undergraduate to faculty members – the Centre for Ethics has a unique perspective on the ethical dimensions of crucial issues from a variety of academic streams, including law, medicine, public policy, philosophy and beyond.
All of the Ethics of COVID videos that have been produced so far are available on a YouTube playlist, with future sessions being added on an ongoing basis. 
Arts & Science