U of T's aUToronto team wins first competition of AutoDrive Challenge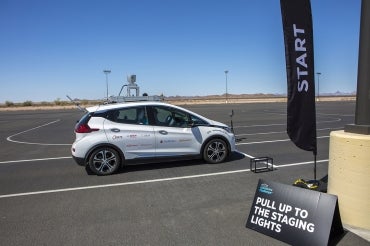 The University of Toronto's aUToronto team has come out on top at the first competition of the three-year AutoDrive Challenge.
The competition, created by GM and SAE International, challenged eight universities from across North America to turn an electric Chevy Bolt completely self-driving by 2020.
The student team, which includes undergraduate and graduate students from across the Faculty of Applied Science & Engineering and the department of computer science, received its Chevy Bolt in October 2017 and dubbed it Zeus. They have since been working to convert Zeus's systems to meet the set of challenges for the first competition, and prepare for the second.
"We placed a lot of emphasis on building a robust system that can deal with different environments and lighting conditions," faculty adviser Angela Schoellig, an assistant professor at U of T's Institute for Aerospace Studies, explained about the team's strategy for success.
"This was critically important given that we could only test in Canadian winter conditions but knew the competition was taking place at a test track in the desert where it's extremely hot and sunny. To make our car robust, we built a lot of redundancy into the system – both in terms of sensor modalities and algorithms."
"I think the results speak for themselves and reflect the high calibre of students we have at U of T."
The inaugural challenge was held from April 30 to May 5 at General Motors Proving Grounds in Yuma, Ariz. The other teams competing were the University of Waterloo, Virginia Tech, Texas A&M, Michigan State, Michigan Tech, North Carolina A&T State and Kettering University.
"For me, aUToronto's effort at the AutoDrive Challenge represents innovation – a willingness to work together, solve unsolved problems and build something which can create a positive future for our world," said team member Robert Adragana, a second-year engineering student. "And I think that's reflected in our performance."
""This result is a testament to the robustness of the system our team has developed, and now we're looking towards Year 2 of the competition with excitement," says technical team lead Keenan Burnett, a master's candidate at U of T's Institute for Aerospace Studies. "Our hope is that the second year will include more complex moving obstacles such as pedestrians and cars. Another interesting challenge would include mapping and localizing in novel urban environments."
The aUToronto team earned its first-place finish by performing in the top three in all of the six categories used to judge the teams, including:
Social responsibility report and presentation, which asks students to examine the societal impacts of self-driving cars – 1st place for report and 2nd place for presentation
Concept design report and presentation, which challenged students to develop the best AV design – 1st place for report and 1st place for presentation 
Mapping Challenge, where students were asked to develop an interface to locate 50 places across the U.S. on a map – 1st place 
Stop Line Challenge, which tested the vehicle's ability to travel in a straight line and stop at a stop sign – 2nd place
Lateral Challenge, which tested the vehicle's ability to stay within its lane while making sharp turns – 3rd place 
Obstacle detection and avoidance challenge, which tested the vehicle's ability to detect obstacles and switch into lanes to avoid these obstacles – 2nd place
Engineering