U of T's 71-year-old marathoner brings students on charity run
Richard Rayman to run 352nd marathon this weekend with one-fifth of undergraduate dentistry class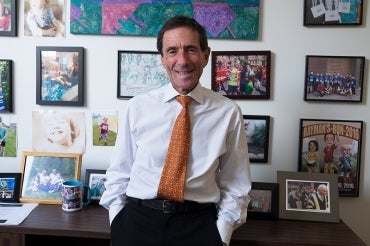 For almost four decades, neither Mother Nature, sickness nor injury could stop Richard Rayman from lacing up his sneakers and going for a run.
One website that tracks international running streaks
lists him as the Canadian with the longest unbroken running record of at least a mile per day. At 14,194 days, the 71-year-old director of student life in the Faculty of Dentistry is second only to a South African retiree 10 years his senior. "I'll pass this guy," Rayman says.
Rayman's enthusiasm is contagious. Within the Faculty of Dentistry, one-fifth of the roughly 400 undergraduates in the program plan to hit the pavement with him this weekend for the Scotiabank Toronto Waterfront Marathon. Over the last four years, "Rayman's Runners" have turned kilometres into dollars for Princess Margaret Cancer Centre dental clinic. They have raised just short of $23,000, the centre's foundation says. This year, their total is about $6,000.
On Thursday, the runners gathered in a university auditorium for a customary group picture wearing their custom-made marathon T-shirts. "He never takes a day off, and when we know he can do it, it inspires us as well," says Christi Steele, a third-year dental student.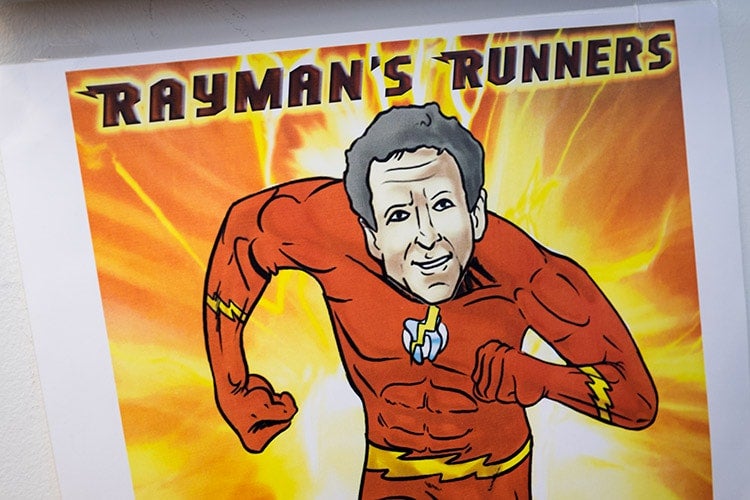 A poster for Rayman's Runners when they ran the 2015 marathon shows Rayman as The Flash (photo by Geoffrey Vendeville)
Rayman can't run a marathon in under three hours anymore, but he's found a new reason to run: to bring students together while raising money for a good cause. They usually celebrate after the finish line with plates of ribs and wings.
Rayman took up running on a whim in the summer of 1978, as a challenge he set for himself and a way to stay in shape. "I just wanted to see how far I could run," he recalls.
Rayman ran in these Nikes in the early 1980s (photo by Geoffrey Vendeville) 
His hobby became a lasting obsession. "Once you start a streak like that, you just can't stop," he says. After a quarter century of daily runs, his wife Marsha gave him a vanity licence plate: "C RIK RN." He also changed his cell number to reflect his passion. After calling his phone company repeatedly, he was finally able to change the last four digits of his number to: "IRUN." 
If all goes well on Sunday, he will have completed his 352nd marathon, including kilometres racked up under the Hawaiian sun, in Alaska and along the canals of Amsterdam. One of his sternest endurance tests, however, came this year at the Niagara Falls Marathon on a sweltering Father's Day weekend. About halfway through, his legs cramped. "If they didn't know who I was they would've taken me off the course because it took me eight hours to finish," he says. "I limped the last 12 miles."
But only a calamity of even greater proportions could stop him in his tracks. Not even a torn medial meniscus in the spring of 2016 could sideline him. "I drove to a church parking lot and ran there so no one could see how slow I was going," he says.
His family supports his running addiction. At all but a handful of his marathons, Marsha has waited for him at the end. His kids and grandchildren also cheer him on. They have never said it was time to quit. "They're too smart for that," he says. 
UTC