U of T rowing team stays fit, motivated over long distances with 'quaranteam' challenge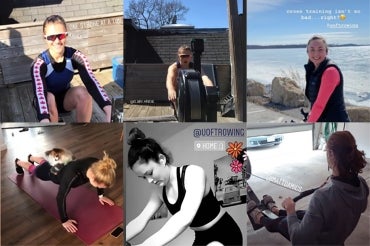 The rowing clubs at the University of Toronto and McGill University were supposed to re-launch the annual Toronto-McGill Boat Race on May 3 – an event that took place from 1926 to 1939 before the outbreak of the Second World War halted the friendly rivalry.
But the 2020 version of the event was scuppered by another global threat – this time a pandemic.
"We would have been training through April to race McGill in May, after which the athletes would have started transitioning into their home rowing clubs for the summer competitive season, which serves as an important precursor for the fall," says Varsity Blues head coach Mark Williams. "Now all of that is on hold."
In the meantime, the U of T team has created a new outlet for its competitive spirit. During a recent brainstorming session on how to stay active and competitive while practising social distancing, the rowing team's executive board came up with the idea of a "quaranteam" challenge. Through the month of May, six teams comprising U of T students and alumni will compete for the most metres ran, erged (rowed on a rowing machine), cycled or danced. The distances will be tracked on a spreadsheet complete with equivalence formulas.
"For example, a 20,000-metre bike ride would equal 15,000 metres in the spreadsheet, because biking is a very efficient way of covering a lot of ground," says Katie Gay, a third year commerce student and member of the Varsity Blues rowing team.
"Running is based on time, so if you run for 60 minutes, your total metres for that workout would be 15,000. That way, whether you decide to bike or run for an hour, your contribution to the team is equal."
Weekly leader boards will be posted on the team's Instagram account. There are also photos of the teams, each named after a U of T boat, completing the various activities.

Since COVID-19 forced the closure of university campuses, the varsity rowers will be taking part in the challenge from locations throughout Ontario, Canada and the world, with some as far away to New Zealand, Poland and China. A total of 82 athletes, including 45 alumni, are taking part.  
"The quaranteam challenge is a way for the Varsity Blues rowing community to stay fit together through this pandemic, when athletes everywhere are having a hard time staying motivated to train alone to the same degree as they did in team training practices," says Gay.

Before the pandemic, Gay and her teammates trained every morning on rowing machines at the Varsity Centre, moving across the street to Goldring Centre in the afternoons for a second cardio workout or strength session. Keeping that intensity of training while socially distancing is difficult, so the team has been meeting weekly through Zoom to discuss training challenges and goals, and do body weight workouts twice a week with coach Tom Stevens and coxswain Zoe Thompson.
Even so, staying motivated has been difficult, according to Gay.
"We can't be out on the water due to social distancing restrictions, so we use ergs to maintain our fitness. Ergs take the beautiful sunrises out of the sport and without teammates beside you to motivate you, people are finding it hard to move through the same repetitive and strenuous motion for over an hour," she says.

"The quaranteam challenge is not only great for keeping team spirits high, but also gives current varsity athletes a chance to work beside our alumni, doing what we all love to do, bettering ourselves athletically and being competitive with each other." 
KPE