U of T rolls out digital student transcripts, seeks feedback on expanding content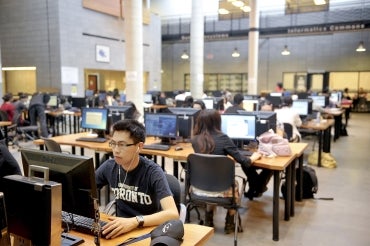 The University of Toronto is rolling out digital student transcripts this fall as it moves towards creating a more secure record that better reflects the modern student experience.
Available in PDF format, the digital transcripts offer greater security than paper transcripts, which are vulnerable to fraud. They also make it faster and easier for students to share their academic information with other institutions and prospective employers. 
Digital transcripts also make it possible to incorporate expanded information such as course details, experiential learning and international experiences. As a result, U of T has established a Transcript Innovation Initiative that will hold consultations to identify appropriate content and explore how it could be included in an enhanced transcript.
"Students should be able to represent their academic journeys and highlight their skills and competencies through a transcript that's secure, convenient to obtain and easy to share with prospective employers and academic institutions," said Sandy Welsh, vice-provost of students. "Digital records also allow us to broaden transcript content to provide a more holistic picture of students' accomplishments, reflecting the fact that a U of T education is about more than just coursework and grades.
"We encourage students, faculty and university staff to take advantage of the consultations being organized by the Transcript Innovation Initiative and share their thoughts on how they envision the expanded transcript of the future."
The Transcript Innovation Initiative officially began in November 2018 shortly after U of T hosted representatives from leading U.S. universities for meetings to explore ways to expand the traditional academic transcript. Welsh is co-sponsoring the U of T initiative alongside Susan McCahan, vice-provost of academic programs and innovations in undergraduate education.
Among the options envisaged are hyperlinking course names to a U of T website containing detailed course descriptions and information on program-level learning outcomes.
Links could also be used to share details on co-op placements, internships and observerships completed as part of a student's academic program, as well as awards and scholarships earned along the way.
The digital transcript could bundle information from U of T's existing co-curricular record, which lists paid and unpaid experiences verified by the university. The co-curricular database now comprises over 7,000 opportunities, a 439 per cent increase from 2013.
Richard Levin, executive director of enrolment services and university registrar, said that while paper transcripts have long been the favoured way to record courses and grades, they have changed little over the decades and have their limitations.
"We now have a university experience that's so much richer with work-integrated learning, international experiences, professional skills programs and other things that aren't courses but could still find a home on academic transcripts," Levin said. "We're looking for ways to capture that breadth and help students reflect on their learning and describe it to others."
The Transcript Innovation Initiative's working group – which includes representatives from across the university – has already held several meetings to explore the opportunities and challenges in developing an enhanced transcript.
Levin said the working group is keen to consult with, and receive feedback from, the university community. A website has been set up to help people share their opinions and recommendations.
"We want to hear from students and faculty. That's a very important part of the process and we'll take time to make sure that we hear what people are interested in," Levin said.
"Once we have an outline for the kinds of content that we might have in the transcript, we need to think about implementation – and that's going to involve electronic standards, logistics and the practical side of things."
Ideas for the enhanced transcript will be explored and tested over the coming months. A final report, which will include plans and requirements for implementation, will be presented to the initiative's steering committee in the spring.
UTC