U of T researchers work with Mississauga's Trillium Health Partners to create 'learning health system'
'It's quality improvement on steroids'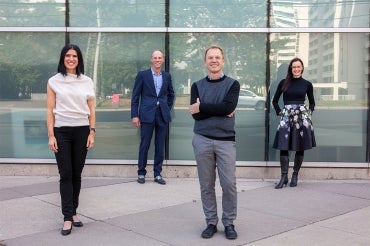 University of Toronto researchers are addressing hospital overcrowding by looking far beyond packed waiting rooms and overburdened corridors.
Working closely with Mississauga's Trillium Health Partners, researchers at the Dalla Lana School of Public Health – including epidemiologist Laura Rosella, and health systems experts Kerry Kuluski and Walter Wodchis, as well as Robert Reid, chief scientist at Trillium's Institute for Better Health – have spent the past two years talking to people with complex medical needs, such as diabetes and mental health challenges and spending time with patients and their families to understand what good care means to them.
Next, they use the data collected from the community and three local hospitals to create indicators and dashboards that can be used to improve care and planning immediately and tangibly – not theoretically, and in some distant future.
In short, they are helping to turn a community hospital system into what they're calling Canada's first learning health system.
"We're redefining the role of the hospital in the Canadian context," says Karli Farrow, THP's president and CEO.  "This is no longer only about high quality acute-care services delivered to those who make their way to us. Our goal is better health for the community, which means we need to be a part of a complete and inclusive system of care.
"Our research mission is completely embedded into this effort."
Reid, a professor at the Dalla Lana School of Public Health, says research is not only about discovery for its own sake – but having impact.
"Health systems across the world are broken, with too many people left behind, and I believe research can have a strong role to play in changing how they bring value to the populations they serve," he says. "We're combining high-powered research methods with expertise in rapid implementation – it's quality improvement on steroids."
Dalla Lana