U of T researchers volunteer to help Brazilian university build its first qualitative health research program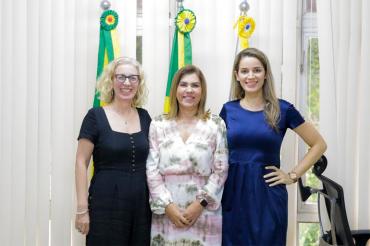 Rozilaine Redi Lago, a visiting PhD student at the University of Toronto's Centre for Critical Qualitative Health Research (CQ) four years ago, taught the only qualitative research course at the Federal University of Acre (UFAC) in Brazil following her graduation. 
But she saw a pressing need for an entire program – a goal that U of T's Denise Gastaldo and Brenda Gladstone, both volunteers with Academics Without Borders (AWB), are now helping to realize.
"She created a group which included her colleagues from several faculties who had training in qualitative research and said, 'Please come here to help us get started,'" says Gastaldo, an associate professor at the Lawrence S. Bloomberg Faculty of Nursing who is cross-appointed to the Dalla Lana School of Public Health.
The Amazon region of Brazil desperately needs qualitative public health training. UFAC offers the region's only public health PhD program with a single quantitative focus. The resource-starved region faces serious and complex public health issues that require both quantitative and qualitative research approaches.
"While they have been monitoring endemic diseases like malaria, dengue and leprosy, they also need information on social and cultural practices to create more effective programs to prevent and treat these diseases," says Gastaldo, who is the former CQ director.
Access to care is an ongoing issue. Large rivers surround the equatorial region. Intemperate weather hampers patients' ability to access care. The region is also home to 20,000 Indigenous residents who speak over 15 languages and observe various health-related cultural norms.
Gastaldo and Gladstone, an assistant professor at Dalla Lana, will offer their time and expertise to help Redi Lago  develop UFAC's – and the region's – first and only academic qualitative health research program. 
AWB is a Canadian not-for-profit organization that works with universities in low-and-middle income countries on capacity building projects that improve or expand existing institutional programs. The AWB Network, a consortium of Canadian universities and colleges that support AWB's mission, offers academics opportunities to participate in capacity building projects as volunteers or introduce projects to AWB.
The network also connects universities' needs with the network's participating university experts. The network's first U of T volunteers will support the Brazilian university with more and better qualitative research training opportunities.
"They are one of the top public health programs in the region, and that's why they were eager to have better collaboration," says Gastaldo.
She has supported administrators as they developed an educational plan. Now, the UFAC's program coordinators are discussing the establishment of master's- and PhD-level courses.  In the coming months, both Dalla Lana professors will work with instructors and students to develop a new curriculum.
"We have high hopes for this collaboration," says Gastaldo. "We expect students will become supervisors and teachers in Acre and in the Amazon region. CQ interdisciplinary curriculum is an inspiration for graduate programs in other countries. There are great opportunities for high quality qualitative research to be conducted in Acre in the near future." 
Dalla Lana