U of T researchers sweep entrepreneurship, R & D Ontario Professional Engineers Awards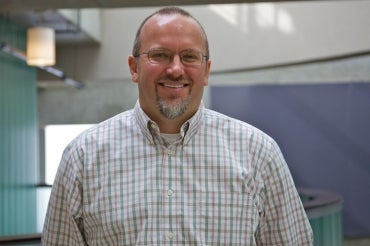 Three University of Toronto researchers will receive Ontario Professional Engineers Awards at the organization's gala on Saturday to celebrate outstanding contributions to the profession – from exceptional research advances to positive social impact.
The awards, conferred jointly by the Ontario Society of Professional Engineers (OSPE) and Professional Engineers Ontario (PEO), are celebrating their 70th anniversary in 2017, and the evening's program is designed around the theme of past, present and future.  
Paul Santerre, a professor in the Faculty of Dentistry and the Faculty of Applied Science & Engineering, Jan Andrysek, an assistant professor in U of T's Institute of Biomaterials & Biomedical Engineering, and Craig Simmons, distinguished professor in the Faculty of Applied Science & Engineering, ​ have collectively swept the awards for entrepreneurship, and research and development.
Santerre is receiving an engineering medal in the entrepreneurship category, for applying new technologies or innovative approaches that have enabled new companies to get started, and/or assisted established companies to grow in new directions. 
Andrysek and Simmons are each receiving engineering medals in the research and development category, for using new knowledge in developing useful, novel applications, or advancing engineering knowledge or applied science, or discovering or extending any of the engineering or natural sciences.
U of T Engineering alumna Samantha Espley will receive the management medal, for innovative management contributing significantly to the overall excellence of an engineering achievement. Alumni Margaret Kende and Benny Pang were recognized with citizenship awards for outstanding public service.
"These awards reflect the diversity of our engineering community leadership and contributions, from research and commercialization, to entrepreneurship and social impact," said Faculty of Applied Science & Engineering Dean Cristina Amon, who received the gold medal in 2015, recognizing public service, technical excellence and outstanding professional leadership.
"My warmest congratulations to the recipients on these richly deserved honours," she said.
Faculty of Applied Science & Engineering