U of T researchers receive grants for research projects that aim to transform lives 
Projects supported by SSHRC focus on girls and youth in sport, trans and gender diverse survivors of violence, and fighting poverty, racism and climate change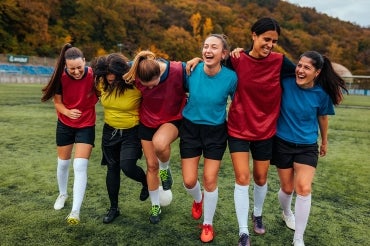 Catherine Sabiston, a professor at the University of Toronto's Faculty of Kinesiology & Physical Education (KPE) knows sport has the power to transform lives and boost mental health. 
"Community sport is the most prevalent organized activity for youth in Canada and offers a multitude of benefits for growth and development, higher life satisfaction, positive peer relationships and development of leadership skills," says Sabiston, who holds a Canada Research Chair in physical activity and mental health. 
"Unfortunately, there is a discrepancy in the sport participation rates, commitment and sustained involvement among youth that is predominantly determined by gender, race and Indigeneity, ability, social class and weight identity factors, limiting sport's potential for positive impact – particularly for girls." 
Sabiston aims to change all that through a new project that seeks to build equitable, diverse and inclusive participation, access and quality experiences in youth sport – with a special focus on improving community sport participation, access and quality experiences in sport for girls.  
Called the "Partnership for Equitable, Diverse and Inclusive Participation, Access, and Quality Experiences in Youth Sport: Sport4All," the project involves partnerships with 66 national sport organization leaders, researchers and sport advisers, including parents, coaches, officials, youth, and international experts. 
Sabiston is one of two researchers at U of T whose innovative research received support from the Social Sciences and Humanities Research Council (SSHRC) through Partnership Grants announced today. The grants support formal partnerships between academic researchers and community partners, other academic institutions and businesses that will advance knowledge and understanding on critical issues of intellectual, social, economic and cultural significance.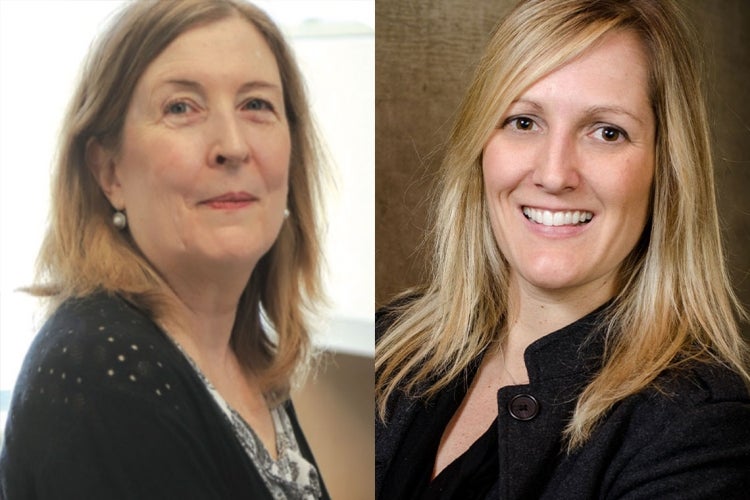 Janice Du Mont, a senior scientist at Women's College Research Institute and a professor at U of T's Dalla Lana School of Public Health, also received a Partnership Grant for her project, "The trans-LINK Canada Network: Partnering to create and exchange knowledge on supporting transgender and gender diverse survivors of sexual assault and intimate partner violence."  
"Trans and gender diverse persons face high rates of gender-based violence," Du Mont says. "We are collaborating with diverse organizations across Canada to create a national network dedicated to working across sectors to generate the evidence, policies, protocols and curricula essential to better addressing the needs of trans and gender diverse survivors of sexual assault and intimate partner violence."
Sabiston and Du Mont were each awarded the full amount of $2.5 million over 7 years for their projects.  
"Professors Sabiston and Du Mont are addressing issues that are of critical importance to communities here in Canada and around the world through innovative and collaborative research projects," says Professor Leah Cowen, U of T's vice-president, research and innovation, and strategic initiatives. "The University of Toronto is grateful for the federal government support of their work, which has the potential to transform lives." 
Five researchers at U of T were also awarded Partnership Development Grants (see list below) and a further 46 projects at the university received funding through Insight Grants, which support research excellence in the social sciences and humanities. The federal government announced the funding alongside its release of the new and renewed Canada Research Chairs – which included 36 U of T faculty members.
For Sabiston, the Partnership Grant – the largest SSHRC grant in KPE's history – will help accomplish four main goals that were co-developed and informed by the needs of partner organizations: 
Document and describe how intersecting identities affect girls' experiences of community sport. 
Build a national sport data system to collect meaningful and timely data on community sport experiences and participation trends, and to identify predictors and outcomes of quality sport. 
Develop, deliver, assess and standardize supportive resources for community sport leaders and girls to help foster participation, access and quality sport experiences. 
Integrate and mobilize research outcomes to develop an open-access toolkit for organizations to collaborate on, engage in and contribute to the timely equity, diversity and inclusion (EDI) issues in Canadian youth sport; and to secure a sustainable partnership model for researchers and community leaders. 
The ultimate goal, Sabiston says, is to build a sustainable community youth sport institute.  
"The Government of Canada recognizes that sport is transformative and plays an important role in building stronger and healthier communities across the country, especially in the aftermath of COVID-19," she says. "This is the perfect time to innovate for sport access, participation and quality experiences for girls in Canada.  
"Sport4All will change sport knowledge, innovate sport practices, evolve sport access, improve sport participation – and positively change sport experiences for girls in Canada." 
---
Here is the list of recipients of SSHRC Partnership Development Grants at U of T: 
Anver Emon in the Faculty of Law for "Uncovering systemic Islamophobia in Canada" 
Lin Fang in the Factor-Inwentash Faculty of Social Work for "Asian Parents Participatory Action (APPA): A community-university partnership to curate an Asian-centred approach to talking about racism at home" 
Fiona Miller in the Institute of Health Policy, Management and Evaluation at the Dalla School of Public Health for "Strengthening health-care's contribution to city-led climate action: Exploring the potential of partnerships" 
Sophie Soklaridis in the department of psychiatry in the Temerty Faculty of Medicine for "The promotion process as an act of power: An institutional ethnography of faculties of medicine in Canada" 
Daniyal Zuberi in the Factor-Inwentash Faculty of Social Work for "Poverty reduction in the Peel Region: System mapping and community-engaged research" 
UTC/KPE