U of T researchers receive $4 million in federal funding to help curb smoking, vaping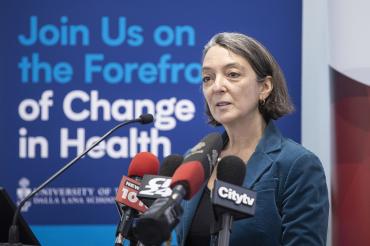 The federal government is investing more than $4 million in two University of Toronto-led projects that tackle what one expert calls "old and new nicotine problems."
The first project, which will receive up to $2.8 million, focuses on higher-than-average smoking rates among the LGBTQ community. The second project aims to curb vaping among youth and young adults and will receive $1.3 million over three years.
Robert Schwartz, a professor at U of T's Dalla Lana School of Public Health and a senior scientist at the Centre for Addiction and Mental Health, said the prevalence of vaping appears to have undone progress toward getting people to quit nicotine. 
"It's astonishing that we have this new nicotine problem – really astonishing that, in 2020, we're dealing with what appears to be a whole new generation of young people who have become addicted to nicotine," said Schwartz at an event held at Dalla Lana that was attended by Julie Dabrusin, the MP for Toronto-Danforth and a U of T alumna.
The funding announcements were timed to coincide with National Non-Smoking Week. "I want to encourage the thousands of Canadians who will take their first steps toward quitting smoking," Patty Hajdu, the federal health minister, said in a statement. "The projects we are supporting today ... will better help them as they make this positive change in their lives – and encourage others to follow in the same footsteps."
The U of T-based Ontario Tobacco Research Unit's $1.3 million in funding over three years will support a project to help people between the ages of 16 and 29 kick their vaping habit.
While e-cigarettes and other devices have been touted as important smoking cessation tools, there's little doubt vaping has also proven popular among people. Among students in Grade 7 to 12, a full 34 per cent said they have tried vaping while 20 per cent had used a vaping product in the last 30 days, according to a 2017 Health Canada survey – a trend Schwartz, the executive director of the tobacco research unit, described as an "epidemic."
Research shows that kids who vape have almost twice the rates of cough and wheeze than kids who don't – signs that are potential precursors of asthma and chronic obstructive pulmonary disease, Schwartz said. Other studies suggest cardiovascular effects, while some chemicals in e-cigarettes are carcinogenic, he added.
"Even those [experts] who favour vaping for smoking cessation generally agree that if you are not a smoker you should not vape. None that I know would want their kids to vape," he told U of T News.
The anti-vaping project at U of T, which became a smoke-free campus last year, will seek to understand how young people become addicted to nicotine and what can be done to stop them from vaping through effective cessation supports.
The project complements new regulations around vaping coming into effect in July around the advertising and promotion of vaping products, Dabrusin said at the U of T event.
The federal funding is part of Canada's tobacco strategy, which aims to reduce the smoking rate to less than five per cent by 2035. Tobacco remains the leading preventable cause of disease and mortality in the country and causes 45,000 deaths per year in Canada.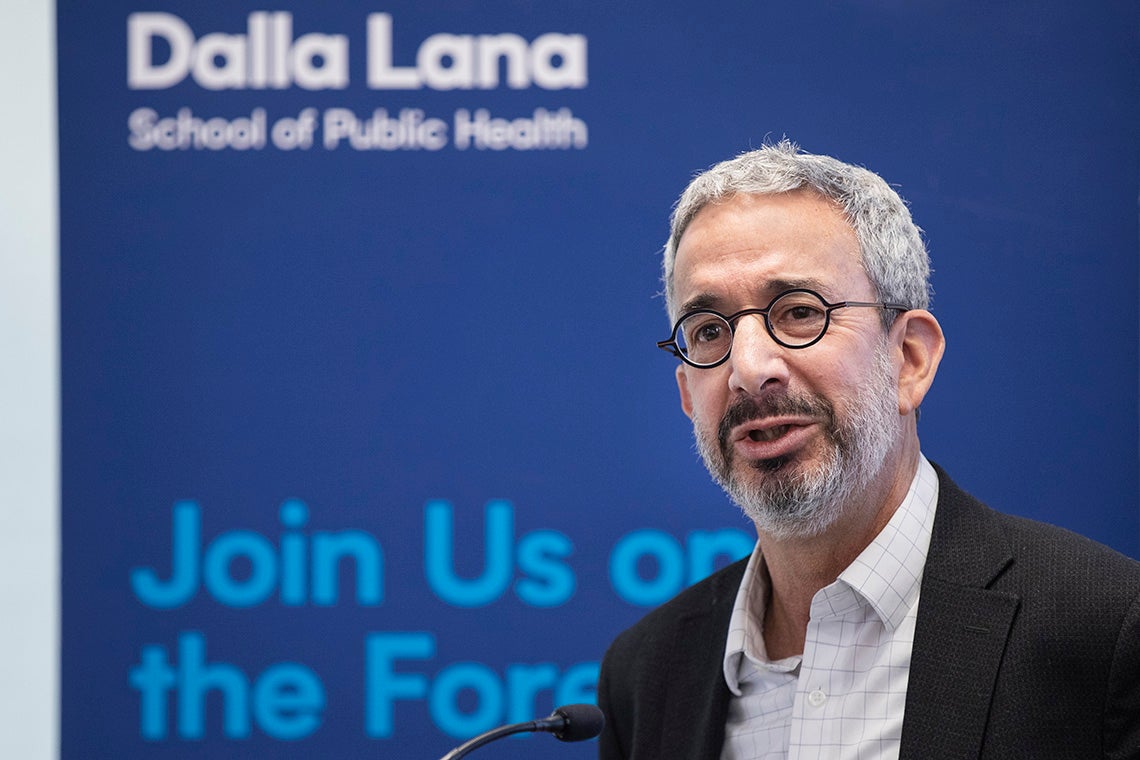 Robert Schwartz, a Dalla Lana professor and the executive director of the U of T-based Ontario Tobacco Research Unit, said "we're dealing with ... a whole new generation of young people who have become addicted to nicotine" (photo by Nick Iwanyshyn)
The second project involving U of T researchers – called All Together Now! – will use its grant of up to $2.8 million to address higher-than-average smoking rates among LGBTQ communities in Toronto, Thunder Bay and Montreal. One 2012 paper in the Canadian Journal of Public Health, for example, suggested the smoking rate among Toronto's LGBTTQ (lesbian, gay, bisexual, transsexual, transgender and queer) community was 36 per cent, compared to just 19 percent among the general population.
Schwartz attributes the difference to the relationship between the "three Ss" – stigma, stress and smoking. The theory goes that, as LGBTQ people face stigma, they experience greater stress and turn to tobacco in higher numbers. 
"We need to break the myth that nicotine actually reduces stress," Schwartz said. "It does not. The opposite is true and it's been found in many studies and we need to make this clear to all these communities."
The researchers will partner with the Canadian Cancer Society, Egale Canada and members of the LGBTQ community in each of the three cities to reach an estimated 114,000 smokers. 
One of the first steps in the project will be to conduct focus groups and interviews to develop a strategy on how to reach smokers in those communities and help them quit. The researchers will target smokers via social media and work with local influencers. They also expect to create online resources and offer LGBTQ-friendly smoking cessation programming such as free nicotine replacement therapy. 
"We don't know yet, but it may be that there have been barriers to using these services because of stigma," Schwartz said. 
UTC