U of T researchers' program advances mental health care for students in remote communities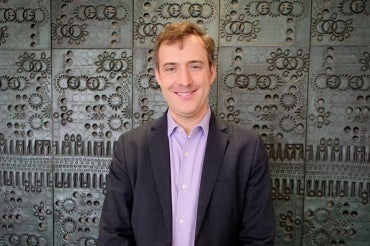 Todd Cunningham has found a way to reach students in remote, northern Ontario communities who need school psychologists and psychological assessment services – through their teachers.
The assistant professor, teaching stream, at the University of Toronto's Ontario Institute for Studies in Education (OISE) runs a telepsychology program alongside fellow OISE researcher Professor Judy Wiener that offers teachers in these communities regular, ongoing academic intervention assistance and consultation services via video conferencing. 
Through psychological assessments, Cunningham and his team assess the academic skills of a student – reading, writing, mathematics, and language – and determine why a specific skill is not developing.
"If a child can't stay seated, we want to know why," says Cunningham. "Is he having trouble understanding the instruction, is there a learning challenge, is the work relevant to them, or is there another factor?
 "Once we gain an understanding of the reasons behind the behaviour, in consultation with the elders, we start developing programming to help teachers address students' needs."
For students in remote northern Ontario communities, regular access to school psychologists and psychological assessment services is currently scarce, or even non-existent. In addition, one-time assessments by out-of-community psychologists are frequently not helpful, as they seldom address the changing needs of individuals and the community over time.
With the OISE telepsychology program, by contrast, once an assessment has been done, doctoral students in OISE's school and clinical child psychology program meet with teachers via video conference on a weekly basis to provide ongoing feedback and refine the recommendations made during the initial assessment.
Typically, this goes on for six to eight weeks. This relationship has made a significant difference when it comes to how effectively teachers are able to address problems with their students, according to Cunningham.
"We found that teachers who worked with us for six to eight weeks were more likely to develop their own skills in student assessment," he says. "Many teachers got to a point where they realized they could apply strategies they learned from us with one child to address issues with others in the classroom."
Addressing academic skills deficits is an important part of tackling the issue of mental health among adolescents. Research has shown that kids with unaddressed academic skills deficits are at greater risk for mental health issues.
Participating in the telepsychology program, which was supported through a 2014 Bell Let's Talk mental health grant, has the added benefit of helping teachers with their own mental health problems, says Cunningham.
"Up north, you have a lot of young teachers who haven't worked in remote communities before. They're facing their own isolation, culture shock and stressors of being a young teacher," he says.
"Many of them don't stay for more than a year, which has a huge impact on students. On top of helping them develop skills, we're also giving them an outlet to talk about the frustrations and stressors they're going through."
Cunningham hopes the skills obtained by teachers through the program will result in safer spaces for students where they feel supported and confident in their learning.
"Our biggest hope is that teachers develop a deep understanding of what leads to students' behaviours," he said. "That way, they can be much more instrumental in facilitating a classroom environment where children are safe to learn."
For Cunningham, the most rewarding part of the program, which has been replicated in over 13 communities, are the partnerships he has developed with Indigenous elders.
"It is exciting to learn what student success means for their communities and how we can work in partnership to develop that success," he says.
OISE