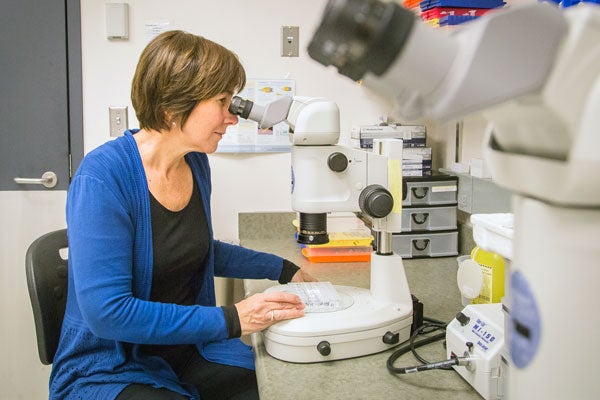 U of T researchers lead cancer-fighting Dream Team
"Our knowledge is at a turning point," says Professor Peter Dirks
When Stand Up To Cancer (SU2C) Canada wanted to assemble a "Dream Team" of researchers to fight brain cancer, they turned to the University of Toronto. 
Eight members of the Faculty of Medicine have joined the group, fighting brain cancer by focusing on the stem cells that drive the growth of tumours.
"Our knowledge is at a turning point," says Peter B. Dirks, a professor in the departments of surgery and molecular genetics. "In the last number of years, there have been important genomics discoveries involving mutations in cancer. We've also developed an understanding about the cell types that drive these tumours' growth. 
"Now, we can acquire integrated information about the key cells that drive the disease and that should impact the assessment of the quality and efficacy of new drugs tested for these cancers."
Dirks, who was the first to identify cancer stem cells in brain tumours in 2003, leads the SU2C Canada Cancer Dream Team: Targeting Brain Tumour Stem Cell Epigenetic and Molecular Networks project. Its aim is to develop new treatments to extend the lives of people with the brain cancers known as glioblastoma and posterior fossa ependymoma. 
Glioblastoma, the most common form of brain cancer, affects children and adults. The five-year survival rate for people with the disease is less than 10 per cent. In children, many glioblastomas are inoperable. 
Although posterior fossa ependymomas can be contained with radiation, the survival rate is 50 per cent. Dirks also says many children who survive this kind of brain cancer are left with disability due to the difficulty of removing tumours in and around the brain stem – even when done by the best-skilled surgeons. As well, the only validated treatment for the disease is radiation, which impacts children's nervous systems and development. 
One of the Dream Team's principal investigators is Cheryl Arrowsmith, a professor in the department of medical biophysics and chief scientist of the Structural Genomics Consortium (SGC). Her multidisciplinary lab does work in structural biology, biochemistry and early-stage drug discovery. She is trying to identify new ways to kill tumour stem cells or turn them into non-stem cells, which prevents the tumours' growth. 
"This is an exciting opportunity to bring a range of experts together to study the same large collection of tumours," says Arrowsmith. "One of the problems with these diseases is that every cancer patient is different. They have different mutations and a lot of drugs will work on some patients but not on others. The promise here is that we're not only going to identify drugs or drug-like molecules that target the tumour stem cells but we're going to be able to understand why they work."
The team has engaged SGC, a public-private partnership that supports the discovery of new medicines through open access research. 
"That gives us a special relationship with pharmaceutical companies so we can engage them in helping us decide which medicines we're testing are most likely to be successful in the clinic," says Dirks, who is also a neurosurgeon and senior scientist at The Hospital for Sick Children (SickKids). "We're also going to make our findings available as quickly as possible to the research community for other researchers to build upon. We hope that's going to be a strong legacy of this project."
Other Dream Team members at the Faculty of Medicine include: 
Associate Professor Gary D. Bader of molecular genetics and the Donnelly Centre for Cellular and Biomolecular Research
Assistant Professor Amy A. Caudy of molecular genetics, microbiology, and the Donnelly Centre for Cellular and Biomolecular Research
Assistant Professor Mathieu Lupien of medical biophysics and scientist at the Princess Margaret Cancer Centre
Assistant Professor Trevor Pugh of medical biophysics and scientist at the Princess Margaret Cancer Centre
Professor Michael Salter of Physiology and the Institute of Medical Science, as well as director of the Hospital for Sick Children Research Institute
Professor Michael D. Taylor of surgery and laboratory medicine and pathobiology and senior scientist at the The Hospital for Sick Children Research Institute
The Dream Team is rounded out by co-leader Professor Samuel Weiss of the University of Calgary, University of Montreal Professor Michael D. Tyers, McGill University Professor Nada Jabado and the University of British Columbia's Professor Marco A. Marra.
"This team connects experts who otherwise couldn't be knit together," says Dirks. "It gives me, as a clinician, a lot of hope that we're going to find something important that's going to make a difference. That's a tall order, of course, in diseases as nasty as brain tumours, but it's a pivotal time and we're really hopeful that what's going to be done in this project is going to have a lasting impact."
The team's research is supported by $11.7 million in funding by Stand Up To Cancer Canada, Genome Canada, the Canadian Institutes of Health Research, the Cancer Stem Cell Consortium and the Ontario Institute for Cancer Research (OICR). OICR will also provide up to $1.2 million for clinical trials in Ontario.