U of T researchers launch in-depth evaluation of strategies to curb 'hallway medicine' in Ontario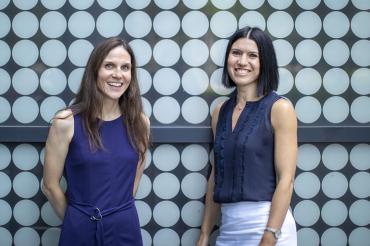 Researchers from the University of Toronto are launching a multi-pronged research project that aims to help the province of Ontario identify solutions to tackle the problem of "hallway medicine" in hospitals.
The study by Kerry Kuluski, associate professor at the Institute of Health Policy, Management and Evaluation (IHPME) at the Dalla Lana School of Public Health, and Sara Guilcher, an assistant professor at the Leslie Dan Faculty of Pharmacy with cross-appointments at IHPME and the Rehabilitation Sciences Institute, is an in-depth evaluation of strategies to address an issue that has plagued the Ontario health-care system for decades.  
Each year, thousands of Ontario patients designated "Alternate Level of Care" (ALC) endure prolonged stays in hospital after their treatment is complete because the next place of care that they need – such as a long-term care facility, assisted living or home care – isn't available.
These discharge delays result in a dearth of vacant hospital beds for incoming patients, who are forced to wait in emergency rooms and receive treatment in hospital hallways – hence the term "hallway medicine."
"It's an issue that crosses all patient populations," says Guilcher, a Canadian Institutes of Health Research (CIHR) embedded scientist with Health Quality Ontario. "It's not specific to hip fracture or Alzheimer's or diabetes. It's a big systems issue that affects everyone."
In a bid to address the problem, the Ontario government set up the Council on Improving Health Care and Ending Hallway Medicine last year. It counts Adalsteinn Brown, dean of the Dalla Lana School of Public Health, among its members.
In January, the council published a report that found an estimated 1,000 incoming patients are treated in hospital hallways on any given day.
Statistics like these have prompted a renewed search for solutions, with the study by Kuluski and Guilcher leading the way.
Combining interviews with patients, caregivers and health-care providers with population-level data, the CIHR-funded study by Kuluski and Guilcher will examine the impact of 12 best practices compiled by patient flow specialist Elaine Burr and health authorities in 2015 and adopted by 22 Ontario hospitals.
The best practices include setting up processes to proactively ensure that patients are referred to community care co-ordinators before they are declared ALC and finding alternatives to hospitalization for emergency room patients.
Anecdotal evidence on the impact of these strategies is encouraging, Guilcher says, but with hospitals implementing them to varying degrees – and possibly interpreting them differently – a multi-method investigation is needed to accurately assess their impact.
"We hypothesize that hospitals that have implemented these practices would see shorter lengths of stay for ALC patients, as well as better outcomes after being discharged to the community," says Guilcher. "And that would translate to reduced costs."
Data on patient flow and outcomes from select urban and rural hospitals will be sourced from the U of T-affiliated ICES (formerly the Institute for Clinical Evaluative Sciences), which houses health-related data from across Ontario, and where Guilcher is an adjunct scientist. 
But numbers don't always tell the whole story, which is why the researchers are conducting interviews with patients, caregivers and providers as a key part of their research.
"We're going to ask families, patients and providers if they think the strategies are working, what's missing, what could be added or removed – because we want to know how they feel about these practices being put into place and assess barriers to implementation," says Kuluski, who is the Dr. Mathias Gysler Research Chair in Patient and Family Centred Care at the Institute for Better Health at Trillium Health Partners.
The research is guided by the Patient and Caregiver Advisory Group whose members include Lisa, a Toronto-area woman whose 96-year-old mother has suffered hip, wrist and pelvis fractures in recent years and lives with dementia. She asked for her last name to be withheld.
After undergoing surgeries for her fractures, Lisa's mother had to spend more time in hospital than is ideal because of obstacles in securing a place in long-term care.
Lisa says the hospital environment wasn't always conducive to her mother's rehabilitation and personal support needs. She says she doesn't blame hospital staff, but rather a system that keeps patients in surgical recovery units in hospitals when their needs lie elsewhere.
"My sense is that the nurses and staff are focused on people who are recovering from surgery. That's their training … frankly, I think they didn't have the time to deal with mom's issues. 
"She didn't need a nurse coming in and checking her blood pressure every so often. She needed someone like a PSW (personal support worker) to help her with her meals, her hygiene and her rehabilitation."
Elderly patients are disproportionately affected by discharge delays caused by a lack of access to post-hospital care, according to the Ontario Hospital Association.
Lisa's mother is now in an assisted living home, and is three years into an estimated five-year wait to get into a long-term care facility.
Lisa's desire to advocate for her mother and other patients prompted her to volunteer on a patient advisory council, and it was through that initiative that she came to be connected to Kuluski and Guilcher.
In addition to benefiting from the feedback of caregivers like Lisa and others directly affected by challenges in the Ontario hospital system, the U of T research project will also be enriched by the unique perspectives of the two researchers, who come from different but complementary professional and academic backgrounds.
Kuluski is a social worker by training and specializes in health services research, while Guilcher is a physical therapist whose research focuses on the "care journeys" of people with complex health and social needs.
Both specialize in "multi-methods" research that combines qualitative and quantitative data.
"This is an issue that crosses health and social systems," Guilcher says. "Big problems require collaboration across disciplines. The fact that Kerry comes from social work and I come from physical therapy enhances our work."
"There are different perspectives on this issue that need to be paid attention to, and that's what we're trying to do in our work," Kuluski adds. "We need to learn who's doing what, what's working, what are the gaps and share this with decision-makers so that we can move towards giving people more equitable access to care."
UTC