U of T researchers help vulnerable populations in Southeast Asia tackle climate change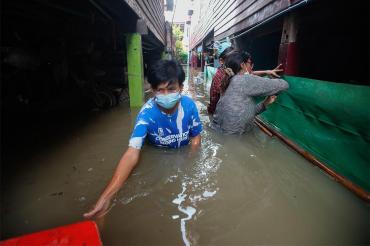 More than one billion people live in informal settlements in urban areas in the Global South – and they are among those who are most vulnerable to the effects of climate change.
"These are what people often call slums. They are vast areas of cities, which are usually self-built and self-managed, and where people have no formal right to live," says Amrita Daniere, a professor of geography, geomatics and the environment at the University of Toronto Mississauga.
"People who live in these settlements have little access to services like sanitation, water and transportation. They are often considered illegal and residents are subject to eviction or having their homes destroyed. Their lives are precarious and this makes people especially vulnerable to the effects of climate change."
Nature-based infrastructure solutions could help make these areas less vulnerable to extreme heat and unpredictable flooding – but only if they are adopted. The Urban Climate Resilience in Southeast Asia project (UCRSEA) examined what needs to occur for these approaches to be implemented. The five-year, multi-disciplinary international research collaboration, funded by both the International Development Research Centre and the Social Sciences and Humanities Research Council of Canada, brought together scholars from U of T's Asian Institute, the Munk School of Global Affairs & Public Policy and the Thailand Environmental Institute.
"Green infrastructure solutions emphasize using nature, so we don't have to rely on conventional technologies like concrete, dikes and dams to do the work of holding back flood waters or mitigating against extensive heat," says Daniere.
There are many actions cities can take to mitigate and adapt to climate change, even in slums, but, according to Daniere, researchers found that people aren't always aware of what can be done.
"There is not a lot of connection between the people who understand these issues and those who make decisions. That isn't an enormous insight, but our project was the first time that some scholars engaged directly with politicians and decision-makers."
The climate resilience project looked at medium-sized cities across Southeast Asia. These cities typically receive direction from central governments, which are based in larger centres like Bangkok, Thailand and Phnom Penh, Cambodia.
"They get ideas and funding from the national government, and most of them are pretty conventional," says Daniere. "You build a dam and have flood pumping equipment. They don't necessarily explore building green roofs or roads with porous pavement that are lined with trees and bushes. Up until this point, development in Southeast Asia has been quite Western-oriented in terms of what a modern city should look like."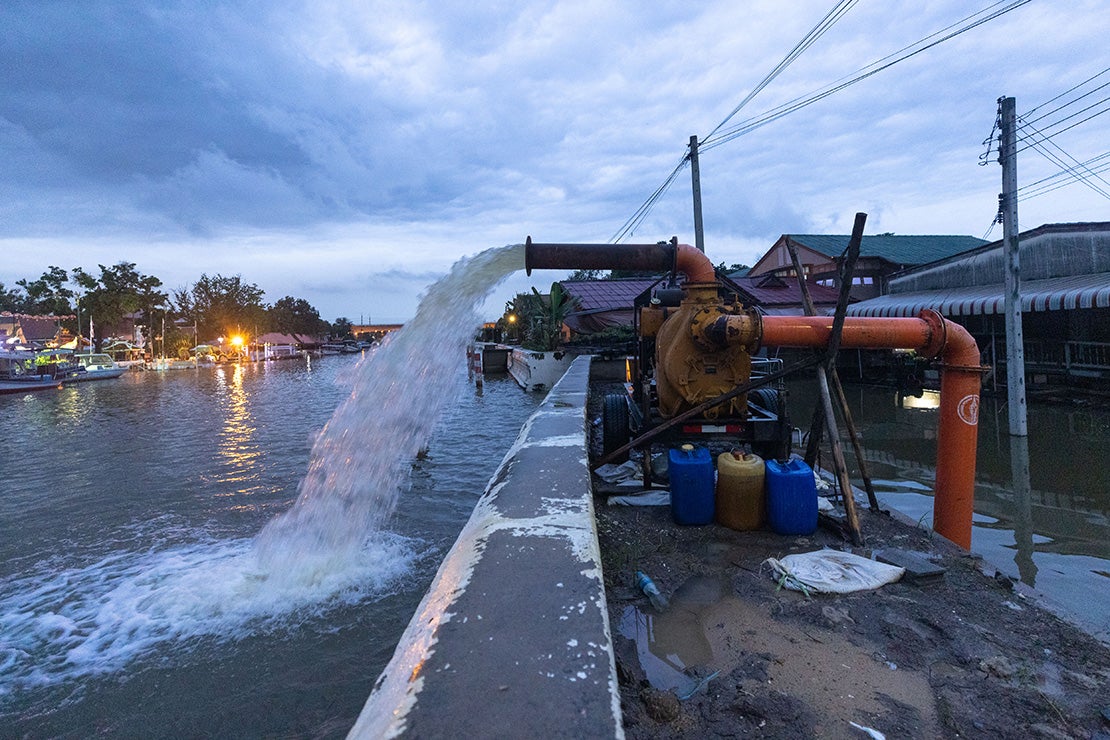 Santichon Songkroh, a small community along Bangkok Noi Canal in Thailand, faced daily flooding caused by leaking water barricades and heavy rainfall from Tropical Storm Kompasu (photo by Phobthum Yingpaiboonsuk/SOPA Images/LightRocket via Getty Images)
One of the project's main goals was to help create knowledge and provide vulnerable people with the space to learn about and share in decisions that could protect them from the economic, social and physical impacts of climate change. To make these voices heard, researchers used Theory of Change, which asks how and why change can be achieved in a given context.
"We wanted to convince policy-makers to consult with local communities and work together to design adaptation projects that prioritize their needs, rather than making top-down decisions. But for this to happen, we need to know who to reach and with what kinds of information," says Daniere.
"First, we need to learn who makes a decision and who they listen to. Where do they get information? And if we need to change their mind, then how do we get them the information they need to change? And once we'd done that, we came up with opportunities to invite decision-makers to interact with scholars conducting research with the communities – to put them together, so they can talk and learn and hear each other's perspectives."
Large annual workshops and smaller individual meetings were held throughout the project and, at its conclusion, decision-makers from across Southeast Asia gathered in Bangkok for an event where they discussed results and tried to produce straightforward communications products about the project's findings. This was fundamental to getting people to participate authentically.
"Policy-makers made it clear to us that they weren't interested in journal articles and research reports. They really need to have information that can be easily communicated," says Daniere.
"Researchers need to understand how research is received. I always knew this was important – and there can be a sense that ideas are not implemented, even if they are really great.  A lot of my own attention has been focused on being a conscientious scholar, working with communities and trying to prioritize their vision, voice and needs. This was the first time I realized that I don't need to publish more papers.
"We focused on how to convince people to change and admitted to ourselves that if nobody pays attention to the research, then climate change is going to kill many people in these countries. I don't say that lightly, but it's true."
UTM