U of T researchers to design microsatellites for Arctic monitoring
Researchers from the University of Toronto will develop three microsatellites to help support next-generation situational awareness in Canada's North.
The project, named Gray Jay Pathfinder, was announced today at the University of Toronto Institute of Aerospace Studies, or UTIAS, by local members of Parliament Michael Levitt and Ali Ehassi.
Partners include UTIAS's Space Flight Laboratory, headed by Associate Professor Robert Zee, the Department of National Defence and Canadian Armed Forces, A.U.G. Signals Ltd. and Space Strategies Consulting Ltd.
"Increased trade and activity in the Arctic will create greater demand for the specialized services of the Canadian Armed Forces, including search and rescue, emergency response and environmental monitoring," said Levitt. "Today's contract will stimulate Canadian industry and academia in key technology areas.
"We are proud and excited to invest in this promising research."
Zee and his research team will be receiving $15 million in funding for the project, and will be drawing on more than 20 years of successful microsatellite development for customers and end-users around the world. Among their 21 operational satellites are CanX-4 and CanX-5, which in 2014 demonstrated formation flying with sub-metre relative position control.
"The Gray Jay Pathfinder project represents a significant opportunity for us to leverage our past successes and use our leading-edge technologies to support the needs of Canadian defence in the 21st century," said Zee.
"It will open the door to greater opportunities to serve Canadian interests as well as enhance global competitiveness and foster new international collaboration while providing elite training opportunities for graduate students."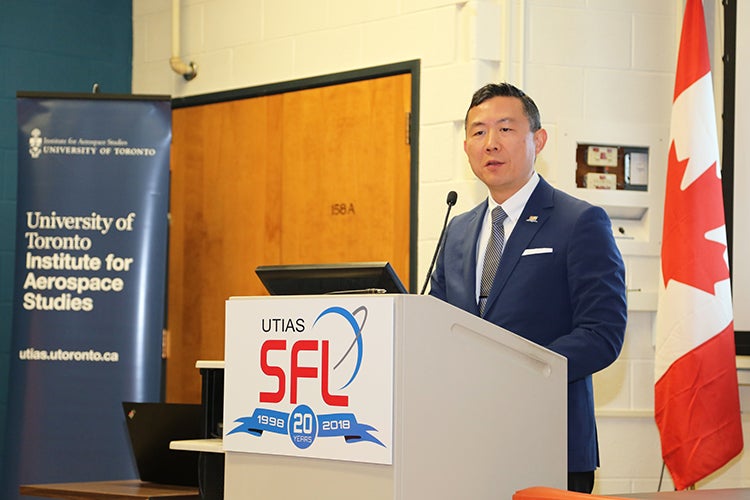 Robert Zee, the director of UTIAS's Space Flight Laboratory, and his research team are receiving $15 million in funding to develop three microsatellites (photo by Marit Mitchell)
The space flight laboratory will take the lead on designing the satellites, while the industry partners will develop the algorithms required to process the signals obtained and conduct a needs and utility assessment analysis of the approach to Far North surveillance.
Gray Jay Pathfinder falls within the larger All Domain Situational Awareness Science and Technology Program launched by the federal government in 2015. The program supports the development of innovative solutions for enhanced domain awareness of air, maritime surface and sub-surface approaches to Canada, particularly in the Arctic.
Engineering