U of T researchers to advise health providers on improving Ontario's primary care system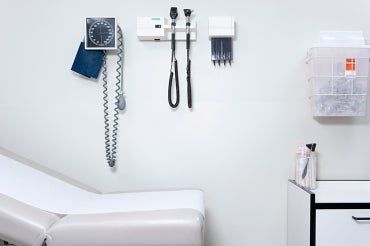 With Canadian health-care systems in crisis, Monica Aggarwal and her colleagues at the University of Toronto's Dalla Lana School of Public Health are working to advise health providers on building better integrated primary care systems – work she hopes will help realize real change in the sector.
Aggarwal is leading a research collaboration between U of T's Dalla Lana School of Public Health, the Association of Family Health Teams of Ontario (AFHTO), the Ontario College of Family Physicians (OCFP) and the section on general and family practice of the Ontario Medical Association (OMA). As a leading expert in primary care systems across Canada – anchored by family doctors – Aggarwal has consulted at the federal and provincial levels on multiple occasions.
She recently completed a cross-comparative study of primary care transformation in Canada, which identified more than 100 sector innovations in the country.
"I feel honoured and privileged to have the opportunity to work with inspiring and passionate primary care leaders who truly want to make a difference for the primary care sector in Ontario," says Aggarwal, an assistant professor in the Dalla Lana School of Public Health's division of clinical and public health. "The leaders of these organizations have a deep understanding of the issues in health care and recognize the critical role that evidence-based research can have to advance improvements in the primary care sector."
The researcher decided to first focus on showing how Ontario could implement compensation models that encourage and reward team-based care.
"There's a real desire to build and spread interprofessional teams," says Aggarwal, who is supported by a three-year grant from the partner organizations. "However, we are not seeing the results expected from mainstream models in Canada. I think this is not because teams don't work, but because they are not being implemented in a manner that would allow them to be successful. Provider compensation is a key piece of the puzzle."
She is working with Professor Ross Upshur, head of the Dalla Lana School of Public Health's clinical public health division, to develop collaborations with researchers and primary care leaders in Canada and internationally to meet the research needs of knowledge users.
"This is a timely and important collaboration in light of the current crisis in primary care," Upshur says. "Rigorous research is needed to inform solutions to the current situation."
Aggarwal's research will inform policy recommendations to help strengthen primary care in Ontario.
"Across the world, cost-effective and high-performing health systems share a common characteristic – they are based on a foundation of comprehensive primary care, which is supported through a team," says AFHTO CEO Kavita Mehta. "Jurisdictions that invest robustly in primary care are farther ahead in achieving health system goals, ensuring a lens on equitable and accessible care close to home.
"The research is clear," she adds. "Now we need to develop an evidence-based roadmap on the best way to invest in interprofessional primary care teams in Ontario to create a strong and sustainable health system."
Building a strong primary care foundation would also help to address the current staffing crisis, says family physician David Barber, vice-chair of the OMA's general and family practice executive.
"We are seeing an ongoing decline in medical students wanting to practice family medicine because of the expanding demands in the current practice model, and we will continue to see doctors leaving comprehensive family medicine" Barber says. "We need to change how primary care systems work in Ontario so that family medicine becomes a more viable and attractive practice."
The U of T research partnership underscores how primary care is the bedrock of the health system, notes OCFP CEO Kimberly Moran.
"Primary care is where most care happens in our health system and evidence from around the world shows that high-performing health systems have strong primary care foundations, anchored by family doctors," Moran says. "This important research effort will inform much-needed policy action and spark meaningful change for Ontario's patients and families."
Dalla Lana