U of T researcher looks for ways to protect the brain from HIV-related damage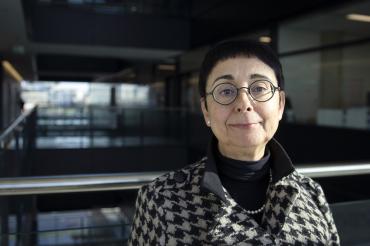 During Professor Reina Bendayan's career, she has seen HIV/AIDS evolve from a universally fatal infection to a highly manageable chronic disease. Her research into HIV's effects on the brain is addressing an important, yet poorly understood complication of the disease.
When she began her career at the University of Toronto in the late 1980s, HIV/AIDS was a major public health crisis. With her expertise in drug transport and distribution, she began to study how new HIV drugs cross biological membranes to get access to tissues and treat the infection. She was especially interested in the brain.
"When I started, HIV-associated dementia was recognized as a very common complication of the illness," says Bendayan, a professor in the department of pharmaceutical sciences at the Leslie Dan Faculty of Pharmacy. "People were dying from it."  
Antiretroviral therapies, developed in the 1990s, transformed care and life expectancy for people with HIV. "Most patients with HIV present undetectable viral loads in their blood, but they aren't cured," she says. In fact, because many of these drugs do not cross the blood-brain barrier, the virus can remain almost untouched in the brain.
While HIV-associated dementia is no longer a major cause of death, as many as 50 per cent of people with HIV still experience declines in cognitive function that impact their quality of life. "As people live much longer, it's a serious complication of HIV," Bendayan says.
In recent years, Bendayan and her team have been exploring how the virus causes inflammation in the brain, which, over time, damages neurons and causes complications known as HIV-associated neurocognitive disorders (HAND), which can include memory loss and poor co-ordination.
Using rodent models of the disease, she and her team identified that a transcription factor called PPAR helps to block inflammation in the brain. They are now testing whether drugs that activate PPAR can counteract the damaging effects of HIV in the brain, reduce inflammation and perhaps even target the virus directly. One of the drugs they are testing, rosiglitazone, is also used to treat Type 2 diabetes, which may allow it to be translated relatively quickly into patient care.
Bendayan says that the goal is to have a drug that is safe for long-term use and that can penetrate the brain effectively to treat both the virus and associated inflammation.
Understanding how HIV affects the brain is critical for the aging population of people with HIV/AIDS in North America and for those in developing countries where the virus is still a health crisis.  "In Sub-Saharan Africa and India it is still an acute problem, and we're seeing a rise of infection in several countries, including Russia," says Bendayan. "In North America, HIV infection is very well controlled, but globally it remains a major problem."
UTC