U of T researcher launches project to collect data on Black experience with COVID-19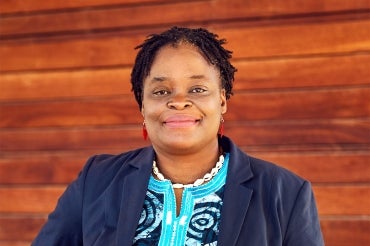 A University of Toronto researcher is launching a Black-run survey to understand the impact of COVID-19 on the African and Black diaspora.
"This project is about life and death for our community," says Roberta Timothy, an assistant professor at the University of Toronto's Dalla Lana School of Public Health who is leading the project. "Too many people know someone who got COVID or died from it or COVID-related comorbidities."
Black people continue to be disproportionality affected by the virus. The survey will shed light on their plight and provide guidance on immediate interventions to support Black communities. With support from Dalla Lana's Institute for Pandemics and the Balsam Foundation, the project includes a Canadian bilingual survey, an international survey, focus groups and community-based interventions.
"Data should be interpreted by us and created and developed by us," says Timothy. "That's how this project came about. It's about creating our own data system."
A national surveytaking responses from Black Canadians is already underway. It includes questions about vaccine uptake, respondents' experience as front-line and essential workers, mental health, migrant work and parenting, among other topics.
The transnational survey will launch March 21 and will collect data from the United Kingdom, United States, Brazil, Honduras, Kenya, Cameroon and South Africa, among others.  
"The data should be transnational because we have shared experiences," says Timothy. "But it is intersectional as we are looking for respondents from all socioeconomic backgrounds and a trans-generational perspective from various gender identities through a Black feminist perspective."
The project's funding will support four major initiatives, including the national and transnational survey. The others are: A national focus group that will unpack survey results; online focus groups to understand the national impact of COVID-19 on Black Canadians; and a two-day learning institute to share survey results for further discussion this fall.
The team will also use data from both the survey and focus groups to develop community-based interventions and outreach that can be implemented quickly. Timothy hopes to bring communities that are already doing intervention work under the project's umbrella by sharing the survey's results.
The project has two advisory committees comprising community leaders, health leaders and experts in disability. They will be helped by Dalla Lana students.
The lack of race-based data has long been a concern in public health circles. Timothy anticipates ongoing challenges in collecting the information as many members of the Black community are wary of how their data will be used.
"There's a history of data being used for the ill treatment of Black people," says Timothy. "There's a history of not trusting data and how it is used. But Black folks associated this stuff with white people coming in and doing bad research – it is quite different when it's Black-led. This is why this project is Black-centred and Black-led, so their voices can be heard."
She says that too few Black-led projects receive funding, adding that she is grateful for the support she is receiving from the Balsam Foundation and Dalla Lana's Institute for Pandemics.
"Everything I do is about missing voices," says Timothy. "It's not just a survey. It's about empowering Black folks with Black-led health studies to speak their voice."
Dalla Lana