U of T researcher examines role of resiliency in mental health, including among students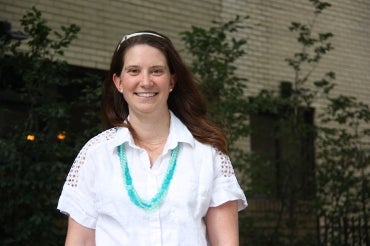 One of the University of Toronto's newest Canada Research Chairs is looking at how to foster resiliency in university students navigating mental health issues and help them to resolve problems that crop up in their daily lives.  
Emily Nalder, an assistant professor in the Faculty of Medicine's department of occupational science and occupational therapy, says resiliency can help explain how people return to their roles and activities in everyday life after unexpected events.
"Resiliency is about doing well and how you adapt to life challenges – the idea that good things or positive things can come about through adversity or challenge," says Nalder, who is also the inaugural March of Dimes Paul J.J. Martin Early Career Professor.
"It's important because all of us go through challenges in life and have to adapt or negotiate that in some way."
Nalder was awarded a Canada Research Chair in Resiliency and Rehabilitation in April 2019. The Tier 2 award provides $100,000 annually over a five-year term to support Nalder's work, which ­focuses on community integration for people with brain injury or mental health challenges.
"In a rehabilitation context, when you're working with people who may have had some sort of health condition or injury, or some sort of loss or trauma, and who are going through changes in what they do in their daily life and how they're able to do it, then these things can be challenges that can trigger resiliency," Nalder says, adding that people's cognitive abilities can be affected by life events like a traumatic brain injury or a stroke, or factors like age or mental health.
"Because I'm an occupational therapist, my interest is really around how to enable people who have cognitive difficulties to participate in meaningful ways in their lives, to be able to do the things that they need or want to be able to do, or have relationships that are important to them – to work, to have somewhere to live, and to be able to maintain that."
One of Nalder's current research projects focuses on improving resiliency for university students facing mental health issues, and helping those students develop strategies to navigate difficulties in daily life – for instance, meeting people and making friends, getting to class or studying.
At the same time, being a student can be a crucial part of a person's identity, so helping them succeed in this role may positively influence their mental health.
"Obviously, we know that it's a big discussion point, especially when you're on campus – the number of students who are seeking services and supports because of mental health is going up over time," she says.
The project is a patient-oriented research collaboration funded by the Canadian Institutes of Health Research and the Rossy Family Foundation, and involves other faculty in the occupational therapy department and the university's health and wellness services, as well as former students who can speak to their own experiences.
Nalder is also working on the Traumatic Brain Injury Resiliency Collective, which is funded by a Social Sciences and Humanities Research Council of Canada partnership development grant. It involves approximately 20 researchers, clinicians, service managers and front-line staff from U of T, Holland Bloorview Kids Rehabilitation Hospital, March of Dimes Canada, Mind Forward Brain Injury Services, Brain Injury Canada and the Ontario Brain Injury Association, as well as people who have experienced brain injury.
The goal of the project is to better understand resiliency and then use that knowledge to inform how services are provided so that resiliency is explicitly addressed.
"Currently, the emphasis is on a person's functioning after an injury, or reducing impairment, but if we address resiliency, we can prepare people to navigate challenges that will come up and re-establish their life after the injury," says Nalder.
Her research on resiliency is also attempting to shift some of the discourse about rehabilitation – which often focuses on impairment and reducing impairment – to addressing how people can succeed when there are challenges.
Resiliency is not a skill that originates only from the person affected, but also relates to the environment someone is in and the social supports they receive, according to Nalder.
"One of the big critiques about resilience is that the onus is on the person to do everything, and we're not seeing it that way. It's much more about people interacting with the world around them, and how those two things come together is important," she says.
Nalder came to Canada from Australia in 2013 to do a post-doctoral fellowship at the Rotman Research Institute at the Baycrest Centre before joining U of T in 2015. Her goal is to see resiliency be an explicit part of rehabilitation in terms of how services are delivered.
"It would be a shift in thinking," she says.
Medicine