Syrian children walk in the center of Gaziantep, Turkey. Photo by BULENT KILIC/AFP/Getty Images
"This work set my soul on fire," says U of T law grad
When Petra Molnar graduated this year with a JD from U of T's Faculty of Law, she carried with her invaluable experiences, such as conducting on-the-ground research on vulnerable Syrian populations in Turkey and Jordan.  
"The days were very, very long, but this work set my soul on fire," she says of the two months spent speaking to asylum claimants, practitioners who were working with Syrian refugees, lawyers, doctors, academics, NGO and United Nations professionals. Many of the asylum claimants had very little access to health care but faced very big health problems, like amputations, burns, PTSD, and HIV.
"The experiences in Jordan and Turkey made me see that this is the kind of work that I want to do in my life. There's nothing like being in the field."
Molnar worked with human rights lawyer Kristin Marshall, staff lawyer at U of T's international human rights program (IHRP) at the Faculty of Law on a research project made possible with funding from the Elton John AIDS Foundation.
The purpose of the project was to look at the impact of Canada's refugee policies on Syrian refugees, with particular focus on sexual minorities and those living with or vulnerable to HIV. They worked through May and June in 2015 in areas of Turkey and Jordan, and sent recommendations based on the research to the government.
Marshall says IHRP projects present a unique opportunity and responsibility for students. "The experience can challenge assumptions, take them outside of their comfort zone, and steel their commitment to human rights work," she says. "It has an impact beyond the duration of the project. Students reflect about the people they met and what they learned, and carry that experience with them."
Below: Political banners for the 2015 election in Istanbul, Turkey. Photo and all photos below by Petra Molnar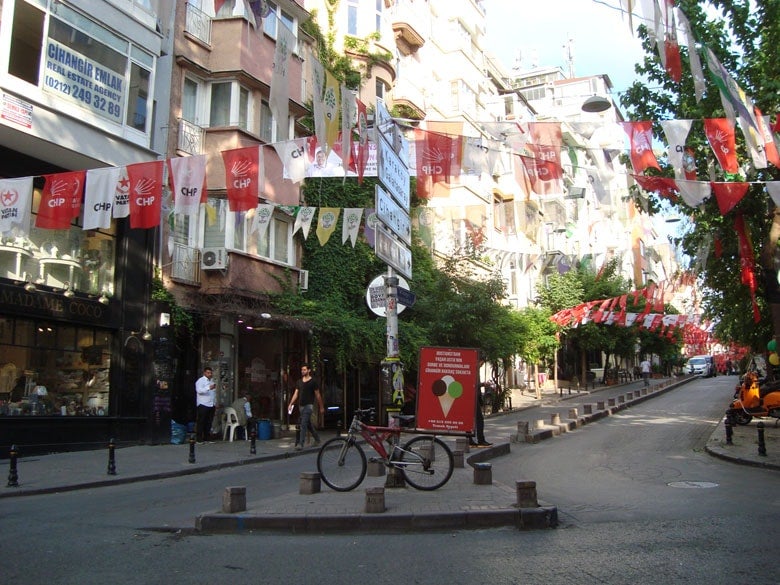 After Istanbul, Molnar and Marshall went to to two towns in the border regions of Turkey and Syria: Gaziantep and Antakya. Molnar says that even though she has travelled extensively and worked in dangerous regions around the world, this was the closest she has ever come to being in a conflict zone. "As soon as you got out of the car, you could feel it in the air: an active conflict was going on here."
She is now more determined than ever to continue working with vulnerable populations in her career.
"The hands-on experience and international work offered through the IHRP is really valuable. Interviewing a range of people – lawyers, journalists and survivors – and working in different cultures and contexts helps you grow and learn as a person and as a lawyer," says Samer Muscati, director of the IHRP. "These are important skills that you can't develop unless you're working in the field."
Below: flying over Southwestern Turkey near Gaziantep and Antakya.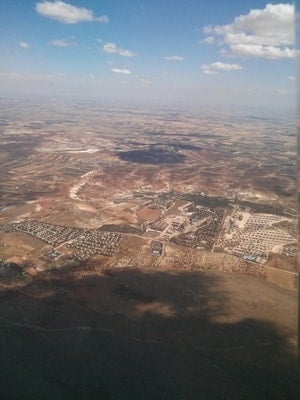 In 2004, thanks to the IHRP, Muscati interned on a special court set up by the UN in East Timur to prosecute war crimes of anti-independence militant attacks on civilians.
"That helped launch my career as a human rights lawyer," he says.  Last October he came back to U of T, 11 years later, to serve as the director of IHRP.
"Given Canada's commitments to address Syrian human rights issues there's a particular appetite right now to fill," he says of Marshall's and Molnar's work in Turkey and Jordan and subsequent recommendations to the government. "It's important to put the issue of people with HIV who are living in conflict zones on different government radars."
Marshall also spoke to the timeliness of the report. "Canada's unique model of private and government refugee resettlement is receiving worldwide attention.  And globally, there are record numbers of refugees that demand our consideration," she says.  "While we laud the efforts of this government, there is more that can be done to show international leadership.  We feel compelled to share the concerns that were entrusted to us and are hopeful that this government will pay attention."
Molnar says her days in Turkey and Jordan started very early and ended very late. In Istanbul they got on by foot, in the border regions of Turkey and Syria and in Jordan they drove around in a car.
Each day they had about three interviews, each lasting between one to four hours. Then they would come home at around 8:00 or 9:00 PM and Molnar would spend the next four hours retyping all of the interviews that day. She would go to sleep at 2:00 AM and get up at 6:00 AM and do it all over again. "It was exhausting but also really inspiring," Molnar says.
She emphasizes the importance of recognizing one's own position and emotions while conducting interviews.
"It's one thing for us to come from the West, from a very privileged position to come there and study the situation, but it's a whole other thing to live there," she says. Molnar asserts that ultimately the policy direction should come from the local population. "They are really the ones dealing with the difficulties of the conflict on a daily basis."
Molnar says that she and Marshall looked at issues of health care like the bombing of hospitals and inability to treat patients.
"One of the doctors we spoke to had his clinic bombed," she says, pausing to reflect on that experience. "I couldn't type up that interview that night – it was too visceral."
"We hear about this principal of medical neutrality and then to see that medical professionals are targeted as a weapon of war… That's very difficult."
She still keeps in touch with many of the Syrian doctors and health care professionals that she met on the trip. The majority are still in the regions working with vulnerable refugee populations, while some have sought asylum in Europe.
Those relationships showed Molnar the complexity of the refugee crisis. "Resettlement is important, but we also have to recognize that there is a substantial amount of people who don't want resettlement," she says. "They want to stay in the region, and hopefully in the future, when stability is restored, they want to actively participate in that."
Molnar says she is most grateful to the local expertise who shared their experiences with her and Marshall. "We were really lucky in terms of the on-the-ground support that we got from our 'fixers' or facilitators," she says. "This project would not have been possible without their help," she says. 
Below, right to left: Petra Molnar with journalist Etaf Rouda, and Kristin Marshall in Amman, Jordan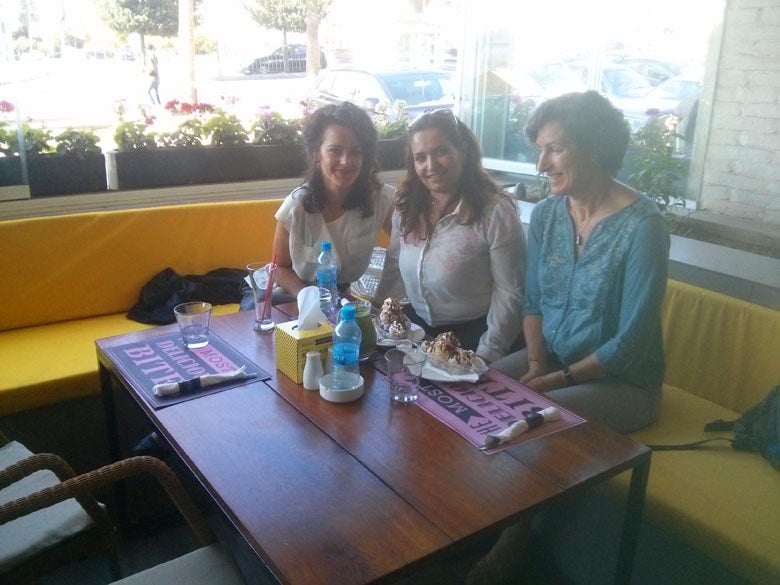 While the report to the government is not made public, Molnar shared some of the recommendations in the report with U of T News.
 "Furthering access to treatment, human rights and health rights and education all need more investment," she says. "We were looking specifically at HIV health care and prevention but also more broadly at quality of life."
Canada can be a leader both domestically and in terms of resettlement in the region to support local governments of Turkey and Jordan," she says.
"In Canada and globally there has been a push to resettle vulnerable refugees from the LGBT community, which is a very important goal," she says. "But these prioritizations have to be done very carefully with understanding of the local context. Outing somebody who is LGBT in a country like Jordan that's incredibly conservative, can present great risks," she says. "We are recommending that those refugees are processed very quickly".
Molnar hopes that the report will open up a dialogue with the government, and that Canada will consider increasing its quota of medically vulnerable refugees.
"This kind of work kept me going during the tough years of law school," she says.  She also felt motivated by working with people like fellow law classmate Maia Rotman, Marshall, Muscati and Renu Mandhane, previous director of the IHRP and current Ontario Human Rights commissioner. "When you're feeling dejected by the state of the world, it's helpful to remember that you have allies and colleagues who are working alongside you."
"Students develop the skills and tools to be human rights lawyers," Muscati says of IHRP projects. "The skills gained give students the choice to pursue the career that they want, and make an impact, whether they want to work abroad or locally."
 "This is a very unique experience offered by the University of Toronto," he says. "There aren't experiences like the IHRP program in other law schools in Canada."
Now, Molnar is looking forward to starting her new job at the Barbra Schlifer Commemorative Clinic, a legal clinic focused on representing women who experienced domestic violence and abuse.
And she says her work through IHRP prepared her for this next step, allowing her to practice compassion and active listening. She also learned how to not give up. "It can be very isolating emotionally," she says. "There's a lot of baggage and an impact on a day to day basis, but you can lean on your colleagues and friends to keep going."  
Below, Amman Jordan.